Siri is the star of macOS Sierra
macOS Sierra may not be short on new features, but the biggest change from OS X is that you're now encouraged to talk to your Mac. Siri's arrival on the desktop is more than just an extension of the now-familiar virtual assistant from her previous roles on the iPhone, iPad, and Apple Watch, however.
Instead, Siri is properly coming into its own as a full-on digital helper rather than just a way to set alarms, jot down notes, or distract the kids with a bad joke or two.
For the most part, all the features from Siri on mobile are carried over to the desktop: you can ask for web searches, the answers to general knowledge questions, sports results, and discover the location of nearby contacts who have Find My Friends turned on. However, as I've found using the developer preview, the assistant has also learned a whole new range of file management skills befitting macOS.
You launch Siri with either the icon in the dock, by clicking up in the toolbar, or by holding command-space (a change from the developer version, which used function-space). Unfortunately you can't just call out "Hey Siri" as you might on your phone.
I've discovered the file management abilities are among those I use most often. I can ask for recent files, for instance, and then subsequently clarify that I just want to see the photos I've been editing; Siri remembers the context from the original query when I ask the follow-up.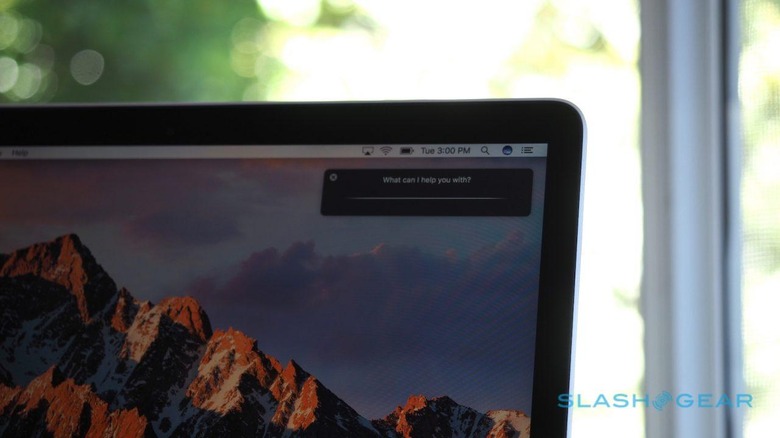 You can of course search by filename – "Show me files called To-Do List" – or by a specific location, such as in your Downloads folder, but it goes more in-depth than that too. If you're a Mail user, for instance, you can ask Siri to go looking for any new emails from a specific contact, rather than having to open the app manually and type in a search there.
That integration across macOS software is still in its fairly early stages, though it's already proved useful to me. I dumped a camera's worth of photos from a recent trip home to the UK into Photos and subsequently was able to hunt them down by location or – once Photos had indexed all of the faces in the shots – by which family member was in them. It might not be how you'd want to browse an entire gallery, but when I needed to share an image with someone by email it was handy to be able to avoid opening Photos first.
I could've dictated that email – or, indeed, used Messages – via Siri too, though I'm still a little reluctant to rely entirely on speech-to-text. Barking out "Open Mail" to get to the email app, however, saves a click in the dock.
If you're logged into Twitter or Facebook, meanwhile, you can send out tweets – complete with hashtags – or update your status, as well as search for hashtags or keywords by voice. Since Siri is getting opened up to third-party developers, meanwhile, I'm expecting to see more integration of this sort: Slack would be useful, for instance.
Unlike on iOS, where Siri disappears soon after she's finished helping, on macOS Sierra the results windows float around on top for as long as you need them, even if you swipe to a different screen. For repeat use, you can pin them to the Notification area: handy, I've found, for keeping the most recent documents I've been working on at easy reach.
I suspect most people will settle on a balance of how much they're comfortable talking out loud to their Mac versus the convenience of having Siri built-in. Easy first hurdles are likely to be things like asking how much local or iCloud storage is currently free; adjusting screen brightness or audio volume; or turning on "Do Not Disturb" mode or even putting your Mac to sleep altogether.
Similarly, while you can already access your Apple Music or iTunes music from the playback widget in the "Today" menu, it's a lot quicker to just ask Siri for a particular track (or more complex searches, like asking for the most popular song from 2010, perhaps). Of course, as a Spotify subscriber rather than an Apple Music user, the sooner she integrates with their catalog, the better.
NOW READ: Previewing macOS Sierra
Therein lies my problem with Siri at this point: right now, she just doesn't go quite far enough into the apps that I find myself using day-to-day. The whole point of giving developers – and, subsequently, the public at large – access to macOS Sierra early, mind, is to encourage them to integrate with the new Siri APIs, so hopefully by the time of the full release this fall there'll be more software and services that play nicely with my voice.