macOS Sierra Preview - The ecosystem play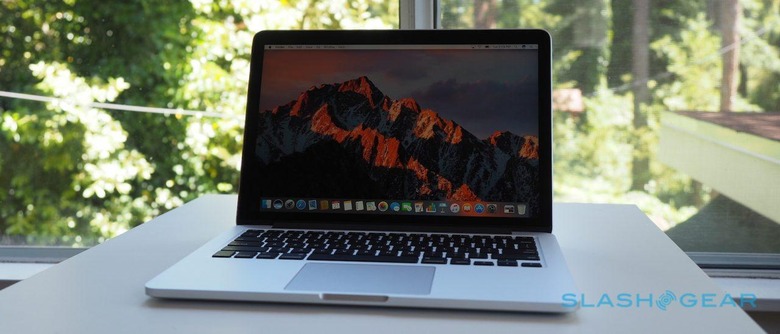 OS X has a new name, but macOS Sierra is otherwise business as usual for Apple: continue to draw together the Mac on your desk and the iPhone in your pocket. That means features we've become familiar with on iOS, like Siri and Apple Pay, making the leap to your Mac, but also a blurring of the lines between your different devices and what's in the cloud.Note: The version of macOS Sierra I've been testing, on a MacBook Pro 13, is the developer preview and thus not even the beta version that users will be able to sign up to play with come July. Apple warned me to expect bugs and sure enough I came across some; I'll be focusing more on the broad functionality than the stability of what is far from final software.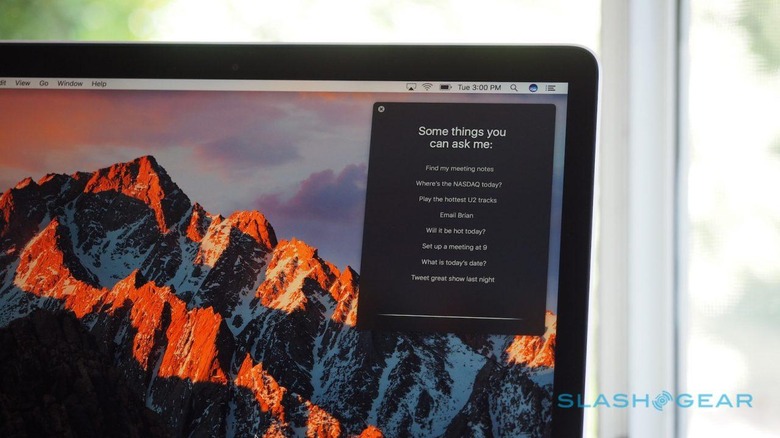 Siri may have started out on iOS, but even after a relatively brief period with it on macOS Sierra I suspect I'll make far more use of it on the desktop than I ever do while mobile. A combination of a reluctance to be seen as talking to myself in public and a mixed track-record of actually serving up useful results has meant I hardly ever use Siri on the iPhone – usually it's quicker for me to just do things manually – but its integration with Sierra's file structure can, when it works, be a real time-saver.
Rather than hitting command+space for Spotlight, you summon Siri with Fn+space (the shortcut might change by Sierra's public release; there are also Siri buttons in the launcher and in the menu bar) and just start talking. Most of the functions from iOS are carried over, bar mobile-specific abilities like navigation, and as is the case on iPhone Siri can dig into your macOS contacts to recognize names and such.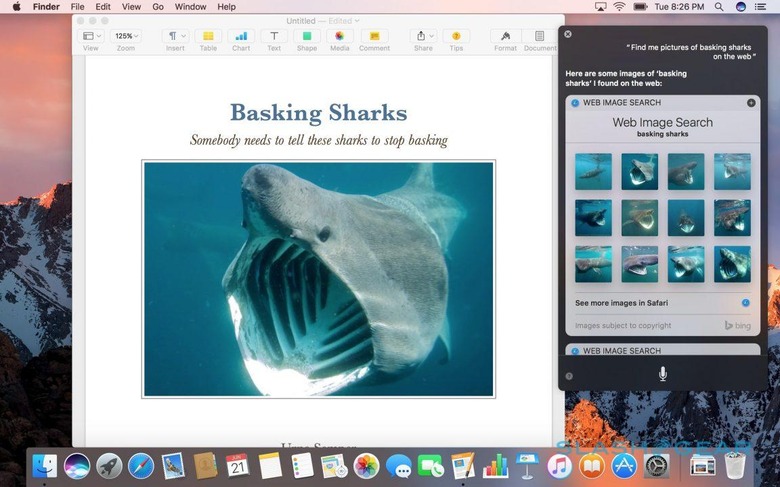 It's where Siri's abilities to do compound searches comes in handy. Since it remembers your original question, you can refine the search – "show me recently edited files" followed by "just the images" for instance – without having to completely repeat the question.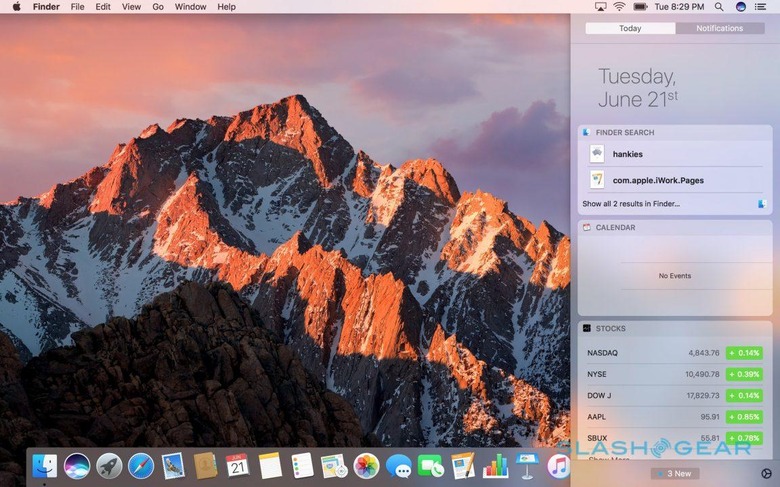 Results show up in a box in the top right corner, which lingers until you actively dismiss it; it'll even float on top as you switch between different Spaces. You can drag and drop results – like photos or files – out into other apps, or pin searches to the Today bar where they operate as live-updating widgets.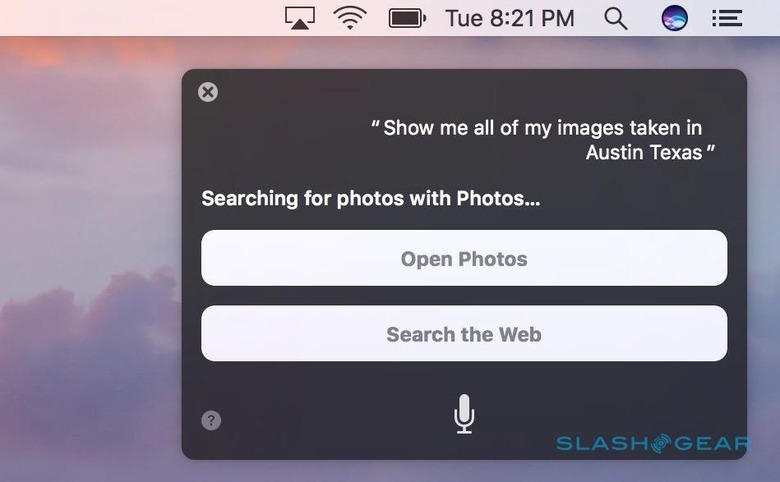 Unfortunately, just as it can be hit and miss on mobile, so Siri on macOS can be patchy with its results. Apple may bill it as natural language recognition but I found it was still highly phrasing-dependent, and often I was told I'd have to switch to an app to achieve results. I was also frustrated to find that I couldn't control HomeKit devices by voice, either. It's worth noting that not only am I talking with a British accent (which can sometimes confuse American-expecting systems, not just Siri) and to non-final software, but Apple did warn me that Siri's backend for macOS is a work-in-progress; the final Sierra release may very well do much better.
What does work well is firing off quick replies in Messages, using Siri to dictate. Messages itself gets a big update in Sierra, though not quite to the extent that it does in iOS 10.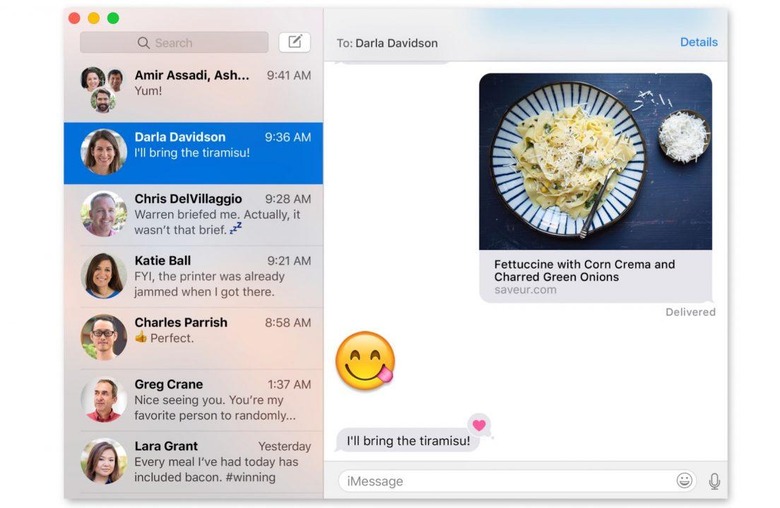 When you're chatting with someone else using Sierra or iOS 10, you get the triple-sized emojis and the ability to add "Tapback" reactions to received messages; there's also URL previews and in-line YouTube playback when you copy the address into a chat.
However, though you can see Live Photos, handwritten messages, and the other new types of chat being added to iOS 10, you can't send them in return. That's limited to iPhone and iPad.
Since many of the features in macOS Sierra rely on the close integration with iOS 10, some I'm not able to test independently until the newest releases for iPhone and Apple Watch arrive in the fall.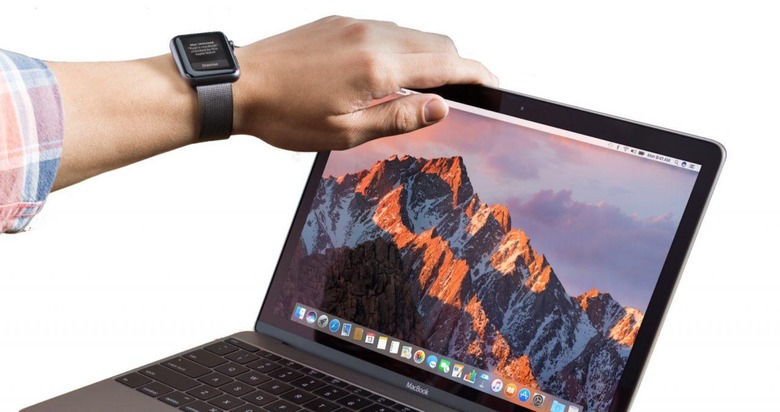 Auto Unlock, for instance, uses the proximity of your Apple Watch to log you into your Mac. It's a lot more clever than just whether you're near or not, too, Apple using time-in-flight math to measure the distance between your wrist and your computer based on how long it takes data to transmit.
It has a functional range of around three meters, too, so even if your Mac is under the desk or further away than a MacBook on your lap, it should work. Of course, that depends on you not only owning an Apple Watch (which I do), but wearing it while you're typing (which I don't).
Similarly, Apple Pay on the Web isn't ready for much more of a demo than what we saw at the WWDC keynote last week: it'll require not only the Apple Watch or iOS updates this fall, but retailer participation too. If you're already an Apple Pay user and you do your surfing in Safari, though, it's a no-brainer, automatically filling in shipping and billing details and then authenticating via your nearby Watch or iPhone.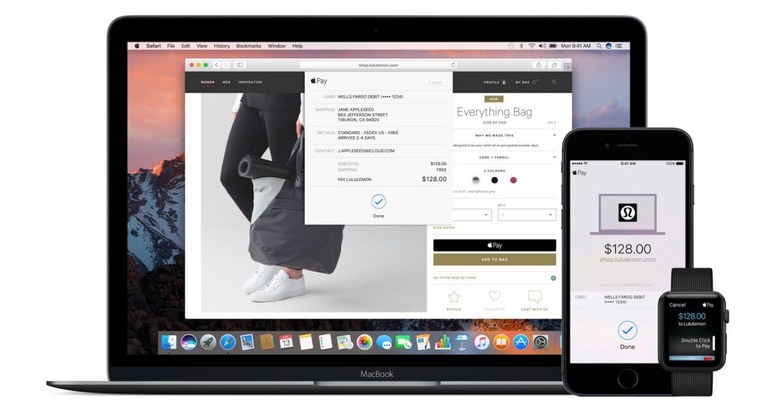 That latter requirement means you can't remotely approve a purchase – no giving the green light to the kids' internet shopping back home while you're at the office, for instance – and it's designed for a single logged-in user. You can choose between multiple payment methods on the same account, but you only get one person's Apple Pay details, something to bear in mind if you're using a shared Mac logged into a single account.
As for Universal Clipboard, that also builds on Continuity, blurring the divide between devices a similar way to how AirDrop operates. Now, I have a love-hate relationship with AirDrop, finding it incredible when it works but, occasionally, indecently frustrating when my iPhone refuses to see my Mac, or vice-versa; Universal Clipboard needs iOS 10 if you want to copy between macOS Sierra and your iPhone or iPad, so it's too early to say if it's more or less stable.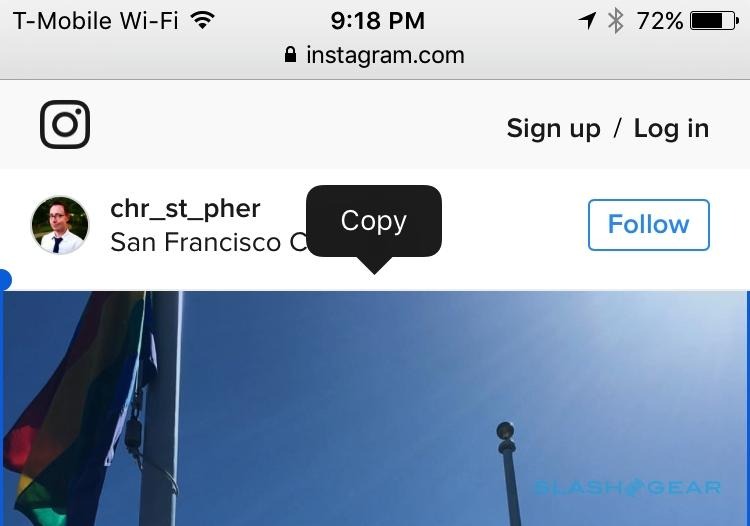 It'll work in just about every direction you could ask of it, just as long as you're within the Apple ecosystem and signed into the same Apple ID: Mac to Mac, iOS to Mac, Mac to iOS, and iOS to iOS. You have to be within Bluetooth range first, and there's a two minute window after copying something on one device to paste it with another; after that, pasting reverts to whatever you'd copied on that device earlier.
Of course that also means that, should you copy something on your iPhone and then decide not to paste it, you don't get to paste what's copied on your Mac until that two minute period is done. Universal Clipboard copies also only last for one paste, too: when you paste them, they're removed from the clipboard.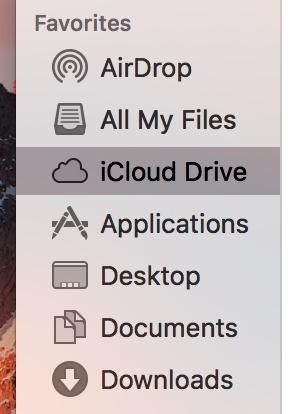 The harmonization of iOS and macOS continues if you're an iCloud user, which is getting a refinement to which files are synchronized so as to reduce the frustration of needing a document that you forgot to upload. Basically, it adds the Desktop and the Documents folder as locations which are automatically synchronized: you can still drag files manually to iCloud in the Finder sidebar, but anything saved in those two places are monitored by default.
Once they're uploaded, you can access them just as you accessed iCloud before: on Mac, iOS device, Windows PC, or through the browser. There's still no Android app, mind, which leaves me preferring Dropbox (which can be set to automatically monitor your choice of folders, and which has a native app for Android too).
If you're dedicated to the Apple ecosystem, of course, iCloud's integration with macOS makes it an easy go-to for cloud storage, and Sierra's updates are small changes which could make a big difference to your future frustration levels.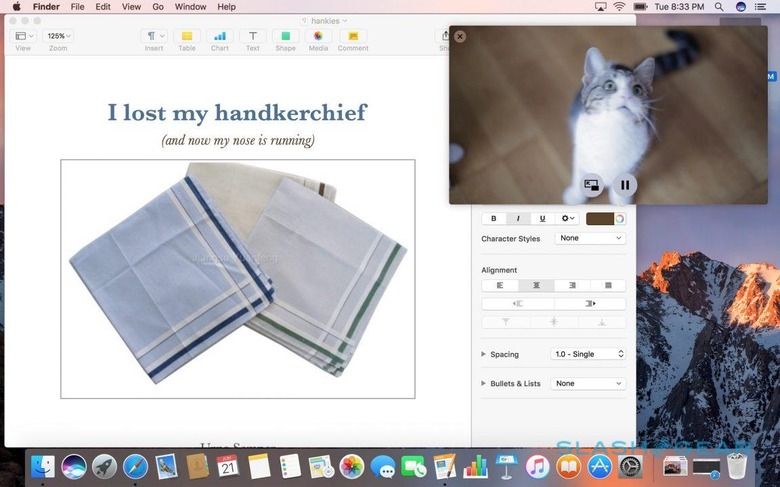 In fact, some of the features I suspect will be considered most useful by the most people in macOS Sierra are the more straightforward ones. Picture in Picture, for instance allows you to float a streaming video in a moveable, resizable box over whatever else you're working on; eventually it'll work with iTunes, though that wasn't supported in my test build, and the pop-out button didn't show up for YouTube videos, though Vimeo clips performed fine.

Similarly, tab support escapes from Safari and Finder to now work in Mail, TextEdit, Pages, Numbers, Keynote, and Maps (not to mention many third-party apps, if they're document-based). I do most of my writing in TextEdit and am used to having a dozen or more windows open at any one time; hunting down the right work-in-progress can be tricky, even with Exposé, but tabs quickly corralled them together.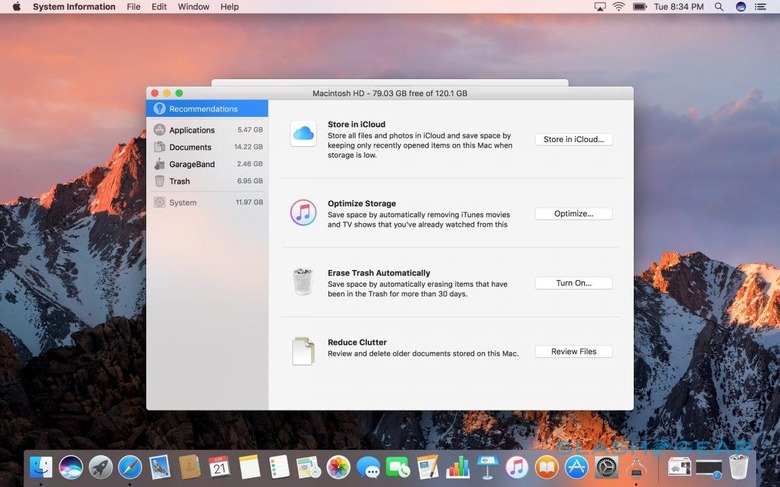 Finally, Optimized Storage – which sifts through the contents of your Mac when you're running short on space – is welcome, not least because it's not instantly attempting to force you into using cloud storage. Yes, it'll offer to shift the oldest, most-infrequently accessed documents and files into iCloud (leaving behind an icon to download them again later), but it only resorts to that if you're actually short on space.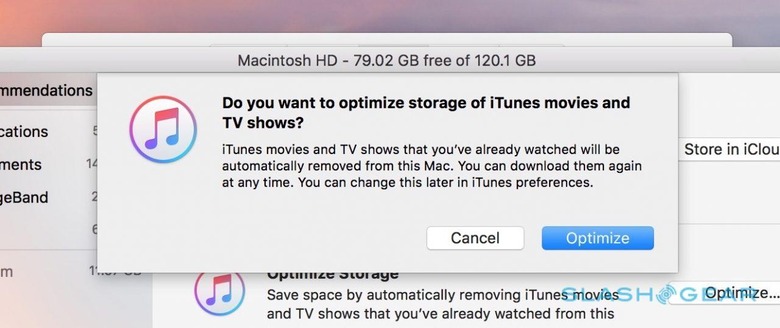 Anything you've downloaded from the iTunes store – like movies and TV shows – that you've already watched can be cleared off, and if you use an IMAP or Exchange account in the macOS Mail client it can delete local copies of any attachments.
Even if you're content to manage your own space, it's useful having everything pulled together into a single location. That includes old iOS backups, which usually you'd have to dig through iTunes to locate.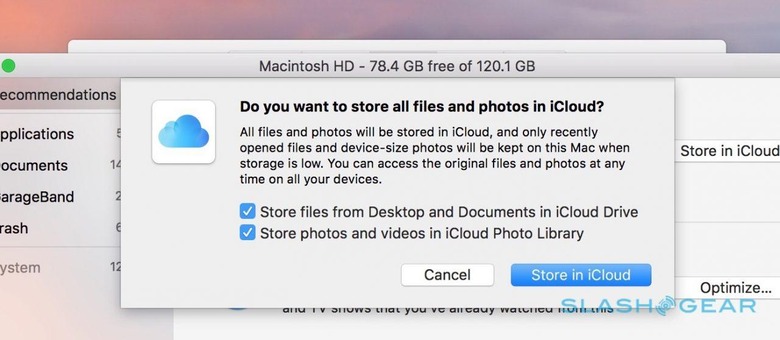 Happily, opening iTunes is no longer the nightmare it once was. The goal, of course, is to get you to subscribe to Apple Music, which has been pushed to the fore in a full revamp to the interface.
It's definitely cleaner; hunting down a particular feature in iTunes used to feel a little like an archeological dig, given how much had been bolted and grafted on over the years. It'll benefit from extended use, too, given how much is based on personalization – "For You" in particular, which suggests new music based on what you play from your library – and there's a strong emphasis on Apple's curated playlists.
Conversely, if you're not an Apple Music subscriber, you might not notice a huge amount of difference.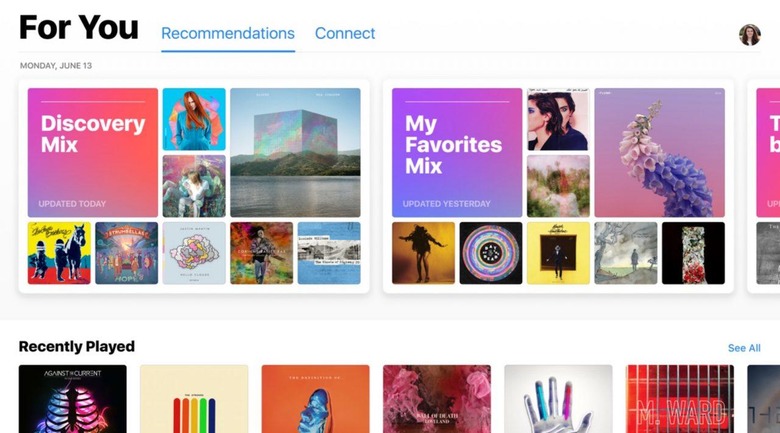 For me, macOS Sierra is most successful when it's demonstrating Apple's increased focus on computer vision and local processing, and nothing showcases that like Apple Photos. Not only does facial recognition improve in Sierra, and the photo organization app promise the ability to spot things like locations, animals, and objects in your images, it's all done on-device rather than resorting to cloud-based analysis.
That has positive implications for privacy, of course, but it also improves speed: there's no need to wait for all your photos to be uploaded to the cloud, something which can be time-consuming if you have even an average-sized gallery.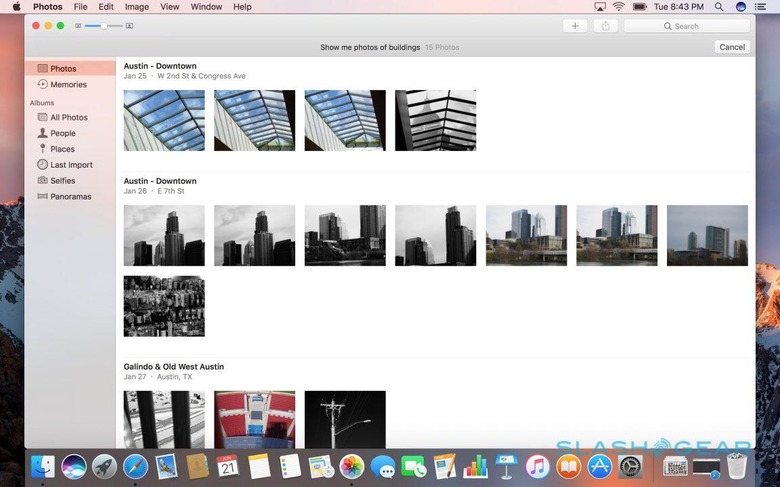 You can see your photos organized by who is in the shot, where they were taken – organized on a big world map – or by asking Siri for images according to date, location, or subject.
Album thumbnails now show a tiny preview of their contents when you scrub across them with the mouse, and there's a new "Brilliance" tool for editing which takes foreground/background into consideration as it tweaks things like contrast and brightness. However, the biggest improvement is the addition of Memories.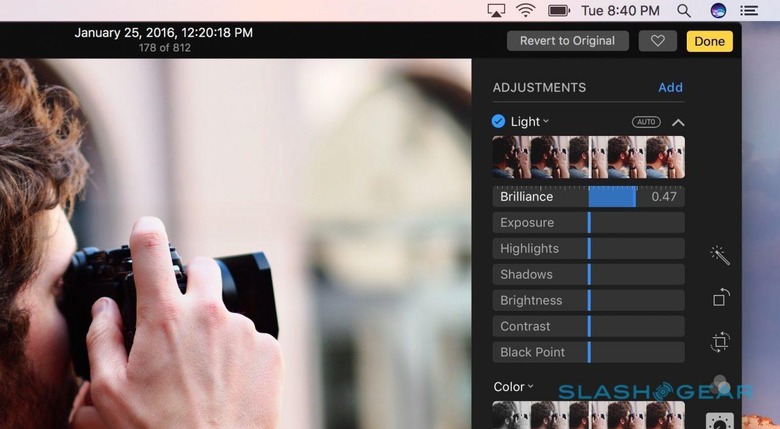 If you've used Google Photos, you'll be familiar with the idea of Memories in Apple Photos: automatically pulling together all images and videos that are similarly themed. In Apple's case, that's based on location, date, or the people involved, and you get 1-3 new Memories every day.
So, you might have all of the images taken when you were at the beach over the weekend; Apple Photos picks what it believes are the highlights to show first, based both on those you've manually favorited or looked at most frequently, but also on what content the algorithm decides is most interesting. You can click to see all of the images if you prefer.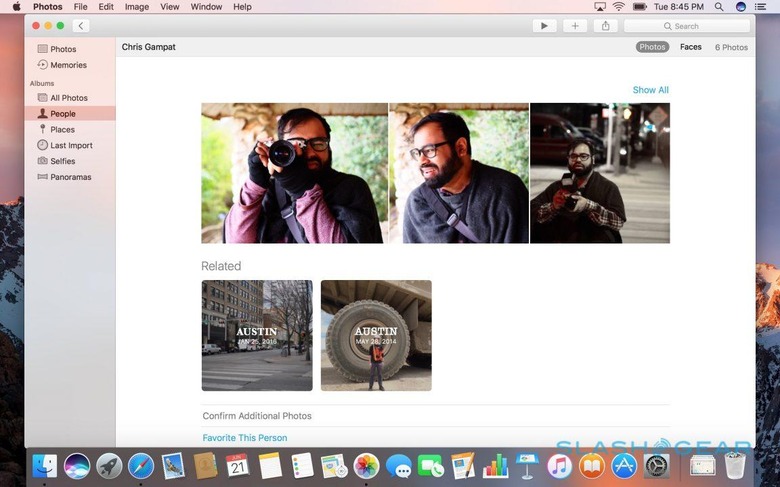 At the bottom of the list there are related Memories: those themed around a particular person, perhaps, or at the same location but at a different time. If you've got a big enough photo library you could easily go deep down the rabbit hole and lose an afternoon.
As you'd expect, you can share via iCloud Photo Sharing – visible on Macs, iOS devices, and Apple TV – or through email and Facebook. Memories are synchronized across all devices logged into the same Apple ID, too, but to keep bandwidth requirements low that's done as a "recipe" for each Memory: effectively a list of which photos and videos to include, with anything missing automatically downloaded from iCloud if it's not on the device you're currently using.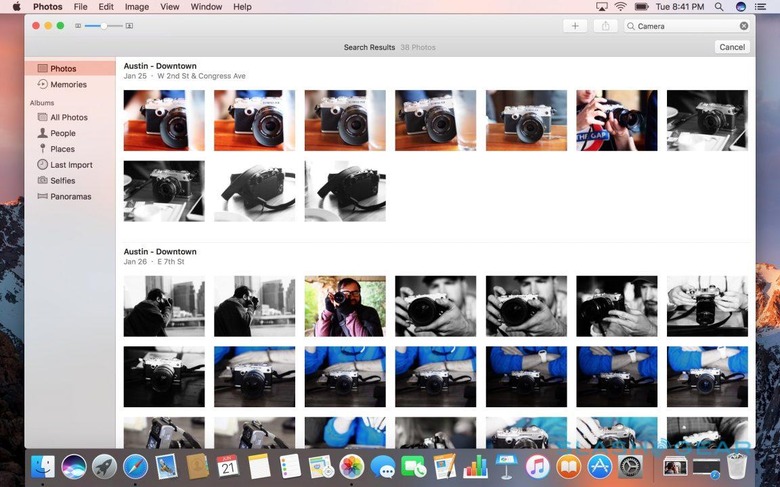 It all works well, though I'd like to see more granular control over what gets included as well as more sharing features for collaborative memories. Right now, there's no way to drag a new photo into an existing Memory: if you want something considered for inclusion, you need to edit its metadata – make sure the time/date and location matches an event, for instance – before Photos will add it.
Similarly, while Photos still supports shared galleries from friends and family, their contents won't be considered for Memories unless you manually add them to your own gallery. Apple tells me this is done by default, since you don't have control over what's added to a shared gallery, but I'd like to at least see the option, as Google Photos supports.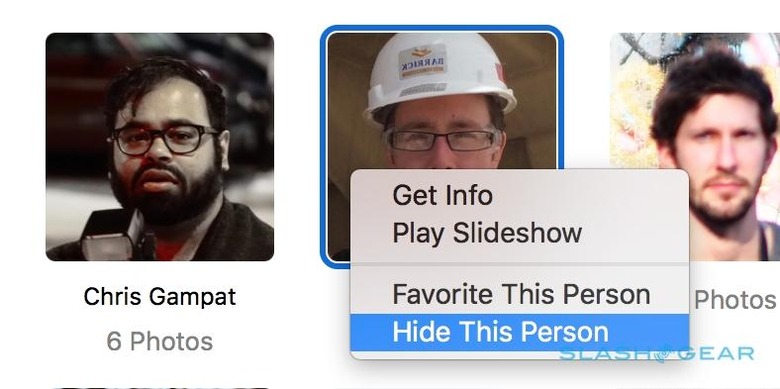 If you don't want particular Memories to be surfaced, you can hide or delete them and Photos won't recreate them; in a similar theme, you can hide or delete specific photos, or choose not to have pictures with a particular person included. Think of it as the digital equivalent of burning albums of your ex.
Back when iOS began its ascendence, many predicted the eventual iOSification of OS X. With macOS Sierra there are certainly aspects that we're familiar with from iPhone and iPad on the desktop, but it still feels like a distinct platform in its own right, albeit one with even tighter connections to Apple's mobile products.
Indeed, if there's a common theme it's that "life is easier if you buy into Apple's ecosystem." iCloud isn't the only cloud storage option out there, but it is the the most consistently integrated across Apple devices. Apple Photos isn't the only media organization option, but it's interwoven with Siri and iCloud. Auto Unlock needs an Apple Watch; Apple Pay needs an Apple Watch or an iPhone. You only get the fancy effects and whimsical emojis in Messages if everyone you chat with is using it.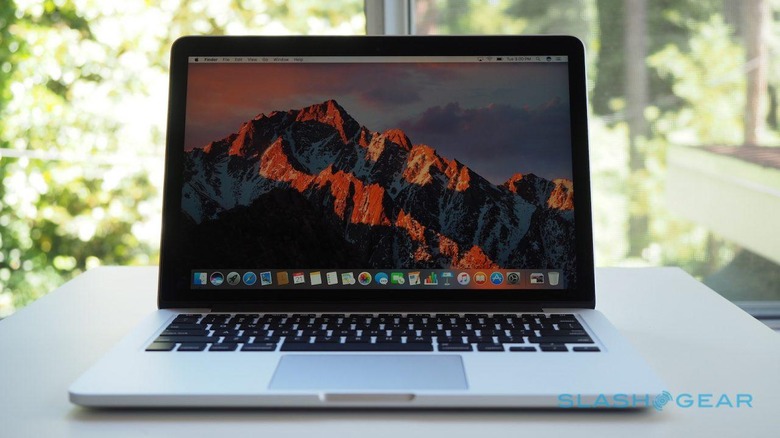 Power users will undoubtedly cherry-pick the features they really want and compromise on integration to keep using the third-party services they prefer. For the mass market, though, macOS Sierra – and iOS 10, for that matter – represents even more of a reason to furnish your desk, your living room, your pocket or purse, and your wrist with products bearing the Apple logo.
macOS Sierra is cleaner and more consistent, but you really have to jump into Apple's world with both feet to get the most from it.
macOS Sierra will be offered as a free upgrade this fall, and is compatible with the MacBook (late 2009 and later), iMac (late 2009 and later), MacBook Air (2010 and later), MacBook Pro (2010 and later), Mac mini (2010 and later), and Mac Pro (2010 and later). Meanwhile, those wanting an earlier look can sign up to a beta release in July.