Shiny Pokemon GO mistake? Attack of the clones!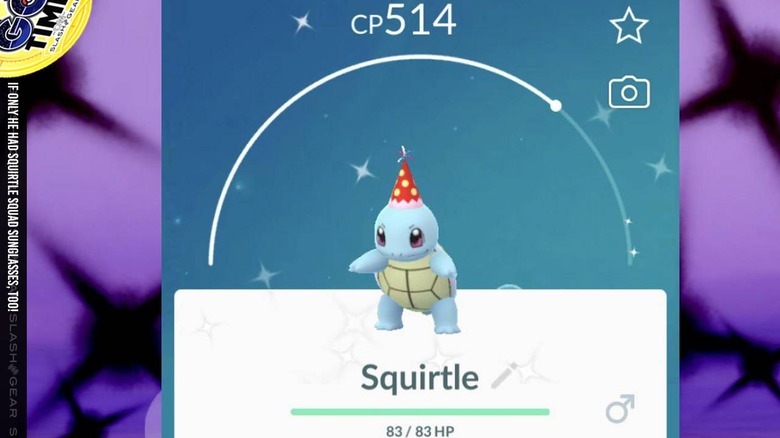 Niantic might've made a couple of mistakes this week in Pokemon GO, and we're reaping the benefits! Given the vast array of oddities released to Pokemon GO this week and this weekend, it seemed almost inevitable that a few cross-over special edition Pokemon would appear. That seems to be the case with what follows: Shiny Pokemon, Shiny Party Hat Pokemon, and Clone Pokemon with Special Moves!
Shiny Party Hat Pikachu
One of the most convoluted sets of limited-edition features you can get in the game is the Shiny Party Hat Pikachu. That Shiny Party Hat Pikachu is available right now in both Male and Female form – the male has a flat tail, the female has a heart-top tale – both are super cute!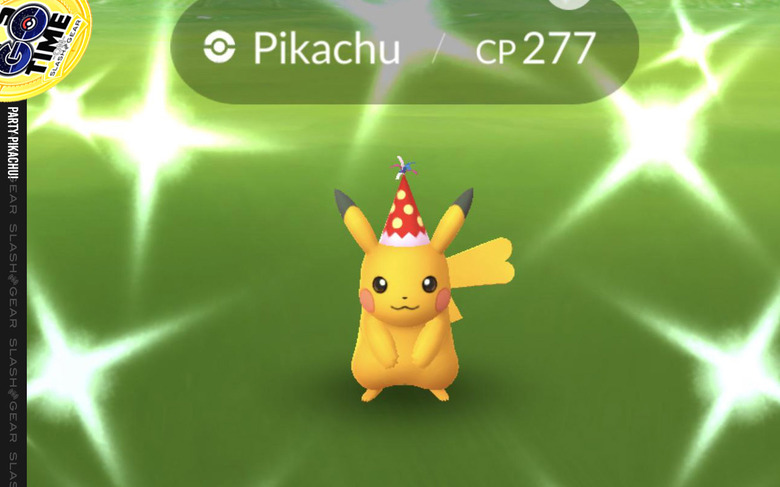 This one we knew would be here – Niantic said as much. It's still exciting to find this Pokemon out there in the wild though – you'll be able to spot it if you're lucky through the weekend! This image comes from CaptGoldfish!
Mistake! Loss of hat!
There's a Shiny Straw Hat Pikachu out there in the world that's lost his hat. It's a tragedy. According to several folks in a SaintGo image post on The Silph Road, the Shiny version of the Straw Hat Pikachu is losing hats all over the place! Hopefully this is only a temporary glitch!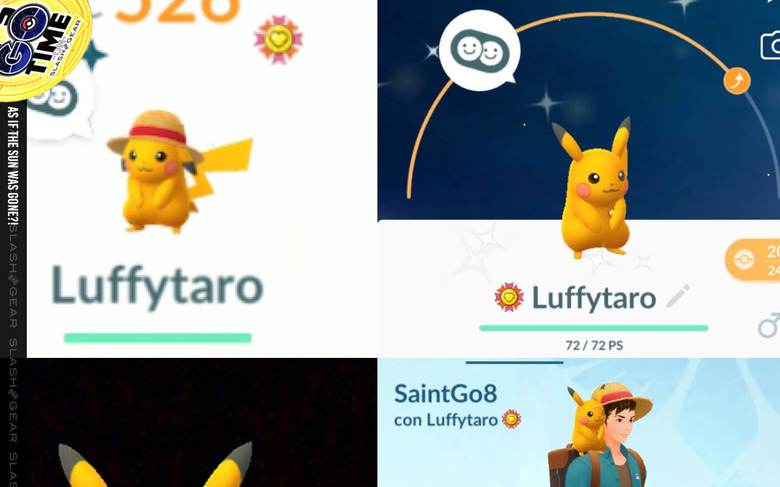 UPDATE: It would appear that the glitch was fixed! PHEW! That was a dramatic few hours, to be sure.
Shiny Party Hat Bulbasaur!
If you're completing the tasks given to you this week courtesy of our favorite Professor, you'll get the potential to catch a Shiny Party Hat Pokemon. Thanks to Mean_Speed we've got a look at this Shiny Party Hat Bulbasaur – so fancy!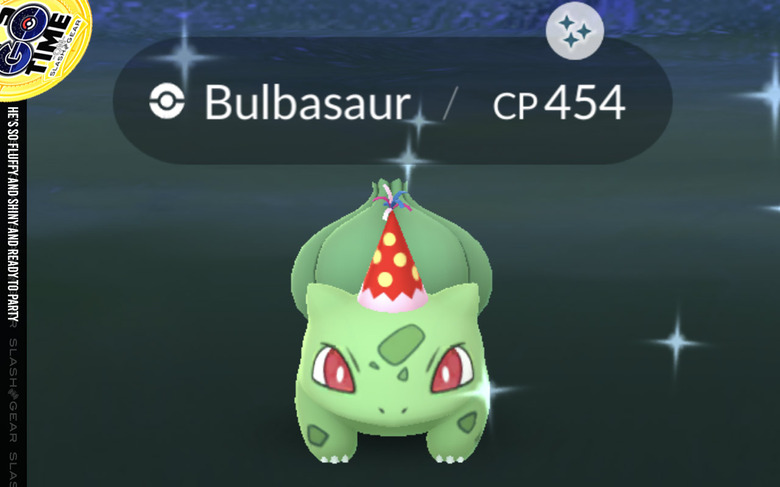 UPDATE: To be clear, this is for the Kanto starters field research, and if you've not started it before this week, it might not appear for you at this point. Some players are reporting that the research is gone altogether – no hats for them! Others are getting... Party Hat Squirtle hooray!ALSO: The image at the head of this article comes from pekkis123 on The Silph Road. That Shiny Party Hat Squirtle was hatched from an egg found after the start of the event – it did not come from field research!
No Evolution?!
While it might be mistake, it's far more likely that we're living the Halloween nightmare once more. I'm speaking, of course, of the fact that (at the moment) these costumed characters cannot be evolved. What's the point of a super fancy party hat if you can't even turn into a monster?
Special Moves for Clones!
Clone Charizard knows the move Blast Burn! The image here comes from AgathokakologicalAz – such a prize! Clone Venusaur knows Frenzy Plant! Thanks to user g1d2, we've got a lock on the most rare Venusaur yet revealed – unless we get that Shiny version too.
Perhaps most useful of the three, we see that Clone Blastoise has no less than the special move HYDRO CANNON! RyotoYokoyama delivered this screenshot, complete with weather bonus! Now, if only they hat Party Hats!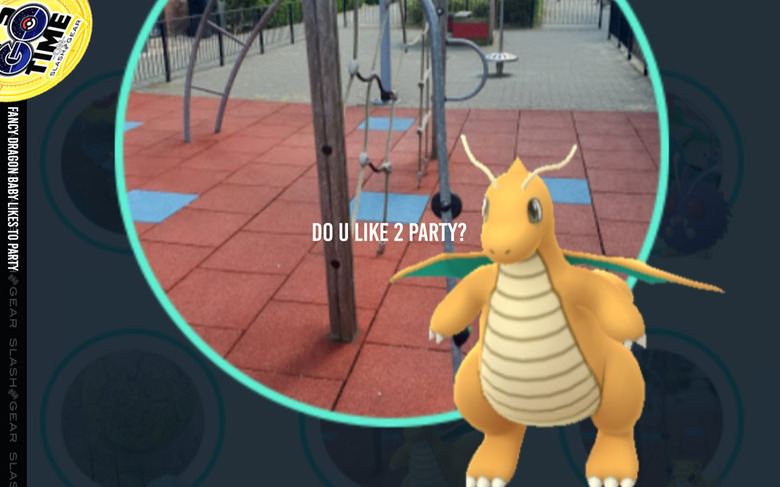 Mistake? Rare boost!
While it was not announced by Niantic during their frenzy of Pokemon Day announcements yesterday, today it would appear that we're getting a whole lot of rarities out in the wild! Per a bunch of trainers over in a Silph Road thread started by Sur5er, Pokemon that some users NEVER see have been appearing like they're common!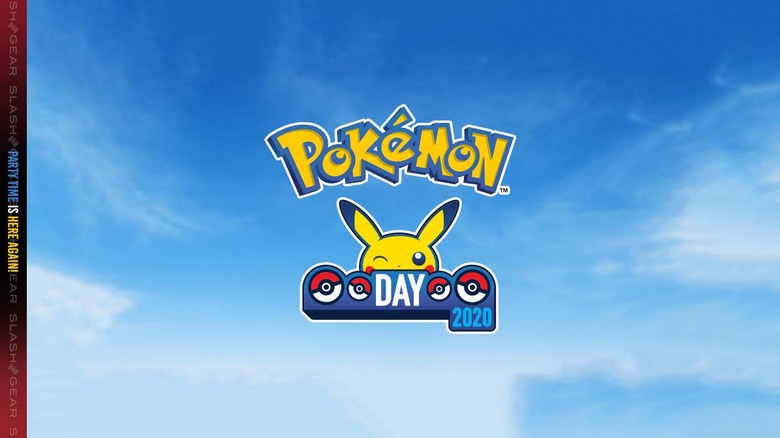 In any case, it would appear that this is THE WEEK to play! Take a peek at our big Pokemon Day Pokemon GO guide for 2020 for more info on what's in the mix!