Shelby Baja 700 Edition Raptor is a street-legal beast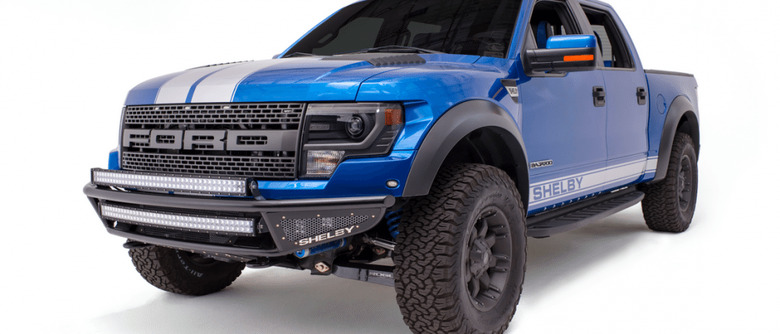 Shelby American has taken the wraps off its new Baja 700, a limited edition Raptor that brings with it an incredible amount of power while remaining street-legal. The Baja 700 truck is built upon the 2011 to 2014 Ford SVT Raptor, and only 50 of them will be built at Shelby's Las Vegas factory. Included with them will be BFGoodrich K02 tires, more than 700 horsepower, Borla exhaust system, and more. Shelby has begun taking reservations for the Baja 700 already.
The Shelby Baja 700 features a 6.2 liter V8 engine with a Whipple 2.9 liter supercharger. Says Shelby, the Ford SVT Raptor's 411 horsepower rating is boosted to the 700 horsepower mark, and when coupled with the BFGoodrich K02 All-Terrain tires, it can blast its way off the road the same as on it. The design is akin to what we saw with the 2015 Ford F-150 Raptor, which manages to eclipse the 6.2L Raptor's 411 horsepower while retaining better gas mileage.
Check out the SlashGear Cars Hub for more auto news!
The Baja 700 will also feature some special edition graphics and 18-inch custom wheels, Shelby striping, and optional rear and front Rogue Racing bumpers. Likewise, the suspension is designed specifically for off-road use, allowing it to tackle tough terrain without worries.
The Shelby Raptor was first launched at the New York Auto Show in 2012, and this newest rendition builds upon it in all the right ways. Said Shelby American's VP of Operations Akos J. Feher, "Fifty lucky owners will have the baddest, best-handling and best-looking Shelby truck we offer." Price starts at $45,000 USD.
SOURCE: BusinessWire