Shazam Integration With Google Play Music Adds Button For Buying Tunes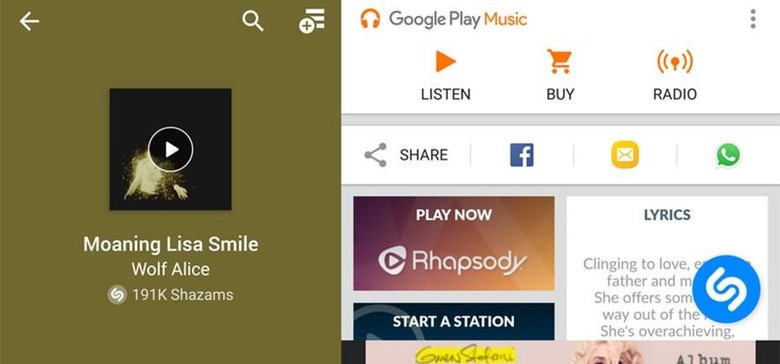 Music fans that have used Shazam to identify a song they hear and like will now have improved ways to buy the song or perform other tasks via Google Music. The latest versions of the app still allows you to identify a song and once the identification is complete, a large Google Play Music bar will be visible that has buttons to listen to the song, buy the song, or create a radio station based on the song. Google Music really wants Shazam users to try out its music service and is offering a 3-month play subscription for a dollar.
Something else that makes that Google Play music subscription a sweeter deal is that it also includes a YouTube Red subscription allowing you to download videos to view offline and ditches the ads normally seen on YouTube. If you prefer one of the other music services that Shazam works with, don't fret.
Shazam will still have large buttons and integration with Spotify, Pandora, Rhapsody, and Amazon Music. Buttons for Google Play Music are simply going to be larger, at least for a while. The radio station created with this new integration is only based on the last song identified. Shazam has updated its music identifying service with some nice features over the last year.
If you own an Android Wear wearable, an update landed last year that allows the user to get lyrics on their wearable device. Shazam also got an update back in November that allowed it to identify songs faster; it also gained a smarter search function. If you are completely unfamiliar with Shazam, it listens to a song playing and gives you the title, artist, and album info.
SOURCE: The Verge