Sharp NJ70A Versus Sony VAIO P Video Boot Race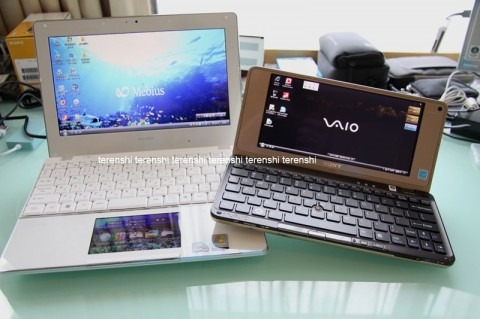 It's Monday morning, so what better way to start the day than with two netbooks most people can't officially buy.  Sharp's Mebius NJ70A is one such device, complete with a touchscreen display in place of a traditional trackpad and Intel's Atom N270 CPU, while the 1.86GHz Sony VAIO P25G has the faster Atom Z540 processor currently unavailable through official channels in the US.  After the cut there's a boot race video, plus more details on that surprisingly clever touchscreen.
Video demo after the cut
Contrary to initial belief, the touchscreen used in the NJ70A isn't a standard capacitive panel such as you might find gracing the front of the iPhone 3G S; nor is it a resistive panel.  In fact, the Sharp netbook uses a 4-inch "photosensitive" screen, which can not only respond to finger-touch but also pen input for recognizing Chinese, Korean and Japanese handwriting.
What will be particularly interesting is whether such displays – which seemingly combine the touch-feel of capacitive with the stylus-flexibility of resistive – transition over into Windows Mobile devices.  Microsoft have justified their mobile platform's dependence on resistive touchscreens as that it caters for handwriting recognition, important in Asian markets.