Apple iPhone 3GS hands-on
The first new US iPhone 3GS users are picking up their handsets today, and SlashGear is among them.  We've been down at the Apple Store in NYC this morning, and have been eagerly playing with the new smartphone to see whether all the hype was worth it.  For the moment we'll put aside any arguments about whether it's too expensive to upgrade or comes on your carrier of choice;read on for our iPhone 3G S first-impressions. Update: iPhone 3GS Review
Until you turn the 3G S on, you could be holding any iPhone 3G.  While there are a few physical differences – the most obvious being reflective text on the back panel, to match the Apple logo – the big changes are inside.  Turn on the smartphone and it loads quicker, while everything from swiping through different homescreen panes, loading native and third-party apps, and even just the 3G's periodic lags has been smoothed out.  Our first-impressions of the impact on data-rich apps, such as a packed inbox or the always-thorny SMS messaging, is that the sluggishness as the handset churns through content is removed.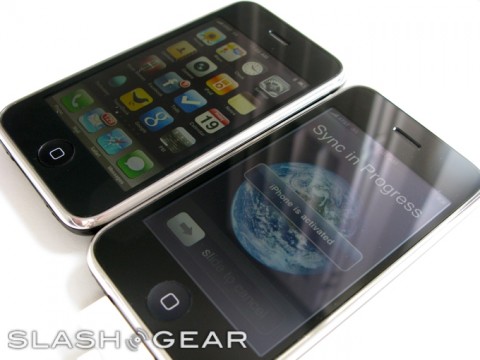 We'll spend more time with third-party applications over the weekend, but the few graphically-demanding games we downloaded through the App Store show a marked improvement courtesy of the new video chipset.  Apple use the new PowerVR SGX graphics chipset, with support for OpenGL ES 2.0, and while it's early days for titles that specifically take advantage of it, rendering speed and results for existing titles have improved.
Perhaps the next biggest feature after speed boosts is the new camera, a 3-megapixel shooter with autofocus.  There's still no dedicated camera shortcut, though you can set a double-tap of the Home button to trigger it.  Touching the screen sets the focus, something not exclusive to the iPhone 3G S but admirable all the same, and the smartphone seems to do a pretty good job at locking on and then snapping shots a little quicker than the 3G manages.  We're a little disappointed that there's no macro mode, though, and that you're limited to non-touch autofocus when you flip over to video-recording mode.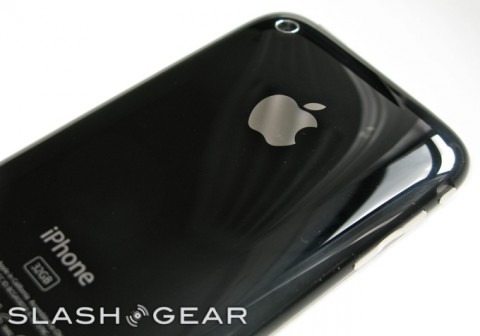 Still, we're thankful that there's even the possibility of recording video on the iPhone 3G S in the first place, something requested ever since the original iPhone in 2007.  The two modes are selected by a simple on-screen switch, and after that all you need concern yourself with is tapping record.  Our first-impression is that we wish there was more manual control over things like white balance and exposure; both video and photos are lighter than our tastes prefer, and there's no way to change that apart from in post-production off of the handset.
Post-production is actually something Apple are encouraging people to do with their iPhone 3G S itself; while there's not the mini-iMovie suite originally tipped, you can trim down clips to slice out the portion you really wanted.  Unfortunately there's no way to join more than one clip together, nor to snip out an unwanted middle section, and all edits are final.  Perhaps it's a storage issue, but we wish we had at least the choice to save raw footage and edit a copy rather than the original.  Once we've had a chance to sync the iPhone 3G S with our computer we'll see just how the end results turn out; on the phone's own display, playback is smooth and clear.
Getting footage off the iPhone 3G S needn't involve synchronization with iTunes, though.  The smartphone can upload to YouTube or MobileMe, be attached to an MMS message if your carrier supports it, or send a .MOV format file via email.  It's also clever enough to compress the file before it attempts it, though we'll be playing with this to see exactly how long YouTube uploads take over 3G and WiFi.
Another new feature is the digital compass, which works pretty much as it does on HTC's Android smartphones.  Now, as well as using GPS to pinpoint your location in Google Maps, you can also see which direction you're facing.  Clever, though maybe a bit gimmicky right now, but this will come into its own with third-party turn-by-turn PND apps.
One of the things we're most excited about is battery life, which Apple promise has been extended in the iPhone 3G S over the iPhone 3G.  We're used to carrying around a Mophie Juicepack to top up the charge throughout the day; happily it'll still be compatible with the iPhone 3G S, but we're hoping it won't be so necessary.
The physical design of the iPhone 3G S is still great – and the new oleophobic coating to the screen does a decent job of letting face-grease slide off with a single swipe against the nearest soft surface – though there'll be fashionistas disappointed at no obvious way to flag up the fact they've the latest Apple device.  Of course, iPhone 3G owners have already been able to play with most of the new software features on the iPhone 3G S, thanks to OS 3.0 which was released on Wednesday.  That means cut, copy & paste support, horizontal QWERTY keyboards, Spotlight universal search, the new Voice Memos app, push notifications, MMS support (again, carrier dependent) and even unlocking the 3G's Bluetooth to support the A2DP stereo profile.  Unfortunately neither the iPhone 3G or the new 3G S offer AVRCP, which means that even if your wireless headphones have play/pause and other buttons, you won't be able to use them to control media playback.
You can bet we'll be playing more with the iPhone 3G S over the rest of today and the weekend, in preparation for the full SlashGear review next week.  Until then, if you've any questions regarding the handset, let us know in the comments.
[vms 5b314a80bdcb024f8e42]