Sharp Galapagos Ereader Android Tablets Get Official [Video]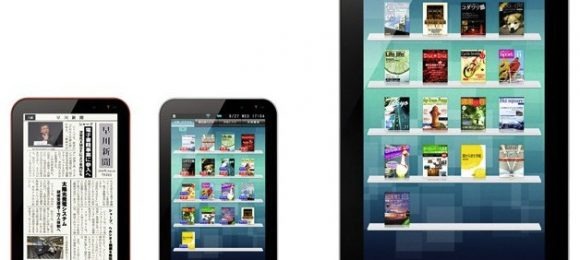 Sharp has spilled the official beans on its two new ereader tablets, with the bizarrely named Galapagos platform being the name both for the hardware and the company's new ebook ecosystem.  The two Sharp Galapagos slates each run Android: the "mobile" model has a 5.5-inch 1024 x 600 display, while the "home" version has a 10.8-inch 1366 x 800 display; LCD displays are used, rather than the E Ink panels more regularly found on ereaders.
Video demo after the cut
Navigation each is via the touchscreen, though the smaller model also has a trackball for more straightforward one-handed operation.  No sign of integrated 3G (at least at this stage; we've heard talk of a Verizon partnership for the US in the past) but there's WiFi b/g to take advantage of the Galapagos ebook service's automatic periodical delivery for things like regular newspapers and magazines.
There's also a web browser, Office file viewer and a reading-centric social networking app, and Sharp will bundle their Galapagos Station PC app for managing ebook content.  No word on pricing, but the Galapagos ereader tablets will arrive in Japan in December along with a 30,000-strong catalog of magazines, newspapers and ebooks.