Share Your Experiences with ChatON Now
The last time we spoke about Samsung's mobile communication service ChatON, it was only just being announced as a future product – that was earlier this year – since then it's been launched as a fully active application on not only Android but Samsung's own bada mobile operating system as well. What this app, or as they call it, mobile communication service, does is to provide you the user a whole new way to communicate instantly between web-enabled mobile phones. While the app is currently limited to the two OS platforms stated for the moment, it will be extended to additional platforms soon!
Before you go any further, you've got to get into what Samsung's whipped up to excited you about ChatON, namely an interactive movie experience known as Chataway [experience it here] – it's full of action and excitement and full-screen awesomeness. Once you're into it, you'll have no choice but to download ChatON in one way or another, more than likely on your Galaxy S II device or whatever you've got on the bada OS, probably the Wave 3. Then check it out: here's why you're going to use ChatON for all your group-chatting needs.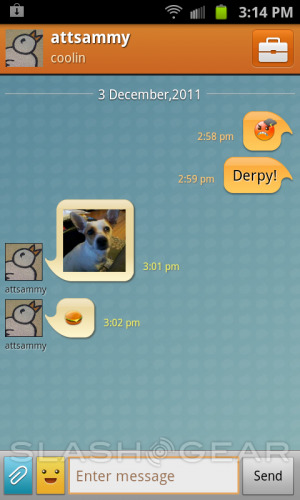 Once you've signed into ChatON with your phone number (no additional account signing in needed), you'll be on your way to group chatting in an easy to use, theme-customizable environment with all your colleagues and friends. Multiple platforms can join in, and outside of chatting in a group, you'll have your own Profile page that allows you to leave a status, update your contact information for your ChatON contacts to see and use, and work with your Interaction Rank list of friends — the people you interact with most will appear here for easy access. Below this is "Buddies Say", a place where people can leave messages direct to a profile outside a chat.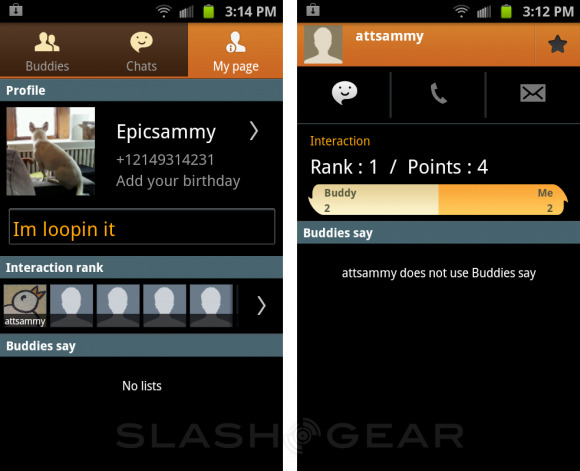 Inside a Group Chat you can add messages including everything from a simple bit of text to an animated hand-drawn animated message. Once media is added to the chat, it stays in the chat's "Trunk" where any subsequent chatters in the group can access it. Photos, video, audio, animated hand-made messages created with ChatON itself, and again, letters and numbers. "Still texting? Check out ChatON." That's what Samsung says – believe it.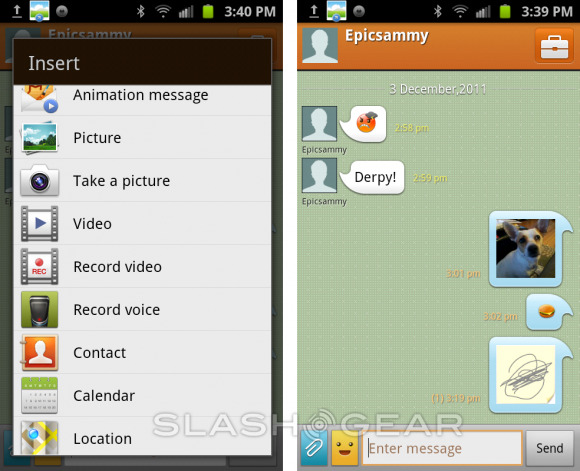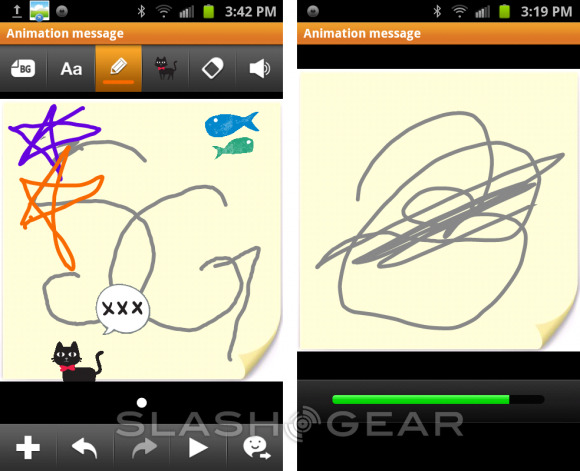 Check out the "CHAT AND SHARE YOUR LIFE" infographic in the gallery below to see the full history of the development of ChatON, then get it for yourself. For those of you using a bada device such as the Samsung Wave 3 now or in the near future, you'll have ChatON installed right out of the box. For those of you using Android, you'll be able to download the application right this second from Samsung Apps or through the Android Market. You'll find that the optimal specifications for your Android device to have is a WVGA 480 x 800 pixel resolution display and Android 2.2 Froyo or 2.3 Gingerbread running on it. You can also access this whole platform from a browser window — that feature is coming soon to ChatON.com.
We'll be doing a hands-on review of this application and ecosystem, so called because of its multiple operating system usability. Stay tuned or feel free to grab the app for yourself now.
[via SamsungTomorrow]