Sevenhugs new smart remote is much cheaper - but there's a catch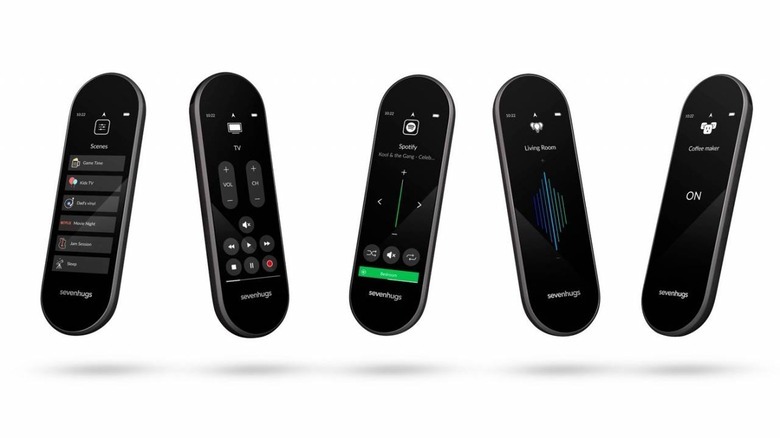 Sevenhugs' smart universal remote is getting a cheaper sibling, with the Smart Remote U trimming $100 from the price but still keeping the touchscreen interface. The addition to the range also sees the original model renamed as the Sevenhugs Smart Remote X, two years after it made a splash on Kickstarter.
Back then, the promise was straightforward. Home entertainment gadgets were proliferating in the living room, and trying to keep a handle on them all could be tiresome. Sevenhugs' answer was to bypass jumping between menus and instead allow you to control a device simply by pointing the remote at it.
It worked surprisingly well, though there was a premium to be paid for that simplicity. $299.99 to be exact, for which Sevenhugs says the remote could boast support for more than 650,000 different devices, across WiFi, Bluetooth, and infrared. A single remote can handle up to 80 devices, 20 of which can be IR.
Now, there's a second model for those who want some of the functionality but with less of a hit on the wallet. The Smart Remote X with Point Mode remains on sale, but the Sevenhugs Smart Remote U arrives at $199.99. Problem is, along the way you miss out on one of the headline features.
As with the original, the Smart Remote U supports the same lengthy list of TVs, A/V receivers, smart plugs, streaming devices like Apple TV, Roku, and Amazon TV, Bluetooth speakers, and more. You can connect over the same trio of wireless options, and up to 80 devices can be managed with a single remote. It's not just TV and audio either: if you have smart lights and other automated gadgets, they can likely be found on Sevenhugs' list, too.
What's exclusive to the Smart Remote X, though, is Point Mode. That's the clever indoor positioning system which automatically figures out what device you're pointing the remote at and changes the controls it shows on the 3.4-inch touchscreen accordingly.
It puts the Sevenhugs Smart Remote U back into the territory of other universal remotes, which typically also offer things like one-touch scenes and infrared learning. That's a strategy we've seen other remote-makers move away from, too. The Logitech Harmony Express, for example, trims its physical controls by relying on Alexa instead.
If you'd rather tap than touch, however, the new Sevenhugs remote is available to order today, both from the company direct and through Best Buy.