Logitech Harmony Express puts Alexa in a universal remote: Hands-on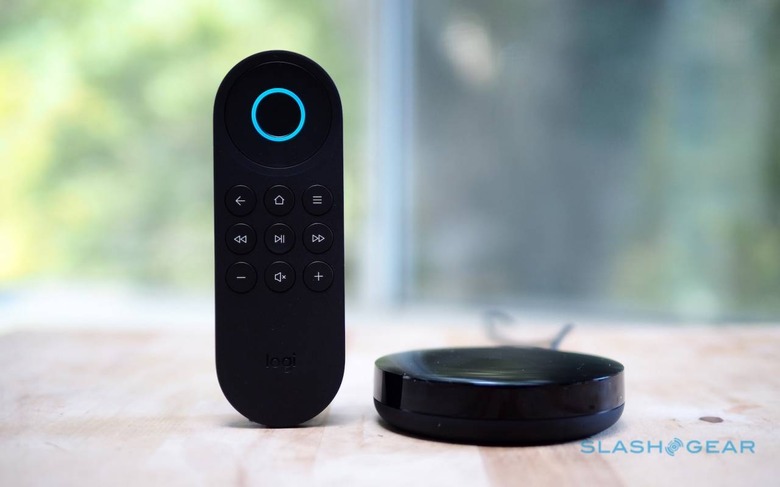 Instead of juggling remote controls, Logitech wants you to hand them to Alexa. That's the goal with the new Logitech Harmony Express, anyway, a simplified remote with Alexa inside, that hides deceptively capable home entertainment control behind a minimalistic selection of buttons.
Traditionally, Logitech Harmony remotes have been a frenzy of buttons. Certainly powerful, if you were willing to spend the time configuring everything, but hardly user-friendly to those who just want to turn on the TV, open Netflix, and get watching. That level of user-friendliness demanded a different approach.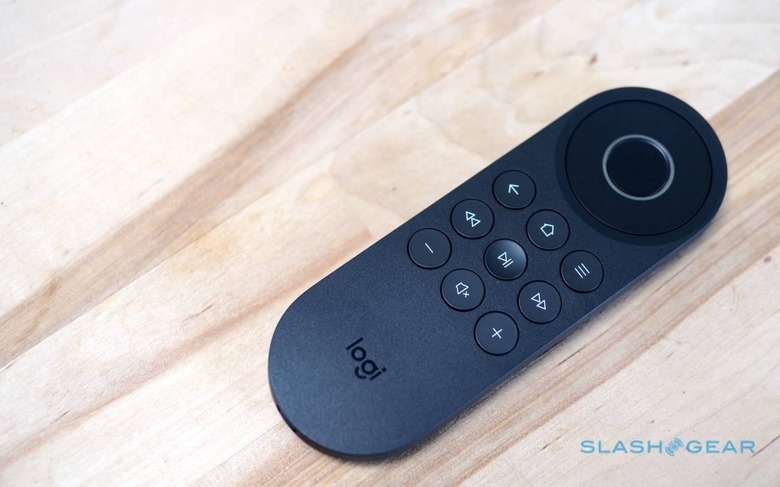 Logitech's answer is the Harmony Express. Rather than a long slab covered in a few dozen buttons, it's a palm-friendly lozenge with just the essentials. At the top there's a navigation pad, while underneath are home, back, menu, play/pause, fast forward and rewind, volume, and mute keys.
That paring back is possible because Alexa is lurking inside. Press and hold the center select button and – with a familiar blue ring lighting up around it – Amazon's assistant starts listening. You can ask just about any question you might ordinarily of an Echo smart speaker, like the weather forecast or general knowledge, but Logitech has also added entertainment-specific commands of its own.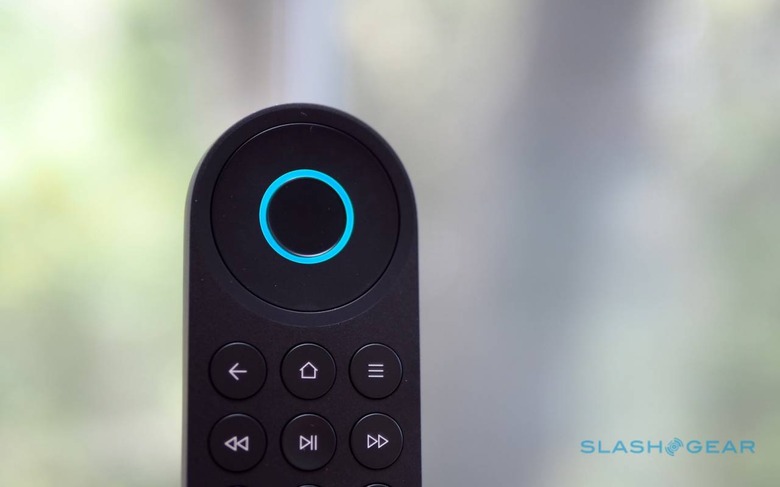 There's been a
Logitech Harmony skill for Alexa
for some time now. The Harmony Express, however, takes a very different approach to how the remote interacts with what's in and around your TV cabinet.
With a regular Harmony remote, you build activities. One for, say, watching a movie on iTunes, that turns on your TV, your receiver, your Apple TV, adjusts the surround sound settings, and maybe even tweaks the smart lighting. You might have another activity for sports, and one for Blu-ray, and numerous others for different ways you use your home entertainment system.
A smarter, faster setup
Harmony Express tackles things differently: in essence, you tell it what you have and which device is plugged into which port, and then it figures out the activities itself. In my case, after I plugged in the Harmony Express hub and connected the IR blaster, then gave it access to my Amazon account for Alexa control, Logitech's app scanned my home network for what compatible devices it could find.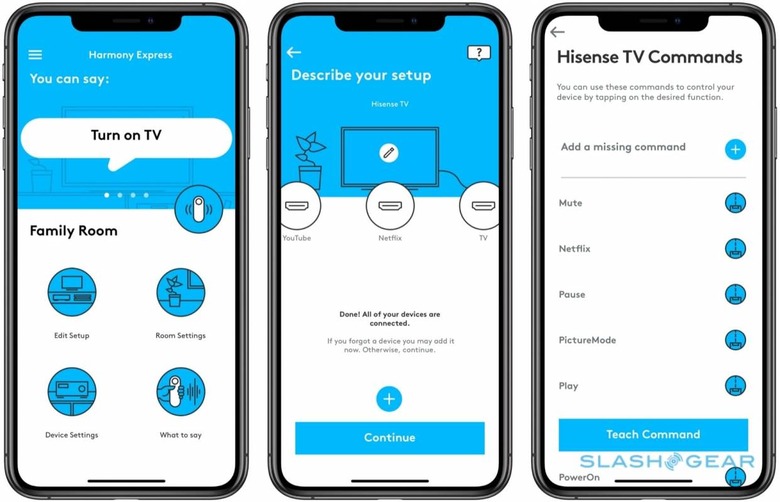 You see them presented in a long list, all your TVs, set-top boxes, receivers and soundbars, and other devices. Then it's a matter of selecting which of those are in the same room, and then dragging and dropping the individual devices to correspond with the HDMI or other inputs on your TV or projector. Because the Harmony Express knows where your Apple TV is plugged in, for instance, when you ask Alexa to "Go to Apple TV" she can turn the TV on, wake up Apple's set-top box, and switch to the correct input.
The same is true for TV channels. If you have cable, satellite, or over-the-air TV, once the Harmony Express knows your provider and location it can switch to the correct channel for you. "Go to ESPN," for instance, will automatically take you to the correct channel number.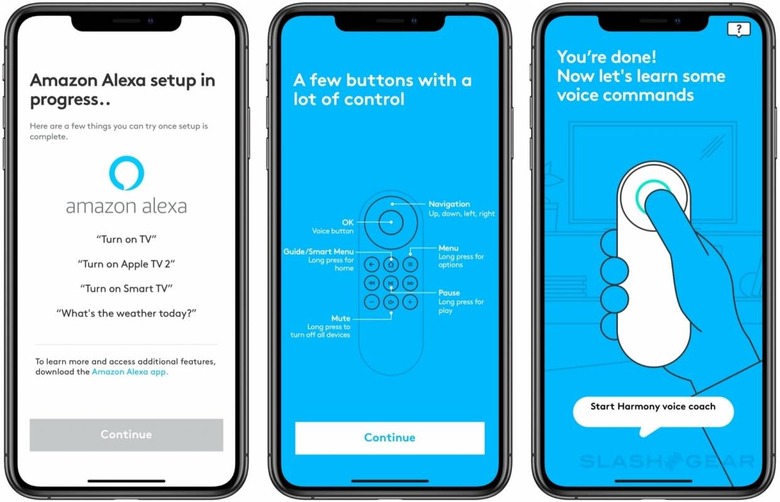 It's not uncommon to have multiple ways to watch the same streaming service these days: your smart TV might have a Netflix app, for instance, as well as your Apple TV and your Fire TV Stick. The Harmony Express allows you to mix and match which loads by default when you ask for each service. That's the theory, at least. I ran into some issues with the Hisense smart TV I was trying to use; Alexa simply couldn't find its Netflix app.
If you have an Echo already, you'll be able to use that to interact with the Harmony Express as long as you set them both to the same room. You can use multiple Harmony Express kits on the same account, but each remote is tied to its single room. Similarly, you can have both traditional Harmony remotes and Harmony Express at the same time, but they won't interact.
The Harmony Express has an integrated speaker for Alexa's replies, but it can't be used to stream music or make speakerphone calls.
The future is even smarter
Right now, the Logitech team have three primary uses in mind for Harmony Express. That's turning A/V equipment on and off, switching channels, and accessing apps. Down the line, though, there's more ambitious voice control planned.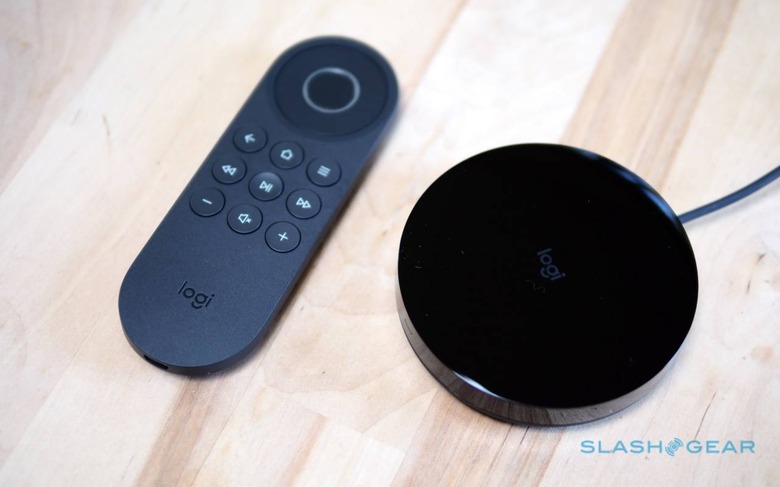 That could involve asking for a specific show or sports event and having Alexa find it either on a live or an on-demand channel, Ian Crowe, senior director of Harmony remotes, explained to me. Subtitles, too, are being looked at. Logitech "remain tempted" by the Google Assistant, too, Crowe told me, but Alexa "gave us a little more of what we needed" today.
Down the line, though, Logitech isn't ruling out a Google Assistant-powered box, or even one that could run multiple assistants. "It's certainly our hope to have the same hardware to allow the consumer to switch," Crowe suggested.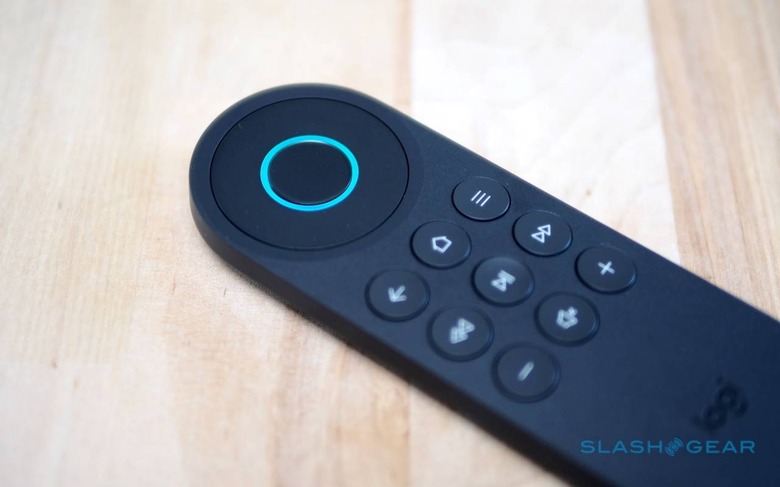 For now, though, Harmony Express focuses on the basics. That's not to say its features are underwhelming: the ability to ping the remote and have it wail out from between the couch cushions could save frustrated hunting, and the estimated 1-2 months of battery life are solid. The fact that, unlike with an Echo, Alexa is only listening when you actively press the Harmony Express' button might help pacify those concerned Amazon's smart speakers are listening to them 24/7, too.
Home theater addicts may still want to stick with the heavily-customizable world of the regular Harmony remote. For everyone else, though, the Harmony Express does an impressive job of cutting through the cabling and the remote overload, and getting you to what you want to watch much quicker. At $249.99 it's not quite cheap enough to be a no-brainer addition to the smart home, but the convenience may well convince you that it's worth it.