Seagate Maxtor Central Axis NAS offers 1TB & auto-sort software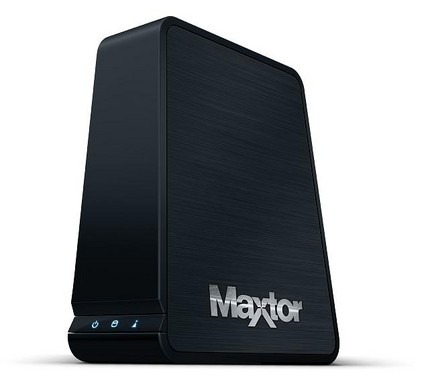 Hard-drive company Seagate have announced their latest network-attached storage (NAS) device, the Maxtor Central Axis network drive.  Containing 1TB of storage, the monolithic block supports DLNA and UPnP media streaming and secure remote access via the internet. 
Connectivity is via a single gigabit ethernet port, but there are also two USB ports for adding external hard-drives or printers for sharing across the network.  Seagate claim the Central Axis automatically sets itself up once plugged into a router, and there's an app of the same name that allows users to drag & drop files that are remotely sorted into appropriate shared folders.
The hard-drive itself is a 7,200rpm model with 32MB cache.  In all, the system measures 172mm x 63.3mm x 150.3mm and weighs 680g; it's compatible with both PCs and Macs.  Seagate expect it to launch in the US in July, priced at $329.99.  That seems a lot, when you consider you can get Western Digital's 1TB My Book Mirror Edition – which includes a dual-drive RAID mirroring option for more secure backup – for $289.99.
Press Release:
Seagate's New Central Axis(TM) Network Storage Makes Back Up and Access to Files Easier Than Ever

SCOTTS VALLEY, Calif. –(Business Wire)– Jun. 25, 2008 To address the growing consumer need for storage in the home, Seagate (NYSE:STX) today announced the Maxtor(R) Central Axis(TM) network drive, a network storage drive that can be used by the whole family. This latest drive from Seagate provides a terabyte of storage that every computer in the home can back up to. In addition to media streaming capabilities for video, photos and music, the new Maxtor Central Axis network drive also includes an easy-to-use remote access service that allows people to easily and securely retrieve content stored on their network drive through any Internet browser.

A concept once only reserved for the small business and enterprise space, networked storage is increasingly becoming a viable option for multiple-computer homes. According to Yankee Group's 2008 Device Survey, of those who purchased network routers for the home, 75.9% did so with the intent of providing multiple computers with access to the Internet. The challenge of these multi-computer households is the ability to share and back up files from each computer. Maxtor Central Axis network drive allows for each computer in the home to be automatically backed up, so important files and precious memories are sheltered from virus infections or disc drive failures. Sharing files from computer to computer is easy when there is one repository for any file that you would like to share. Additionally, since the storage device is connected to the router and not formatted for an individual computer, files can be accessed and stored from both Mac OS X and Windows operated PCs.

"The days of external storage simply serving as an extension to a full hard drive are over – the era of personal digital content has seen to that," said Josh Martin, senior analyst of Yankee Group's Media and Entertainment devices. "Survey data indicates that over 41% of recent external storage buyers did so to back up their data not because they ran out of room on the primary computer. With the emotional connection people have to their photos and videos, I believe the trend will only continue."

The Maxtor Central Axis network drive liberates content that was once trapped on individual computers. This easy to use solution enables multimedia file sharing from every computer in the home as well as from common entertainment devices, which are DLNA compliant, such as Microsoft(R) Xbox(R) 360(TM) and Sony(R) PlayStation(R) 3(TM). Watching home movies, viewing pictures of the last family vacation and listening to music can now all be enjoyed in the living room through networked console players instead of having guests crowd around a computer monitor in the den or a small laptop computer screen. This storage device helps put your digital entertainment back in a room where the whole family can enjoy it.

"Our Central Axis solution is a snap to set up and use for nearly every member of the family. Any household with a network would benefit from having a way to back up every PC in the home and share files between them," said BenHur Castor, director of product line management for Seagate's Consumer Solution Division. "Back up is essential to make certain photos, videos and other important files live beyond the life of an individual computer. The Central Axis network drive provides a complete solution for back up storage as well as file sharing in the home and from the road."

In addition to providing networked access to important files, Maxtor Central Axis network drive provides a way to easily share and access files when you are not on the network. With the ever-growing dependence on access to information and digital content, whether that be multimedia content, spreadsheets or business-related documents, you'll find there are times when you'll need to access these files remotely. Retrieving content that is saved to a network drive when you are not local to the network has always raised concerns about security and complexity. Most applications involve installing software on the computer accessing the drive. Many remote access applications also require a breach in a firewall, leaving the network and your data open and vulnerable to attack.

With Maxtor Central Axis, you can easily log into the remote access service from an Internet browser to securely access and share the files stored on the networked storage drive. There are no applications to download or plug-ins required. Central Axis establishes a secure connection to the service without the need to disable firewalls. All that is needed to access the drive from any Web browser is a username and password.

Central Axis Network Drive

Designed as a home network storage drive, the Maxtor Central Axis 1TB capacity drive is expected to be available in the US in July from major retailers, distributors and online stores, as well as at http://www.maxstore.com, for a suggested retail price of $329.99. Availability in Europe and Asia will come later this year. Please visit http://www.maxtorsolutions.com for more information, including local distribution channels and retail outlets.

About Seagate

Seagate is the worldwide leader in the design, manufacture and marketing of hard disc drives and storage solutions, providing products for a wide-range of applications, including Enterprise, Desktop, Mobile Computing, and Consumer Solutions. Seagate's business model leverages technology leadership and world-class manufacturing to deliver industry-leading innovation and quality to its global customers, with the goal of being the time-to-market leader in all markets in which it participates. The company is committed to providing award-winning products, customer support and reliability to meet the world's growing demand for information storage. Seagate can be found around the globe and at http://www.seagate.com.

Seagate, Seagate Technology and the Wave logo are registered trademarks of Seagate Technology LLC in the United States and/or other countries. Maxtor and Central Axis are either trademarks or registered trademarks of Seagate Technology LLC or one of its affiliated companies in the United States and/or other countries. All other trademarks or registered trademarks are the property of their respective owners. When referring to hard drive capacity, one gigabyte, or GB, equals one billion bytes and one terabyte, or TB, equals one trillion bytes. Your computer's operating system may use a different standard of measurement and report a lower capacity. In addition, some of the listed capacity is used for formatting and other functions, and thus will not be available for data storage. Seagate reserves the right to change, without notice, product offerings or specifications.