Western Digital My Book Mirror Edition USB RAID-1 array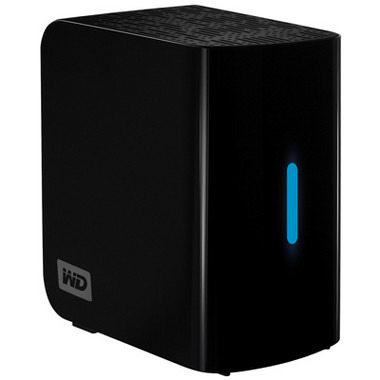 Western Digital's latest attempt to cash in on our general guilt over not backing up files is the My Book Mirror Edition.  Effectively bridging the gap between a traditional standalone USB hard-drive and a full-spec network-attached storage (NAS) device, the Mirror Edition still connects to a single computer via USB but automatically duplicates files across two hard-drives.  Both 1TB and 2TB versions are available.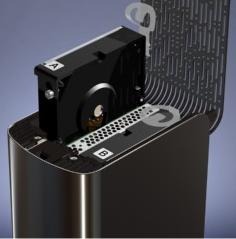 Inside a RAID 1 setup takes care of all the mirroring, with users able to treat the drive as they would any other; out of the box, half of the total capacity is taken up with backup (i.e. you get 500GB of usable storage on the 1TB system).  Alternatively a RAID 0 (striped) configuration is possible, which gets you the full capacity but no redundancy.
Fanless and using Western Digital's GreenPower system for one-third less power draw than rival twin-drive systems, the My Book Mirror Edition comes with software for regular and incremental ongoing backups.  There's also a capacity gauge on the front of the box, which indicates how much space remains.  The drives themselves are held in a no-tool cage, which is easily opened to increase storage as HDD get cheaper and more capacious.
Of course, the big issue is the price.  Western Digital are asking $289.99 for the 1TB and $549.99 for the 2TB model; that seems a lot when you can get a decent (if not necessarily as large) NAS for similar money.  If you just have one computer which needs regular, secure backups, and you're not planning on expanding that to other computers on a network, the My Book Mirror Edition could be a good, straightforward choice.  Anyone with more than one machine likely should look elsewhere.
Press Release:
WD'S NEW MY BOOK® MIRROR EDITION™ EXTERNAL HARD DRIVE PROVIDES THE SAFEST PLACE FOR VALUABLE PERSONAL CONTENT

Dual-drive System Automatically and Continuously Duplicates Users' Data

LAKE FOREST, Calif. – June 18, 2008 – WD® (NYSE: WDC) today introduced its new My Book® Mirror Edition™ dual-drive storage systems, which can automatically store valuable personal content not once, but twice, to maximize data safety. This RAID-based continuous data protection feature, called mirroring, makes WD's My Book Mirror Edition storage systems the safest place for storing irreplaceable data.

Personal collections of digital content, such as photos, music, and videos, continue to grow on desktop and notebook computers around the world. Consumers are increasingly aware that taking precautions to protect their data is vital and are looking for a simple solution.

When users store their personal content on a My Book Mirror Edition system, their valuable data is automatically mirrored for extra protection – making it easy and economical to benefit from the data redundancy typically found in corporate data centers. This mirroring technology makes the new dual-drive systems an ideal storage solution for photographers, home users and small offices and anyone looking for extra assurance that their data is safe.

Consumers can also use the My Book Mirror Edition storage system and the included backup software to automatically and continuously back up their personal computers. The mirroring feature provides users the added assurance of a redundant backup of their data.

Jim Welsh, vice president and general manager of branded products and consumer electronics groups for WD, said, "Personal and business content are extremely valuable – both emotionally and financially. Our new My Book Mirror system helps users sleep easy, knowing that their data is safe."

Formatted for Windows® computers, these new storage systems feature:

USB 2.0 interface for flexibility and convenience;

Configured out-of-the box in RAID 1 (Mirrored) mode [RAID 0 (Striped) configurable];

Available in capacities of up to 1 TB and 2 TB, the My Book Mirror Edition storage systems ship in Mirrored mode and use half the capacity for file redundancy;

Cool, eco-friendly operation with GreenPower™ drives that consume approximately one-third less power than standard dual-drive external storage systems and efficient convection cooling architecture and power-saving mode;

Designed without a fan for whisper-quiet operation in a home or office environment;

Automatic and continuous backup software that allows users to simultaneously save a change and have it backed up on the second drive for the ultimate in data protection;

User serviceability1, enabling owner to open the enclosure and replace the drives inside;

Capacity gauge to see at a glance how much space is available on the system;

Intelligent drive management features, including automatic power-up, Safe Shutdown™ and LED status and activity lights; and,

3-year limited warranty.

RAID 1 (Mirrored)

Using RAID mirroring technology, this system automatically and continuously duplicates your data for the ultimate in data protection. If one drive in this two-drive system ever fails, the My Book Mirror Edition system continues to run and your data is safe. The My Book Mirror Edition storage systems ship in Mirrored mode and use half the capacity for file redundancy.

RAID 0 (Striped)

Users can choose to use the full2 capacity of this system by reconfiguring the drive to RAID 0 (Striped) mode. With RAID 0, users can have up to 2 TB of storage in an elegant, small footprint design that offers plenty of room to store an entire digital photo library and hundreds of hours of HD movies or digital video (results will vary based on file size and format, settings, features, software and other factors).

Cooler, quieter, eco-friendlier

Designed to use only WD's GreenPower drives, this system, with its efficient convection cooling architecture, fan-less design, and power saving mode, consumes up to 33 percent less power than standard systems, is reliably cool, and remarkably quiet.

Pricing and Availability

My Book Mirror Edition dual-drive storage systems are available now at select retailers and WD's online store (www.shopwd.com). MSRP for My Book Mirror Edition with 1 TB is $289.99 USD; MSRP for My Book Mirror Edition with 2 TB is $549.99 USD.

Back It Up

Backing up data is no longer the chore that it once was. In an effort to educate and build awareness among consumers about how to best protect their precious memories and important files, WD has put together some tips and tricks to make it easier than ever to back up data. Visit www.backituponwd.com to learn more.

About WD

WD, one of the storage industry's pioneers and long-time leaders, provides products and services for people and organizations that collect, manage and use digital information. The company produces reliable, high-performance hard drives that keep users' data accessible and secure from loss. WD applies its storage expertise to consumer products for external, portable and shared storage applications.

WD was founded in 1970. The company's storage products are marketed to leading systems manufacturers, selected resellers and retailers under the Western Digital and WD brand names. Visit the Investor section of the company's Web site (www.westerndigital.com) to access a variety of financial and investor information.

1 See instructions for details.

2 System can be reconfigured to RAID 0 (Striped) to utilize the full capacity for data storage and eliminate the extra data protection offered in RAID 1 (Mirrored) setting.