Sea Shepherd's Ady Gil Trimaran Sinks After Whaling Ship Collision [Video]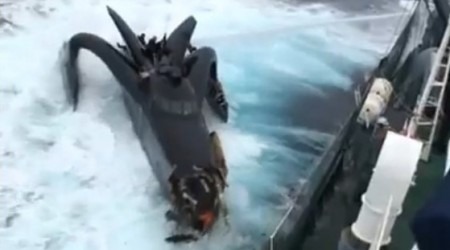 Back in November we told you about Earthrace – the distinctive trimaran powerboat – joining the Sea Shepherd organisation as a so-called "stealthed support vessel" named the Ady Gil.  Unfortunately we've some bad news: the $2.5m carbon-fibre and Kevlar boat was seemingly involved in a collision with a Japanese whaling vessel and subsequently sunk, as efforts to tow the Ady Gil to harbour were scuppered as the damaged craft took on water and snapped its lines.
Videos of the collision after the cut
The incident is already causing great controversy, as environmentalists, politicians and whalers weigh in on who was to blame.  The Ady Gil was seemingly stationary when the Japanese vessel, Shonan Maru No 2, collided with it, though there's speculation that the engines had been started either to push the trimaran further toward the whaling ship or pull it away.  Meanwhile video footage – which you can see below; caution, the second clip has NSFW language – shows the Japanese ship firing water cannons at the Ady Gil crew.  All crew members were rescued from the damaged boat.
Already donations have begun pouring in and fundraisers organised to raise the estimated $5m needed to build the Ady Gil 2.  This time around the trimaran is unlikely to benefit from the two free Cummins Mercruiser Diesel engines, each capable of 540 horsepower, or the free gearboxes that were donated to the Earthrace team.
View from whaling vessel:
Video from Sea Shepherd support boat (WARNING: NSFW language):
[via Big Issue magazine]