Home security doesn't have to be expensive any more. In fact, you can get peace of mind for a few hundred bucks upfront, and never pay another dime. It's one of the benefits of the 'Internet of Things' we keep hearing about. DIY home security is probably best realized with Scout, which lets you migrate between connected monitoring and home-grown security. Already one of the better options around, Scout just got a lot better with a new IFTTT channel.

The IFTTT channel has a mere six featured recipes , but they're good ones. Really good. The Scout IFTTT channel becomes even better with some other Internet of Things gadgets, too. IF you need to dig a little deeper, Scout has four full pages of recipes ready to go.
If you have a SmartThings siren, you can choose to have it go off when Scout's alarm is triggered. A Lifx bulb can be set to flash when your alarm is triggered, too.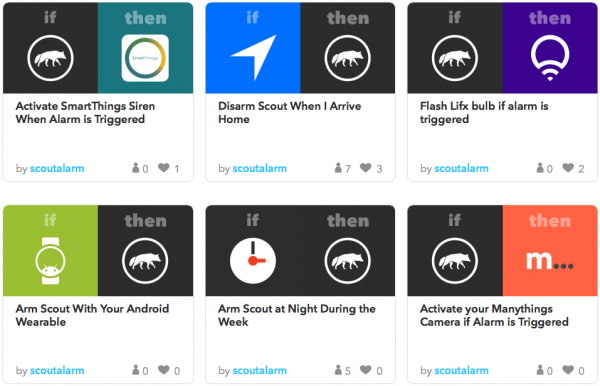 For an ever stronger automation feel, you can have Scout arm or disarm depending on your location or time of day. Arrive home, and Scout disarms. At night, Scout can be set to automatically alarm itself, giving you peace of mind. Scout also works with IFTTT's new Do buttons.
Perhaps the handiest (read: my favorite) channel is Scout's workaround for Manything. If you use Manything to turn an old phone into a security camera, you can have it triggered when your Scout alarm goes off. It's a brilliant way to get home monitoring without spending a dime.
After reviewing Scout, I was sold on the features. With a new IFTTT channel, it only gets better.