Scanadu Scout "Medical Tricorder" crowdsources testing for FDA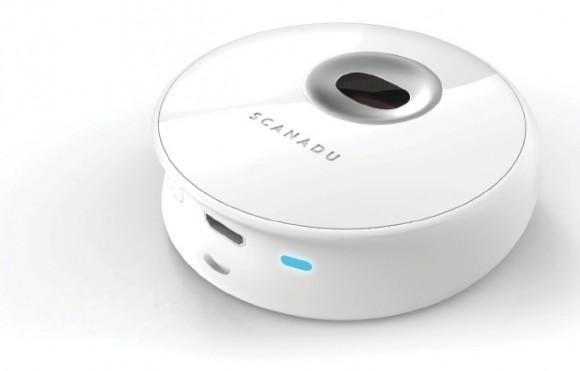 Real-life tricorder project, the Scanado Scout, has graduated to crowdfunding stage, with the DIY health monitoring tool looking to raise $100,000 and ship to backers by March 2014. The project, by startup Scanado, aims to turn a smartphone into a health tracking device – or "an Emergency Room in your pocket" – with a compact vital-sign reading puck that wirelessly communicates via low-power Bluetooth.
okay
The Scout concept was first shown off late last year, the handiwork of a team at the NASA Ames labs. Held to the forehead, it beams information – including heart rate, skin/core body temperature, oxymetry, respiratory rate, blood pressure, ECG, and emotional stress – over to an app on your phone.

That data, Scanado suggests, could be interesting to a wide range of people. By preempting health issues, it could mean avoiding periods of sickness (and cutting down on medical insurance bills) by treating conditions early; meanwhile, athletes could use Scout to monitor the effectiveness of their fitness regime.
Meanwhile, life-loggers who might be drawn to wearables like Fitbit Flex or Jawbone UP are also a target group for the firm. They're expected to find the wealth of data – and historical tracking – to be particularly interesting.
As for hardware, full details aren't specified yet, but there's Bluetooth 4.0 and apps for Android and iOS. It recharges via microUSB, and Scanadu claims that it'll last for around a week, if used "a few times a day."
Of course, any medical-grade device hoping to reach the market in the US needs to get FDA approval, and that's the stage Scanadu is up to. The company has kicked off an Indigogo campaign to raise $100,000, but also needs early-adopters who will agree to share their data so that it can be used in clinical studies to demonstrate effectiveness.
If it raises its goal amount – and that looks likely, given at time of writing it's already over $40,000 in – the first units are expected to ship out to backers in March next year. Those in early can get one for $149; when it launches, it's expected to retail at $199.
Update: As expected, the Scout has already passed its funding goal, with 31 days left to run. More than 50-percent of the $149 units have been taken at time of writing.