Scanadu SCOUT Medical Tricorder recalls Star Trek - and it's real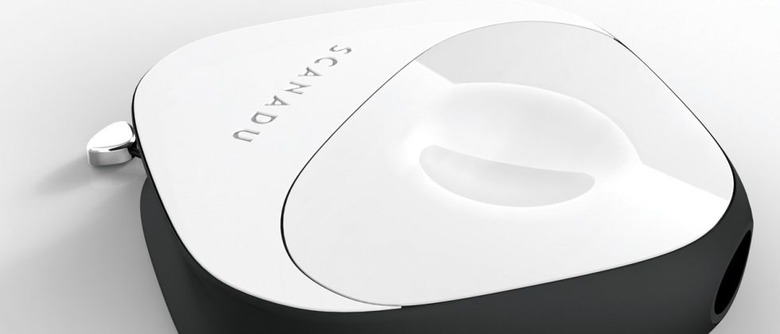 For those of you waiting for the real-deal collection of Star Trek gadgets and gizmos, you'll find that today is a great day – the tricorder has arrived. The folks at Scanadu have been developing a handheld device that, while not exactly service the same function as the 60's series tech, is certainly Star Trek-worthy in its abilities. This device has been in development for less than a year and will be prototype ready by the end of 2012 – so says the NASA-Ames Research Center-based startup team themselves.
This unit goes by the name SCOUT and is ready to connect to your smartphone via Bluetooth in a snap – the team is currently working on apps for iOS, Android, and Windows Phone (with no plans for BlackBerry at this very moment). Once you're synced up, you've only to press the SCOUT device up to your temple and let it sit for 10 seconds. In those 10 seconds you'll find that your vital signs will be scanned with great accuracy, this including your temperature, heart rate, breathing rate, ECG, and SPO2.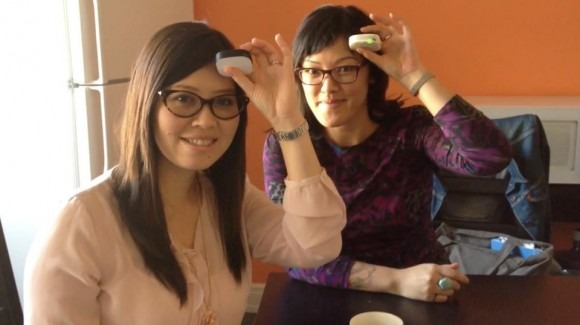 Photo via Scanadu's official Facebook page showing Tan Le and Kim Vu "Scouting" themselves.
Development of this project happened rather rapidly if you count only the time since it was announced until now – that, again, being less than a year. If you're counting the amount of time since Scanadu co-founder Walter De Brouwer prototyped his first tricorder effort, it's a bit more extended. De Brouwer's first tricorder was backpack-sized and didn't quite have the consumer potential that this new SCOUT project does.
The SCOUT will retail for under $150 and is small enough to easily slip into your pocket – and it's not just made for doctors. In fact, De Brouwer made it clear this week with FastCO that it's made primarily for those everyday citizens that want to keep themselves monitored on a daily basis.
"We really want to show people their health stream. You go to a doctor and you get data points. You probably forget about them. But in this time of personalized readings we should have personalized parameters. What is a fever for me might not be a fever for you." – De Brouwer
The SCOUT is just one entry in the massive rally for the Qualcomm Tricorder X prize – that being $10 million USD for the best tricorder that meets specifications set up by Qualcomm itself. In addition to the SCOUT, Scanadu is bringing forth a couple more medical-oriented tiny gadgets as well: ScanaFlo and ScanaFlu.
The ScanaFlo is a urine analysis system made specifically for pregnant women, scanning for signs of complications like preeclampsia and diabetes. The device works with a set of 20 cartridges that are dipped in urine with data sent back to the Scanadu app – again, on your smartphone. ScanaFlu is a saliva test that's made primarily for the flu, but also checks for upper respiratory infections of many kinds. Each of these three products is set to be released by the end of 2013 in their final form.