Satechi iPad Pro USB-C hub sticks to basics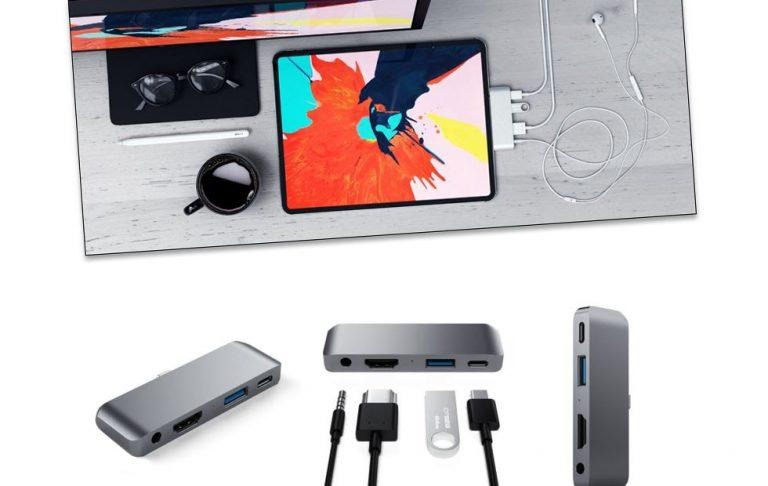 The Satechi "Aluminum Type-C Mobile Pro Hub Adapter" is the company's newest release, aimed directly at iPad Pro. This USB-C hub works with a wide variety of devices, and can extend the abilities of devices other than the iPad Pro. But the intent, here, today, is to make the iPad Pro connect to all the different devices which have thus far been allowed to work with iOS by Apple.
This is one of two USB-C hubs revealed to work specifically with the iPad Pro 2018 lineup. Other USB-C devices (including hubs) will work with the iPad Pro, but just these two have publicly come out to work with the iPad Pro specifically. You'll also find the brand HYPER with a USB-C hub of their own, aimed at the iPad Pro first and foremost.
This Satechi hub is designed to match the size and shape of the iPad Pro 2018 collection. That means color, thickness, and in placement of USB-C plug (on a long side, which wouldn't make sense for a smartphone.) This device comes with several ports, all of which are included here:
Ports on Satechi's iPad Pro 2018 USB-C hub:
• HDMI port: full size, 4K capable.
• USB-C PD 3.0: You can still keep your iPad Pro charging while you plug in a set of other items in the rest of the ports on this hub. This is a USB-C PD 3.0 charging port – power only!
• 3.5mm headphone jack: Because Apple did not include a headphone jack on the 2018 iPad Pro.
• USB 3.0 for data: The other USB port here allows connecting to devices for data transfer at up to 5GBs data transfer speed. This port can also be used for USB accessories like a USB keyboard.
This piece of hardware goes by the name "Satechi Aluminum Type-C Mobile Pro Hub Adapter" and can be found on pre-order through Satechi dot net. There the device was listed for the price of approximately $45 USD. Once the device is fully available in general (in mid-December), it'll cost closer to MSRP $60 USD. This includes both versions: Silver and Space Gray.