HYPER iPad Pro USB-C hub makes a MacBook dongle-monster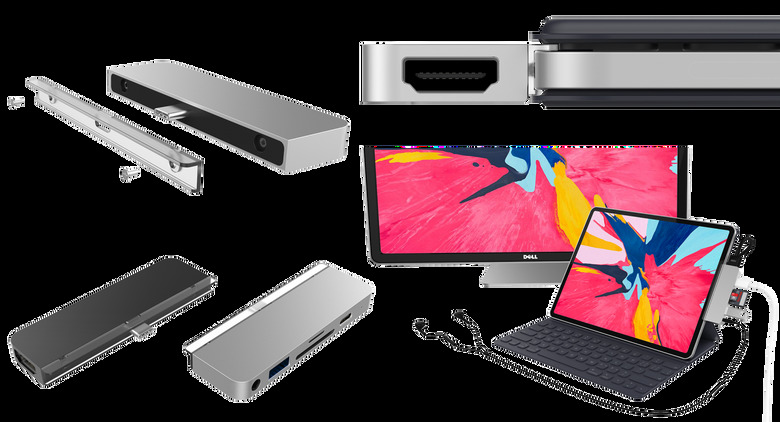 The iPad Pro 2018 in both sizes uses USB-C instead of Lightning for the first time in the product's history. The accessory-makers at HYPER just revealed one of the first USB-C hub accessories that's made specifically for the iPad Pro 2018. They call it their HyperDrive for iPad Pro. This USB-C hub plugs in to the iPad Pro's singular USB-C port and expands to a wide variety of ports, all in one pocketable accessory.
Before you get too far, here, note that we've not yet tested this device ourselves. Until we get a chance to do so, we recommend you check in on reviews – more than likely one of which will be here on SlashGear before too long. This is the same recommendation I and we give for all products we write about – top to bottom!
This USB-C hub for iPad Pro 2018 includes the following ports: HDMI, 35mm Audio Jack, SD, Micro SD, USB-A 3.0, USB-C Power Delivery. The USB-C Power Delivery port simply allows the iPad to continue to be plugged in to your wall socket with USB-C power cord while you're using the rest of the ports. The SD and micro-SD slots give the user the opportunity to expand their device storage well beyond that of the iPad's internal memory.
With the USB-A 3.0 port, the user can plug in a keyboard, a microphone, or an ethernet adapter. You can also plug in a USB cord from a DSLR camera to see photos on your iPad Pro. You can also plug in a Lightning cord to power up your iPhone. You can also plug in external storage, but only to access photos and videos.
The HYPER USB-C Hub for the 2018 iPad Pro quite likely works with other devices that use USB-C. It's not entirely unique in its ability to act as a USB-C hub – but it IS unique in its presentation. That is, Hyper just became the first company to promote their USB-C hub as being made for the iPad Pro 2018 specifically.
The Hyper-made HyperDrive for iPad Pro was announced today for availability in December of 2018. If you're over at HyperShop dot com, you can potentially sign up to get the device for around $50. Otherwise regular MSRP is closer to $100 USD.