SanDisk official Xbox 360 USB stick on sale today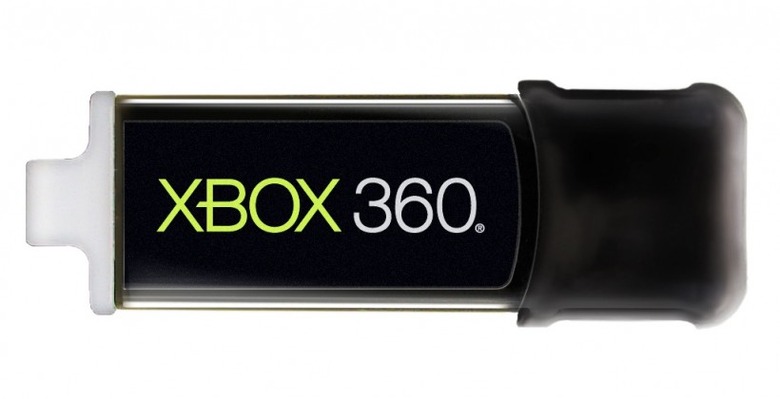 What price convenience?  If you're talking about SanDisk's official, licensed Xbox 360 USB Flash Drive then that price is $34.99 or $69.99 depending on whether you want 8GB or 16GB of storage for your console.  The branded sticks take advantage of the April 6th storage update for the 360, which allows gamers to store their profiles, game-saves, demos and other data on a USB drive.
Of course, you can use any USB stick with your console – all you need to do is allow the 360 to set up a partition (up to 16GB in size) that is then kept aside for gaming data – but SanDisk would much rather sell you their own.  Expect confusion in gaming stores as shoppers are invariably "accidentally" told that they need the "official" stick in order for it to work.
Press Release:
SANDISK SHIPS LICENSED XBOX 360 USB FLASH DRIVE

Pre-configured USB Drive Delivers Best Experience On Xbox 360 Console

Milpitas, Calif., May 5, 2010 – SanDisk Corporation (NASDAQ: SNDK), the global leader in flash memory cards, today announced that it is shipping the Xbox 360® USB Flash Drive by SanDisk for the Microsoft Xbox 360 gaming and entertainment console. The new drive makes it easier than ever for gamers to take their gamertags, saved game progress, map packs, Arcade game downloads and bonus content with them for fast and convenient access on another Xbox 360 console† .

The Xbox 360 USB Flash Drive by SanDisk delivers the best experience on the Xbox 360 console. Pre-configured for seamless plug and play action, the drive eliminates the need to format storage or download an initial software update for an Xbox 360 console. For gamers looking to get in on the fun or for those with existing accounts who want to extend their play, a one-month Xbox LIVE Gold membership is included with purchase of the drive†† .

"Xbox LIVE contains a world of content for gamers to explore and download, including full-length games, movies and music," said Shuki Nir, Senior Vice President and General Manager, Retail, SanDisk. "The Xbox 360 USB Flash Drive by SanDisk is specifically engineered to deliver a great user experience and maximum compatibility with the console, offering gamers greater freedom and flexibility in how they store, manage and enjoy their favorite files."

"SanDisk has a proven track record of creating high-quality storage solutions," said Ilan Spillinger, Vice President, Xbox Hardware and Technology, Microsoft. "The Xbox 360 USB Flash Drive by SanDisk provides a great solution for gamers who need portable storage for their Xbox 360 content. It's plug and play simple."

Pricing and Availability

The Xbox 360 USB Flash Drive by SanDisk is available now on SanDisk.com and at major retailers. The drive is available in 8 gigabyte (GB)1 and 16GB capacities, carrying suggested retail prices of $34.99 and $69.99, respectively.