Samsung's New 3D Blu-Ray System Sings Flagship Style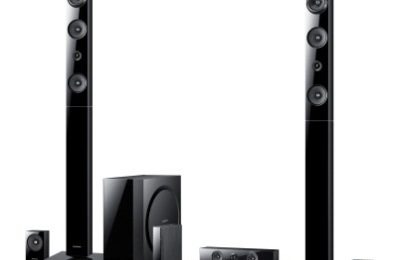 This week the folks at Samsung have delivered a torrent of speaker systems to the world, including an all-in-one system code-named HT-E6730W. This system is what Samsung calls the Ultimate in Movie Theater Quality Entertainment in the Home and consists of a 1,330-watt 7.1-channel system with two tower speakers and four additional speakers to fulfill your ultimate 3D Blu-ray entertainment fantasy. Included in this system are swivel speakers mounted to front height speakers allowing you position them in a way that "sounds vertically cascade down onto the listener" – exciting stuff!
Samsung's solution here includes a dual-unit passive radiator subwoofer with rich bass response, two rear wireless satellite speakers for placement wherever you so deem them to be necessary in your room, and right up front and top of the system you'll see the vacuum tube pre-amplifier, Samsung's prize. Inside the speakers there are glass fiber cones which of course minimize distortion as they improve sound quality over competing solutions, with Samsung's Crystal Amp Plus technology right beside them to bring smooth digital audio playback with full protection from audio jumps.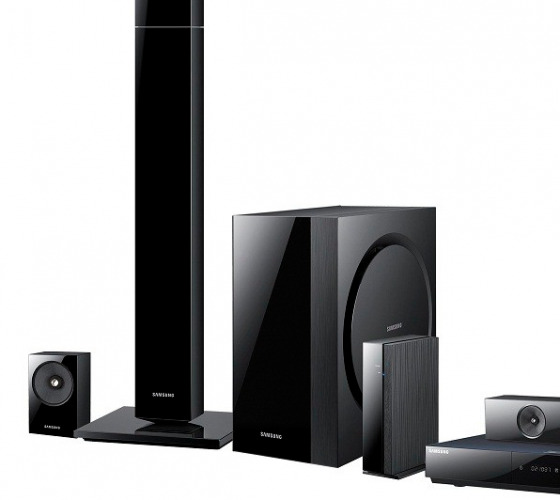 This system works with several content sources up-converting content to Full HD 1080p – these sources include DVD, streaming video, and connected media devices of many kinds. To make this whole system work as smooth as butter, Samsung has included their own Exynos processors, these similar to the ones you may have used in your own Samsung Galaxy smartphones – but of course a different setup here tuned specifically for this system. This system has built-in Wifi, Samsung Smart Home Theater integration, the same Smart Hub you may be familiar with from previous model Samsung Smart TVs, and a whole lot more.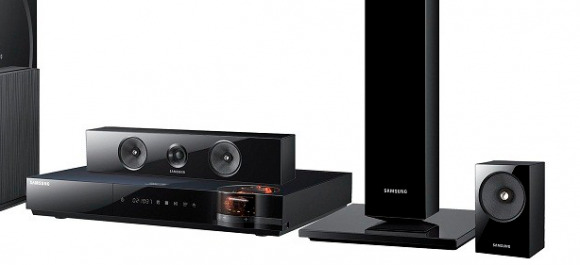 Right here with the HT-E6730W you'll get AllShare Play integration for instant sharing of media between devices – laptops, smartphones, and your television of course. You've got a built-in web browser here for checking out SlashGear.com, HDMI connectivity for the most advanced cord-connected high definition power on the market, and Samsung's BD Wise for Blu-ray quality replay of video when using your HDMI connection.
This whole system will run you a cool $999.99 and you can have a peek at listings over at Samsung.com – pick up a few!