Samsung's inescapable S6 app bloat fuels the microSD fire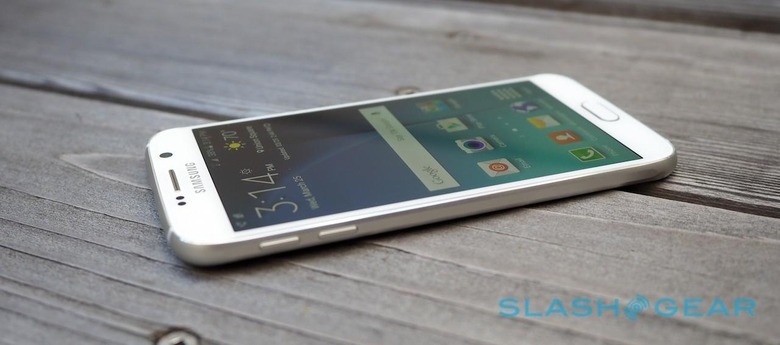 Samsung may have a potential smartphone hit on its hands with the Galaxy S6, but the specter of inescapable apps still casts a pall over TouchWiz. The new flagship – and its curved Galaxy S6 edge sibling – see Samsung's Android skin brought more in line with Google's Material Design than ever before, but there's still a headache involved, especially if you've opted for the smallest memory variant. That's because, while Samsung has apparently done its best to pre-populate the S6 with the sort of apps the company believes most users will want, there's not much room to be rid of them if you don't agree.
In fact, out of the box there are dozens of preloaded apps. Many of these are the standard Google fare, such as Gmail and Google+, but there are also titles from Samsung, Microsoft, and a number of other companies.
Microsoft's OneDrive, OneNote, and Skype are all installed by default, for instance, while Samsung's own Memo, Milk music, Milk Video, Smart Remote, Voice Recorder, and file manager apps are bundled. Hancom Office 2014 is a preload, too, as is the S Health app Smart Manager, S Voice, and links to Samsung's own Galaxy Apps store.
Meanwhile Instagram, Facebook Messenger, and WhatsApp are to be found in a "Social" folder, while security app Lookout is also installed. Then, the carriers have their way. On our T-Mobile USA review unit, for instance, has six of the operator's own apps: "My Account", "Device Unlock", "Mobile HotSpot", "Name ID", "T-Mobile TV, and "Visual Voicemail".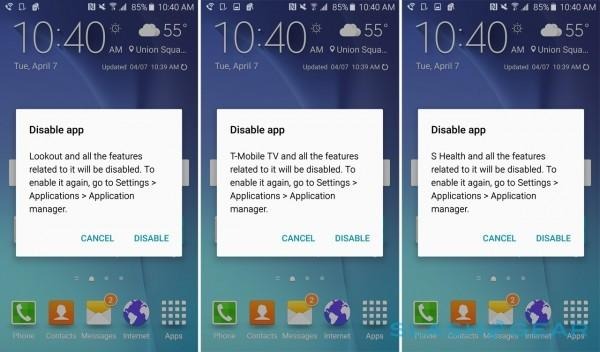 What makes all this a hassle is that you can't actually delete any of them. Long-pressing on one of the preinstalled apps brings up a "Disable" option but not the "Uninstall" button that you'd commonly find for a title downloaded from Google Play.
Carrier decisions about whether their apps can be removed or not will vary, meanwhile.
"Pre-installed applications can be disabled on both devices," Samsung said in a statement. "However, the number of applications that can be disabled will vary by region and mobile carriers."
With 32GB in the entry-level S6, and higher-capacity models on the way, you could argue that a few lingering apps aren't too great a headache. Still, with Galaxy fans still upset at Samsung's decision to leave out a microSD card slot, it seems highly likely that finding their new handset already home to a number of titles they can only hide, not remove altogether (without turning to custom firmware), will only add fuel to the outrage.
On the fence about the Galaxy S6 and S6 edge? Our full review can bring you up to speed.