Samsung's first 64-megapixel smartphone reportedly decided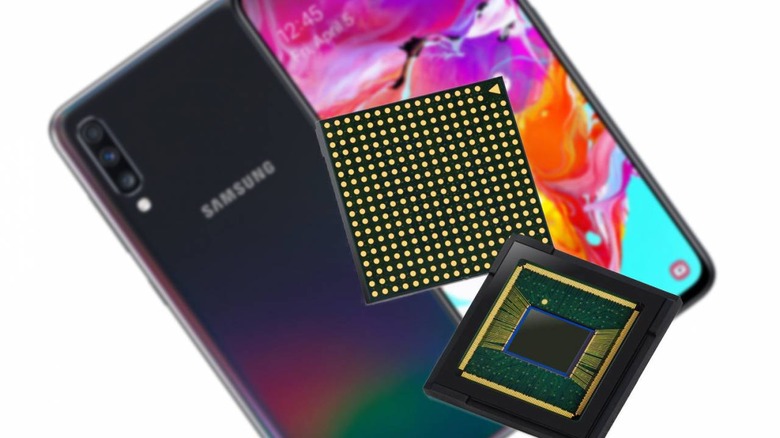 Samsung's huge 64-megapixel camera sensor for smartphones won't show up in the Galaxy Note 10 first, reports out of Korea suggest, but the phone-maker may have decided on its debut device. The new ISOCELL Bright GW1 was announced earlier this month, aiming to leapfrog Sony's well-esteemed IMX586 sensor.
Samsung's new sensor – and the 48-megapixel ISOCELL Bright GM2 it unveiled alongside it – use what the company calls Tetracell technology. That effectively combines data from four clustered pixels into one, maximizing brightness, detail, and color accuracy.
The very thought of it was enough to get those impatient to see the Galaxy Note 10 excited, but subsequent reports suggested they'd be disappointed. Samsung wouldn't be using the ISOCELL Bright GW1 on the new Note 10 at the end of the year, insiders claimed. Instead, it would be headed to a different device.
That will be the Samsung Galaxy A70S, according to ETNews today. It's a midrange phone, on track to be released in the second half of the year, the report claims, as the follow-up to the Galaxy A70. That was only made official in March of this year, in fact, packing a triple array of cameras the highest-resolution of which is 32-megapixels.
While it might seem strange to launch a top-tier camera on a midrange device, it does fit in with Samsung's previously confirmed shift in strategy. Speaking last year, Samsung Electronics president Ko Dong-jin explained that the phone-maker had changed its approach to how it would debut new technologies. Rather than risk them in a high-profile flagship, it would instead test them out in more affordable models.
"While we had applied new technologies to major products first in the past," the exec explained, "we are planning to apply new technologies to medium-end and low-end smartphone first starting from this year."
The motivation there appears to be budget-minded but well-equipped devices from Samsung's Chinese competition. Huawei and Honor have been pushing multi-camera arrays with significant megapixel counts in recent months, most recently the Huawei P30 Pro and Honor 20 Pro. OnePlus, meanwhile, launched the OnePlus 7 and OnePlus 7 Pro earlier this month, with equally capable cameras.
In short, Samsung can't afford to keep its very best sensors for its most expensive phones any more. Not, at least, if it wants to keep a hold on the midrange segment of the market. While regions like North America and parts of Europe may be used to the premium price tags attached to devices such as the Galaxy Note 9 and Galaxy S10, others are still used to buying more affordable handsets yet are unwilling to compromise on their performance.
We'll know for sure later in 2019, when Samsung is expected to take the wraps off the Galaxy A70S officially.