Flagship smartphones will always sell, but it's hard to argue that the real excitement in mobile right now isn't in more affordable phones like the new Honor 20 Pro. Like the Google Pixel 3a and the Samsung Galaxy S10e, the latest device from Huawei's millennially-obsessed brand for Android fans with a tighter budget promises to cherry-pick the components and capabilities that are most important.
It's a strategy that has worked well for Honor so far. Although the brand may not be especially well known in the US, it's a powerhouse in Europe and Huawei's home market of China. The Honor 20 Pro, then, has some big expectations to live up to.
Style from the segment above
In these photos, the Honor 20 Pro looks blue. To the naked eye, though, it looks green. Honor calls its design a Dynamic Holographic glassback, and it melds three layers together to achieve the shimmering finish.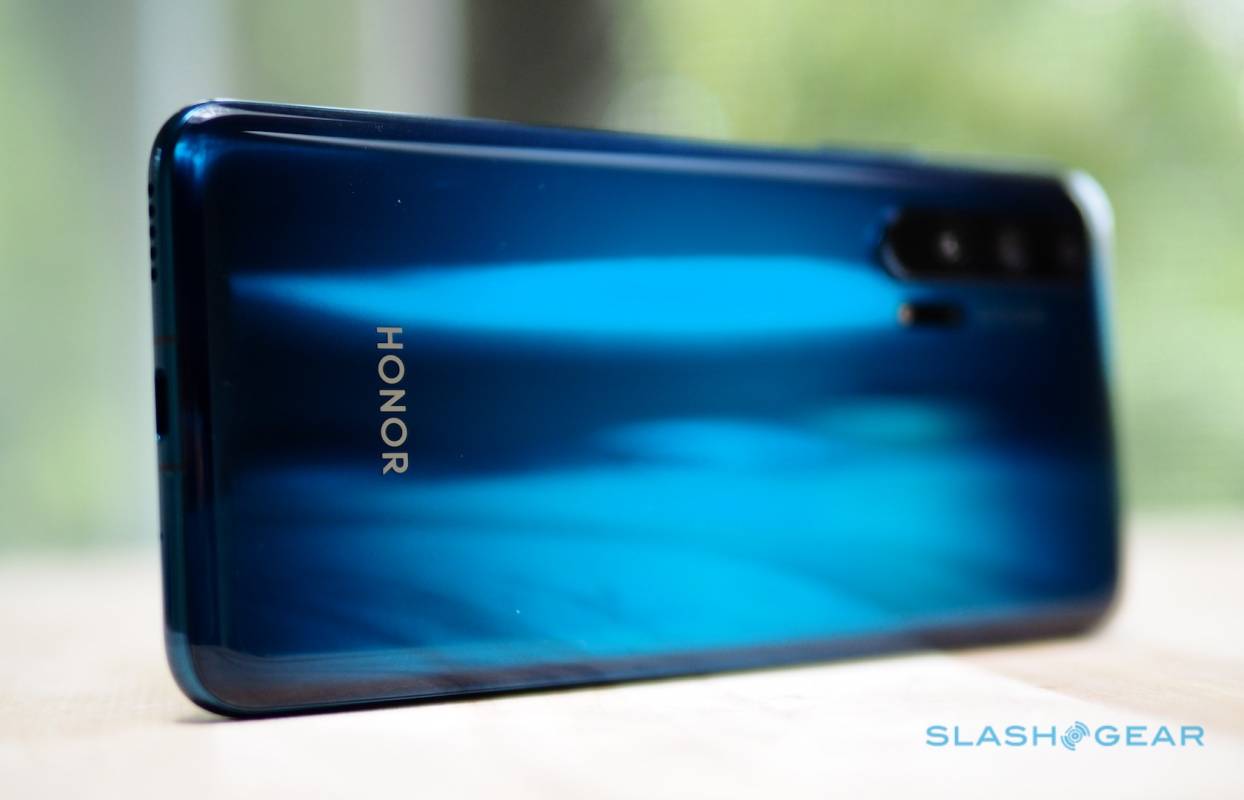 A color layer is combined with a glass body and a depth layer. With that, there are millions of tiny prisms: each reflects light slightly differently, giving a greater sense of depth. Curiously for a phone-maker with budget on its mind, it's apparently a fairly arduous (and almost wasteful) process. Honor says that only 1 in 5 back covers manufactured are actually usable.
It does feel a little thick. At 154.6 x 73.97 x 8.44 mm it's noticeably chunkier in the hand compared to an iPhone XS Max or a Galaxy S10 Plus. Not so much as to be arduous to fit into a front jeans pocket, mind, and neither does it feel cheap.
Camera is king
Honor has clearly got its recipe down for making affordable, appealing smartphones. At the heart of it is the camera: the thing that people on a budget are least willing to compromise on. Around that you wrap the best of Huawei's tech that the balance sheet can afford.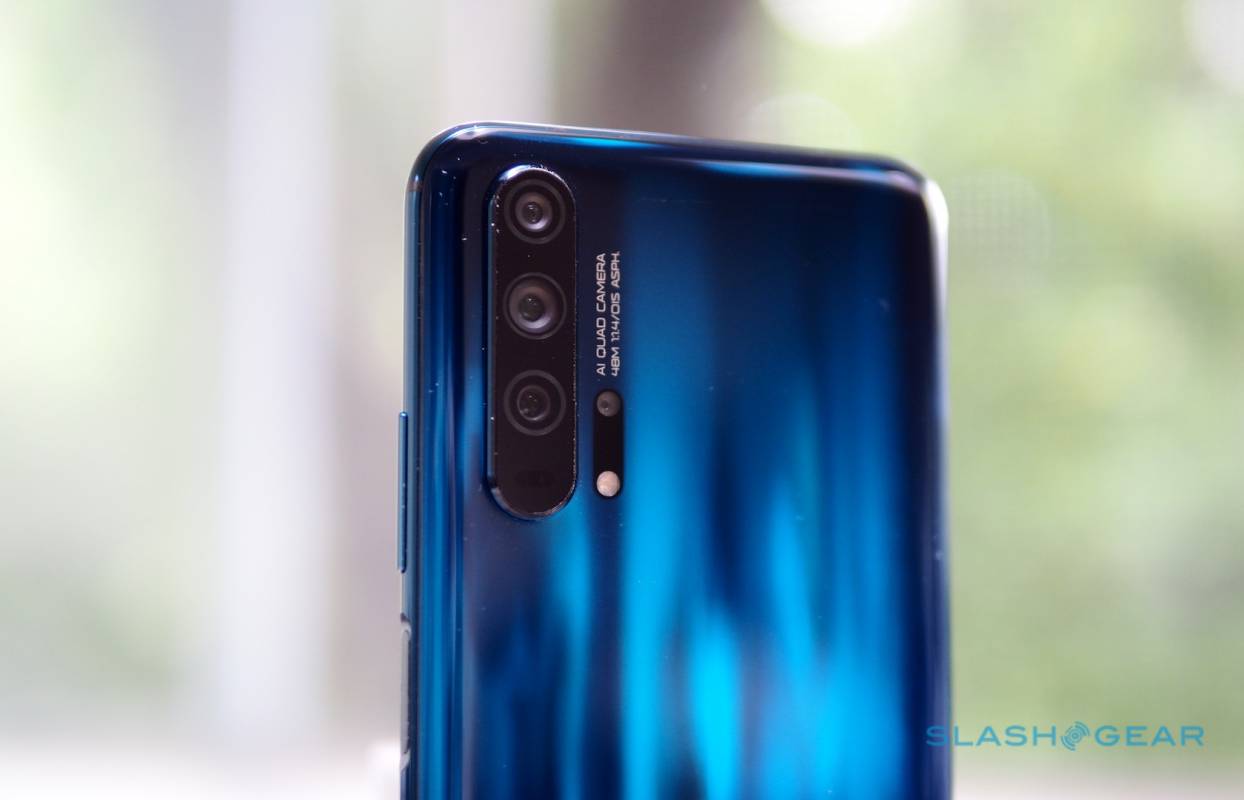 So, the Honor 20 Pro gets a 6.26-inch display with a tiny little punch-hole front-facing camera on onside, and a quad camera array on the back. The main camera uses a 48-megapixel Sony IMX586 sensor, with f/1.4 aperture and optical image stabilization. Honor pairs it with PDAF and laser autofocus.
Alongside it is a 16-megapixel super wide angle camera, with f/2.2 aperture and a 117-degree field of view. Next comes an 8-megapixel telephoto camera, with f/2.4 and a 3x optical zoom. It packs both OIS and the same duo of autofocus technologies as the primary camera. There's a 5x hybrid zoom and a 30x digital zoom like on the Huawei P30.
Finally, there's a 2-megapixel macro camera. That has an f/2.4 lens and is fixed focus, designed for close-up shots around 4cm (1.57 inches) away from your subject. The macro camera is something of an experiment, Honor says. If users respond well to it, it could earn more of a share of the overall budget next time, and be allowed to take up more space and pack in more megapixels.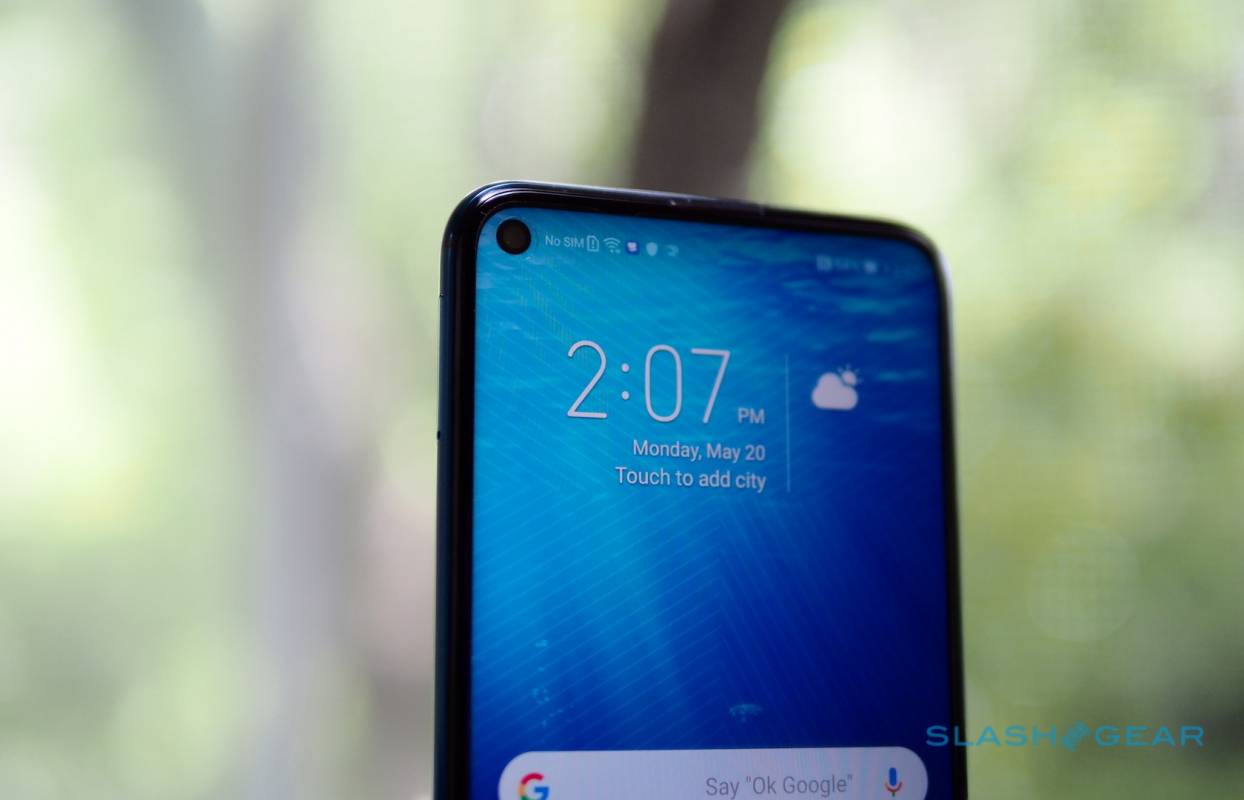 That balance – features fighting for budget, and judged by how well they're received by users – epitomizes the Honor strategy. The company's research says people love taking selfies, so the 20 Pro gets a 32-megapixel front camera. They also one a phone that's usable one-handed, and so Honor integrated the fingerprint sensor into the power button on the side, and trimmed the bezels for a 91.6-percent screen to body ratio.
It kept coming back to photography, though. Low-light shots in particular: the Sony sensor that Honor diverted a not-inconsiderable chunk of its spending on is around 25-percent larger than that of the iPhone XS Max or Galaxy S10 Plus. The f/1.4 optics should deliver up to 60-percent more light to the sensor, too.
Then there's Super Night Mode. That combines AIS and OIS for maximum stability during extreme low-light shots. For the first time, you can use Super Night Mode with the super wide angle camera, too. At the same time, Honor realized people were using night modes during daytime for better detail and dynamic range, so there's a new AI Ultra Clarity mode which runs the primary sensor through the Dual-NPU to pull out even more fine detail. That AI is also used for the Handheld Moon Shot detection, which can identify when you're taking a photo of the moon and adjust the settings accordingly.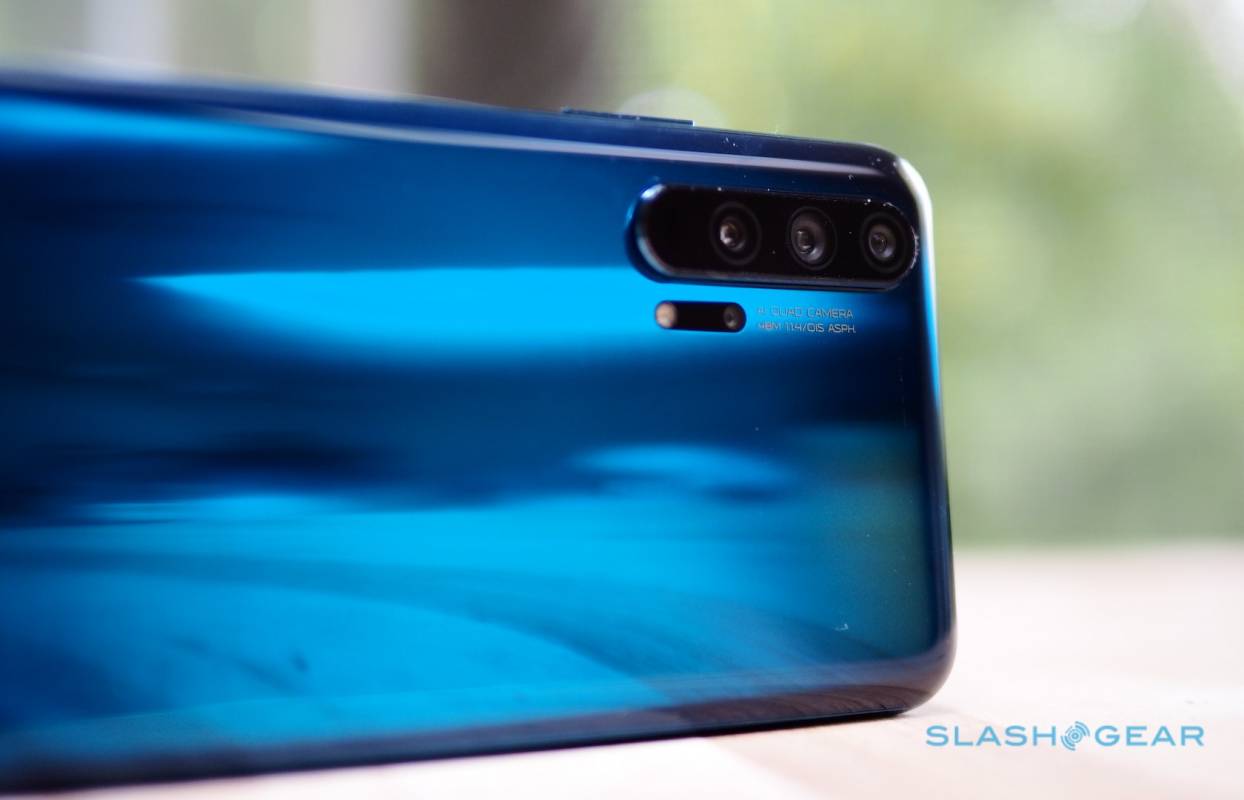 Inside, the best of Huawei
Four rear cameras didn't soak up the whole budget, thankfully. Honor still had enough for the Kirin 980 chipset, the same as in the Huawei P30 Pro. Depending on geography, the Honor 20 Pro will get up to 8GB of RAM and up to 256GB of storage.
There's a 4,000 mAh battery, with 22.5W Honor SuperCharge support. With the right charger, that means up to 50-percent of a battery charge in thirty minutes. What you don't get, though, is wireless charging. Honor insists that its money is still better spent on wired fast charging, because the experience of wireless is just too slow.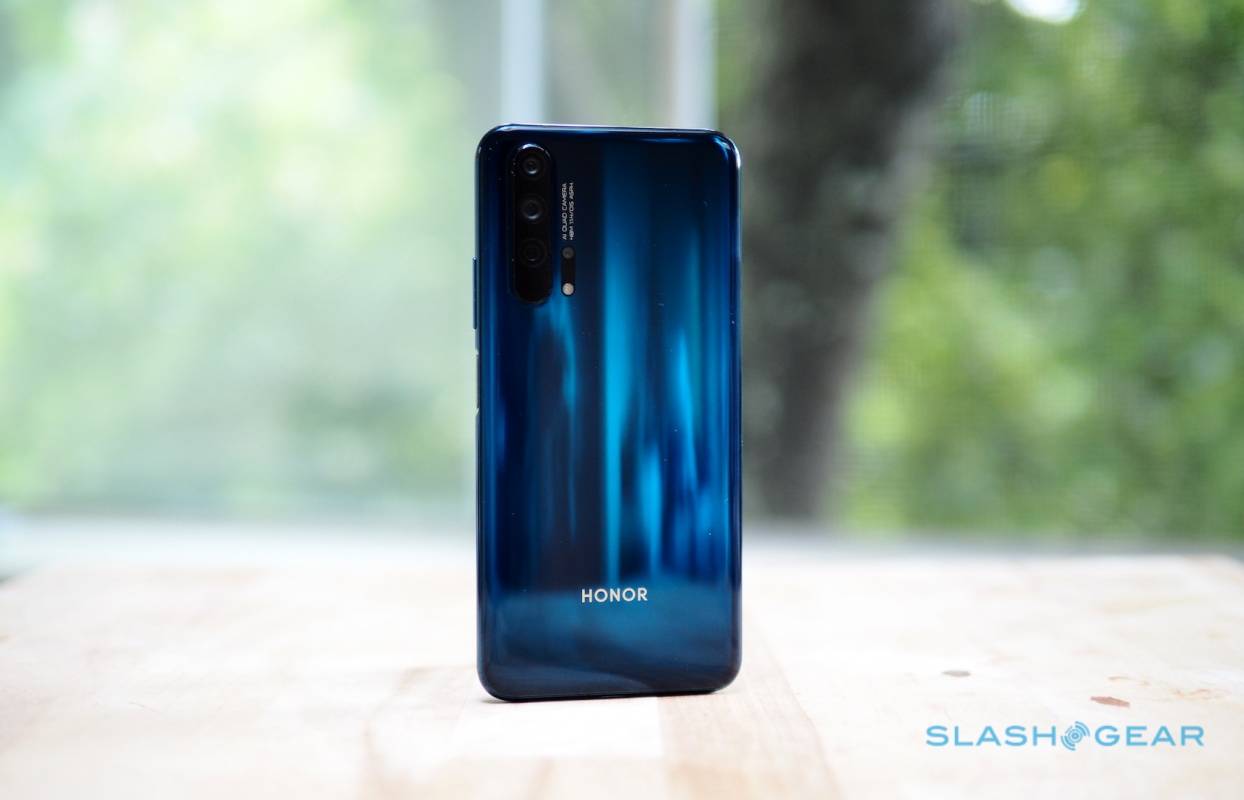 You get a USB-C port, but no headphone jack. Honor does, at least, include a USB-C to 3.5mm adapter in the box. There's virtual 9.1 surround sound, too, which promises to work with any headphones. Honor's algorithm assesses the current sound – whether that be music or the soundtrack to a game – and then assigns different elements to different virtual positions in the soundstage. It works unexpectedly well.
Indeed, you have to keep reminding yourself that the Honor 20 Pro is intended as a budget device. The 2340 x 1080p display is bright and colorful, and its 4.5mm punch-out for the front camera is hardly noticeable. Smart auto-switching flips it between maximum resolution and a more battery-friendly 1560 x 720 when the phone decides you don't need so much detail.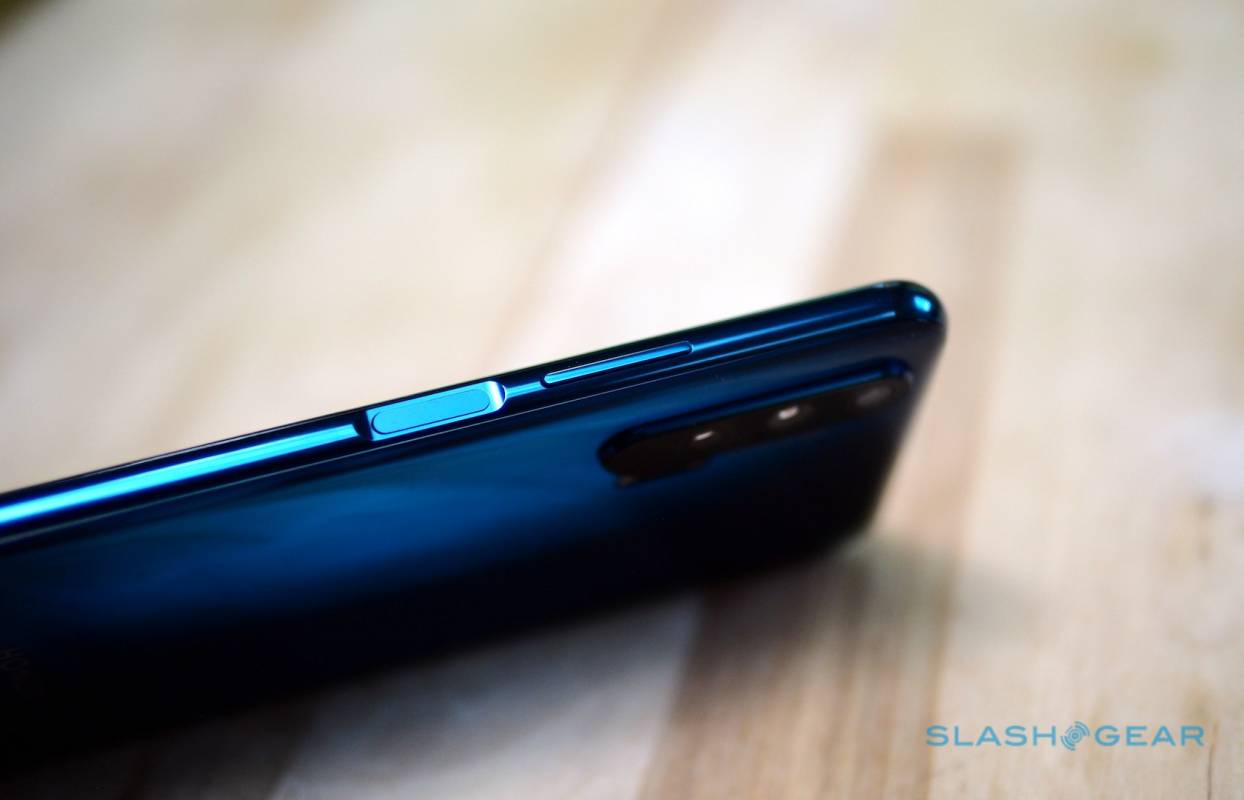 Magic UI 2.1.0, meanwhile, grows on you, at least in my experience. I do miss having an app drawer at times, but Honor's changes to Android 9 in general look good. If there's a concern, it's how the ongoing trade tensions between the US and China – and the news this week that, unless things change, Huawei and Honor will be shut out of using Google apps like the Play store, Gmail, YouTube and others – might affect updates for devices like the Honor 20 Pro in the months and years ahead.
For now, "Huawei will continue to provide security updates and after-sales services to all existing Huawei and Honor smartphone and tablet products," the company tells me, "covering those that have been sold and that are still in stock globally." As for the Honor 20 series specifically, it "is Google certified" a company spokesperson said. With the situation in such a state of flux, though, it's hard to say exactly what the long-term implications may be.
A familiar sacrifice
Wireless charging isn't Honor's only key omission. The 20 Pro also lacks any sort of IPS rating: it's neither waterproof nor dustproof. Again, the company says that comes down to budget, and choosing where to maximize its spending. Probably a good idea to buy a case, then, to protect that eye-catching glass from scuffs and scratches.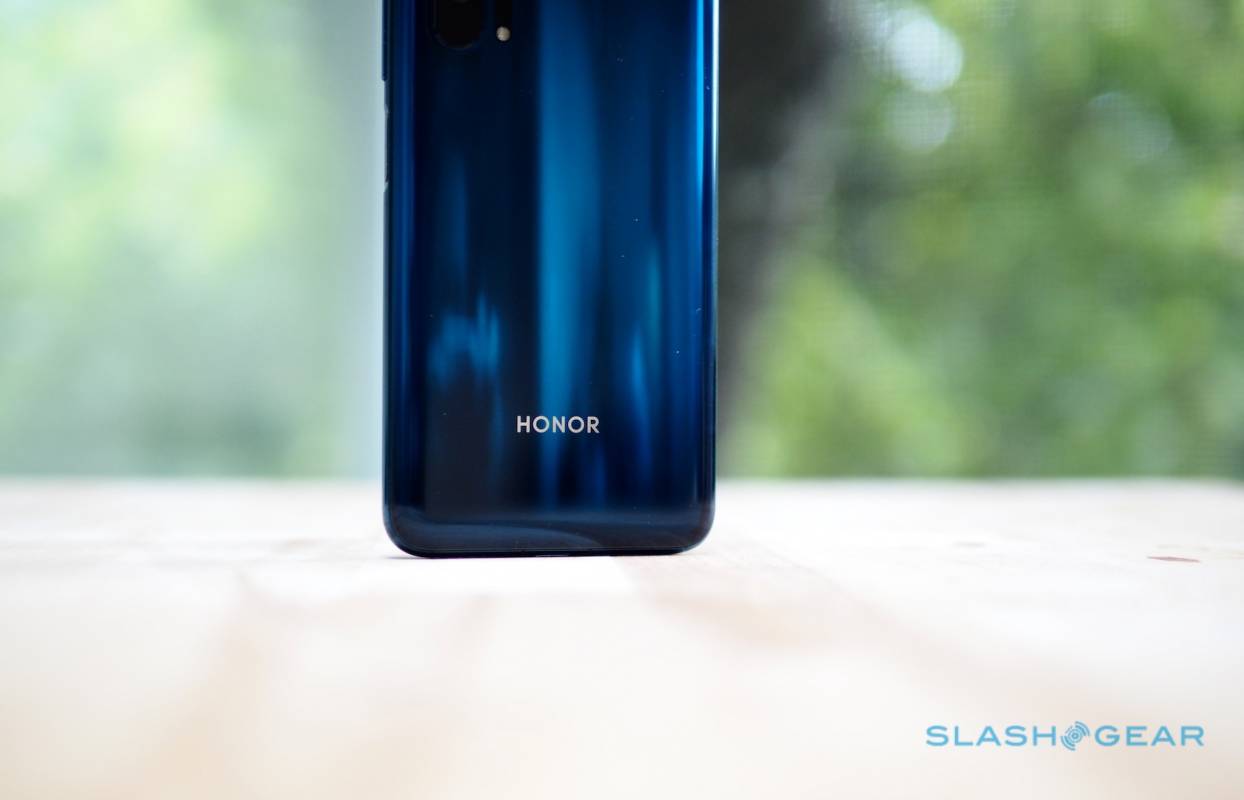 The other absence is 5G, not that we should be too surprised at that. While Huawei may be at the cutting-edge of connectivity, Honor doesn't think it – or 5G – is ready for its audience. Factor in the cost involved, and you can see why the Honor 20 Pro tolls out at LTE. You do, at least, get Bluetooth 5.0 and WiFi 802.11ac.
The Honor 20 is even more competitive
Slotting in-between the Honor 20 Lite and the 20 Pro is the third member of the 20 Series family. The Honor 20 looks much like its more expensive sibling – it has the same Dynamic Holographic Design, and the 6.26-inch screen with its tiny hole-punch front camera – and you still get the Kirin 980 chipset. The fingerprint sensor is still on the side, and there are still four rear cameras.
Those cameras do differ, however, from what's on the Honor 20 Pro. The Honor 20 has the same 48-megapixel Sony IMX586 primary sensor, but with an f/1.8 aperture lens and no optical image stabilization. The 16-megapixel super wide camera is the same, as is the 2-megapixel macro camera. However the fourth is a 2-megapixel depth assist camera for portrait mode shots, rather than the optical zoom of the more expensive phone.
The other notable change is the battery. That comes in at 3,750 mAh, slightly smaller, though you still get Honor SuperCharge support. It'll be 499 euro ($561) with 6 GB of memory and 128 GB of storage.
Honor 20 Pro Verdict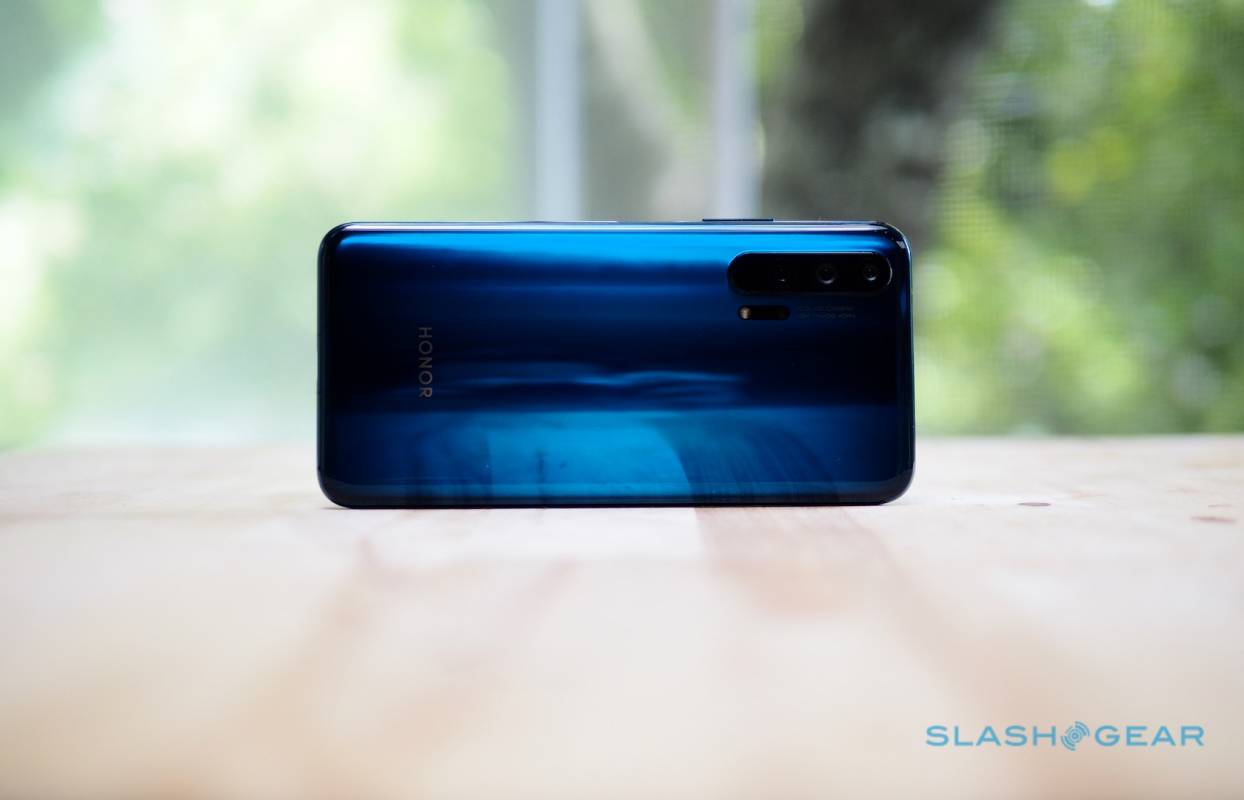 The Honor 20 Pro really didn't deserve to be overshadowed by the Android fall-out affecting Huawei this week. Undoubtedly the brand's most capable – and most interesting – phone so far, it promises far more than the 599 euro ($674) price tag would imply. The Honor 20 is even more competitive, though I suspect I'd miss the optical zoom and OIS. Honor says both will be "available soon."
As ever, though, Honor has no current plan to bring either phone – or the even more affordable Honor 20 Lite – to the US. That's a shame, because there's a whole lot here to like. Well-designed, capably specified, and packing camera technology that in many ways is little different from what's offered on the significantly more expensive Huawei P30, what stands out most is how little you feel like you're sacrificing. Honor has certainly got the affordable smartphone recipe down; now it just needs the market stability to capitalize on that.