Samsung working on 11.8" 2560x1600 tablet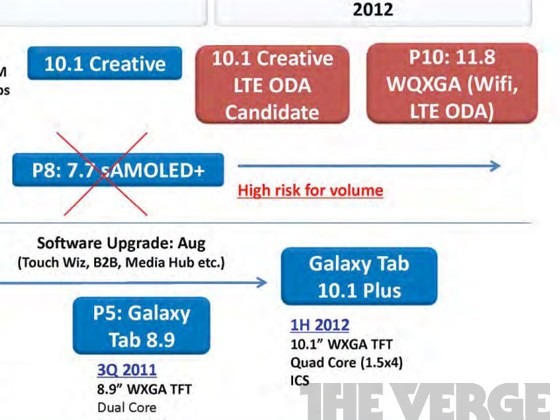 The Apple vs Samsung trial began yesterday, with lawyers from both sides trying to pick the jury in the case while relevant court documents were made available to the public. One interested piece of information found within? The Verge discovered that Samsung is working on a tablet with a Retina-like display, an 11.8-inch slate with a resolution of 2560x1600. The tablet is codenamed "P10", and looks to include LTE connectivity too.
Late last year reports emerged that Samsung was working on a high-resolution display for a tablet, with the new iPad and its Retina display unveiled by Apple a few short months later. Leaked slides of the Exynos 5 SoC produced by Samsung also reference high-resolutions, with the chip able to handle up to 2560×1600 without any problems.
Samsung is holding an event on August 15th that will unveil a new Galaxy product. Many believe that it will be the revised Galaxy Note 10.1, recently seen to include a quad-core Exynos processor, 2GB of RAM, and Ice Cream Sandwich. The resolution on that display, however, is only 1280x800, but it's possible that Samsung may also announce this 11.8-inch device. IFA kicks off on August 31st as well, giving the Korean manufacturer another opportunity to unveil a high-resolution tablet.
The focus of the lawsuit between Apple and Samsung, meanwhile, is design and patent infringement. Apple asserts that Samsung has copied the design of the iPad for its Galaxy Tab while also falling foul of several patents. Samsung's product lead finds the whole affair silly, saying that the two companies are "fighting over rectangles," and that Apple is "defying common sense."