Samsung Galaxy Note 10.1 fondled, quad-core CPU and 2GB of RAM onboard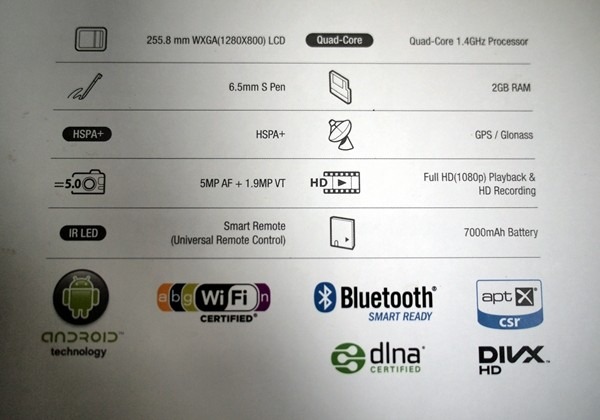 It's been quite some time since Samsung first introduced the Galaxy Note 10.1. The company reportedly delayed the tablet so that it could reconfigure the internals to add some more horsepower, and it looks like that's the case now that the Note 10.1 has broken cover. The Brave Post has gotten its hands on the tablet and spent some quality time with it, revealing that Samsung has equipped its latest tablet with a quad-core processor and bumped the RAM for good measure.
The Galaxy Note10.1 now features 1.4Ghz quad-core Exynos processor and 2GB of RAM, up from the previously announced dual-core CPU and 1GB of RAM. Otherwise the tablet hasn't undergone much of a change, featuring a similar design, a 1280x800 resolution screen, and Ice Cream Sandwich out of the box. Most notably, Samsung has added a new feature that sees the tablet serving as a large speaker for your smartphone. Users will also be able to send and receive messages via phones from the tablet.
There's still no word on when we can finally see the tablet make its debut, although Samsung is holding an event on August 15th that will showcase a new device. Some believe that it may be the Galaxy Note II, but the signs point towards an IFA reveal for that device. Now that we're seeing more information and pictures of the Note 10.1 leak out, it's more and more likely that we'll see it officially launch on August 15th.
[via The Verge]