Samsung wearable to beat HoloLens with 3D-cam and 2x Glass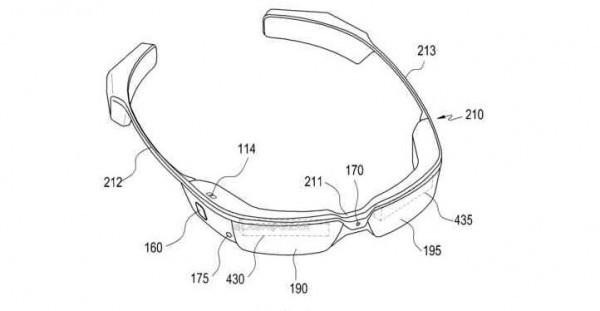 Samsung may be next on the list of hardware companies to deliver a smart headset with dual-Google Glass-like displays, 3D cameras, and augmented reality/holography. This device does not yet have a formal name, instead opting in early registration documents as a "wearable display apparatus" only. The image you see before you is not the same as Samsung's earlier Google Glass competitor seen back in January of 2014 – this headset is brand new. It's wireless, and it's sporting virtual imagery the likes of which we've never seen before.
Like Google Glass, only not
Sources speaking with SlashGear have passed to us a number of pre-production images, details, and a number of names of inventors of of the technology you see here. Jae-cheol Bae, Myong-jo Choi, Jun-ho Koh, Chang-han Kim, and Hyun-jung Kim are all included on this list. These names are of Samsung developers and industrial designers which we've been able to tie to a number of Samsung patents listed by the USPTO over the past 10 years.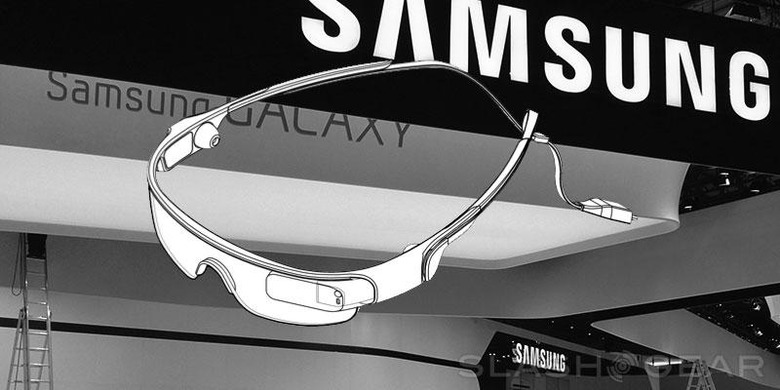 Above you'll see the first "Glass" device that popped up back in 2014. This new device appears to build on that design.
What you're seeing is a wearable display device with a "light guide element" in two parts. One for each eye. One part of this device (2x parts, if you count one for each eye) dents out a "virtual image", while a second element sends out a light from "outside the wearable display device to a predetermined position."
Sounds kind of like the sensor/headset setup of Oculus Rift, doesn't it?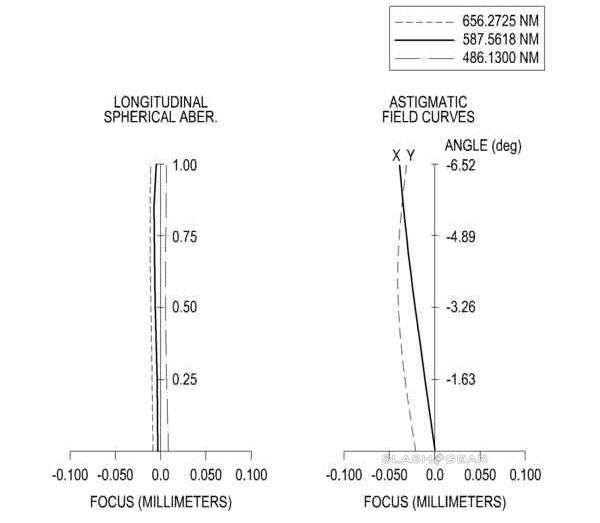 Two additional elements are used to reflect light to their correct positions. The first two elements are flat, while the second two are "rotationally asymmetric reflective surfaces," according to our source.
Holographic Display
Like Microsoft's HoloLens, this headset does not rely on the wearer to remain in a fixed position. You do not need to sit in one place like you're wearing some first-generation virtual reality headset. You'll be able to walk around with this headset because it does not completely block your view of the outside world.
This headset uses augmented reality / holographical visual information to place its content in your world without taking you out of the environment you're already in.
Control
As you'll see in the drawing below, this machine has several means for control, including a single tap button, microphone, and speaker system. Much like Samsung Gear VR, you'll be able to control this device entirely by speech and taps on the single unit itself.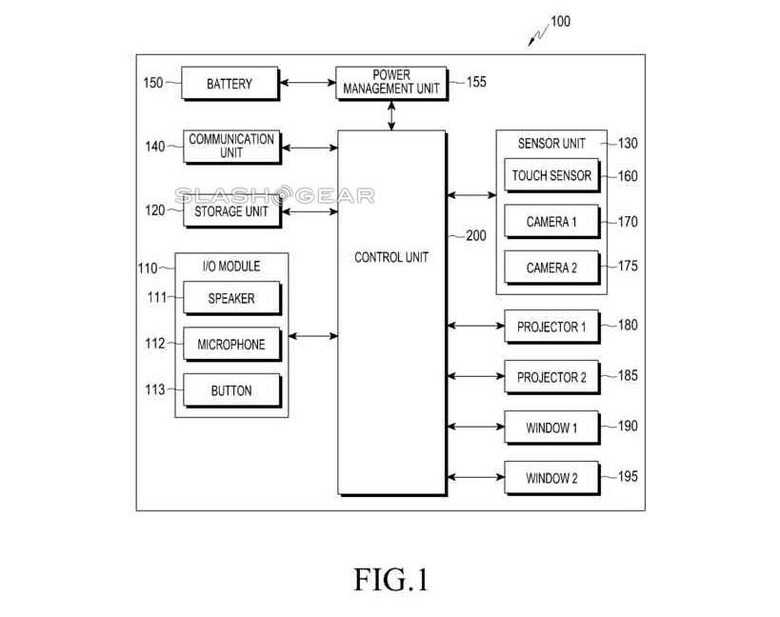 While we expect that this device would be able to be controlled by a 3rd-party device – like a Bluetooth controller – it appears for now that Samsung is focusing on gesture control, voice control, and on-device touch panel control for now.
NOTE: At this time it is not clear whether this device will use Android or a more Samsung-centric software like Tizen. It may not be finalized, as the device is still at LEAST a few months out from testing production.
Dual Cameras / 3D capture
This headset also has dual cameras. Two cameras Samsung hopes to use to create a 3D photo and video capture setup. With this system, you'll (hopefully) be able to capture what's around you in a way that results in images and video closer to our everyday two-eyed human visual system than any camera system has been able to implement before.
While we've seen two-lens 3D-capture systems more than once before, never before have we seen this sort of system set up to capture said media from so close to our own two eyes.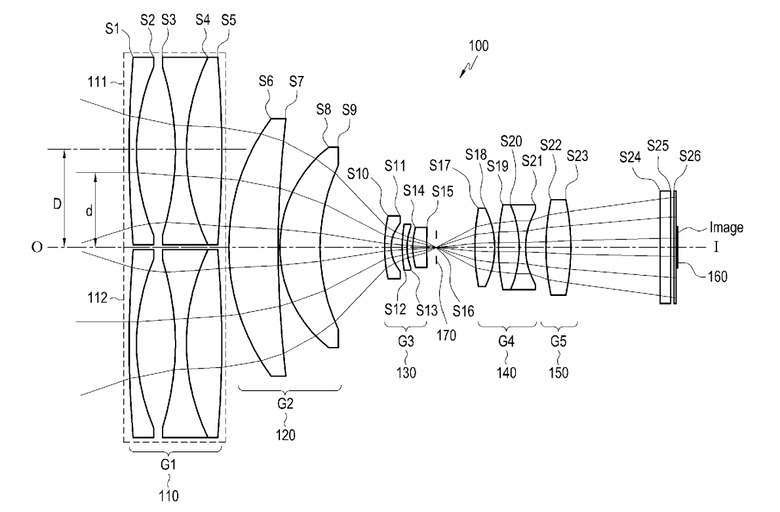 We can at least partially substantiate this claim in a rejected patent 2013-0022344 A1 (from back in 2013) with the USPTO. One inventor listed on that (Samsung) document also worked on this new headset by Samsung: Jae-cheol Bae.
Jae-cheol Bae can also be found on a wide variety of "holographic information and/or reproducing apparatus" devices dating back to 2009.
At this time we do not have release details – suffice to say it'll be at least a few months before this device sees any sort of publicity from Samsung, if it ends up being produced at all. Samsung will need to continue to see some real excitement for devices like Microsoft's HoloLens and Google Glass before they pour massive amounts of cash into a device with no definitive future.
Can Samsung jump in in the absence of Google Glass and steal the show? Is this Samsung's chance to bring real fire to their wearables game like Microsoft is doing with each successive showing of HoloLens? Let us know what you think!