Samsung UltraTOUCH and BEAT DJ hands on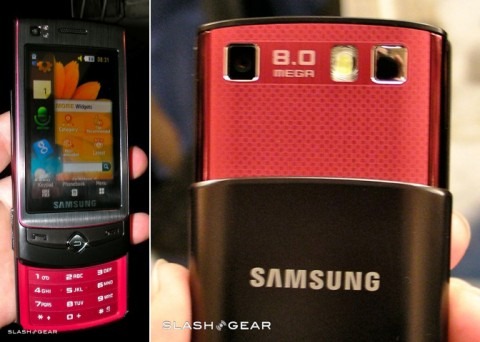 We grabbed some hands-on time with Samsung's new UltraTOUCH flagship feature phone and the BEAT DJ music phone today, and there's some seriously impressive AMOLED action going on in both devices.  The UltraTOUCH S8300 looks pretty certain to be a hit in Europe, where it will go on sale as the Tocco Ultra Edition.  TouchWiz may be on top of Samsung's generic own-brand OS, but it's reasonably responsive and the whole thing feels sturdy and solid in the hand, despite the slender dimensions.
The only real slow-down we observed was when dragging out a widget from the TouchWiz sidebar to the desktop, when the sidebar took a while to refresh back down.  However this could be a side-effect of the internet-enabled widget attempting – and, since we were buried indoors and the UltraTOUCH lacks WiFi, failing - to grab a network connection.  Generally, though the display was bright and richly color saturated, with excellent viewing angles.  We'll have to wait and see exactly how good the 8-megapixel camera is; we don't hold out much hope for its dual-LED flash.  It's set to go on sale in March 2009, price and carriers yet to be announced.
Less successful, unfortunately, was the Samsung BEAT DJ.  One half of the two BEAT Edition devices announced today, the music-centric device promises plenty with Bang & Olufsen ICEpower amplification and the same-sized 2.8-inch AMOLED touchscreen as the UltraTOUCH.  However it's let down by being strangely more unresponsive than the screen on the other handset, being stubborn to respond and slow to react when it does register a touch.  That could be worked out in production firmware, certainly, but less convincing is the ethos of the device as a whole.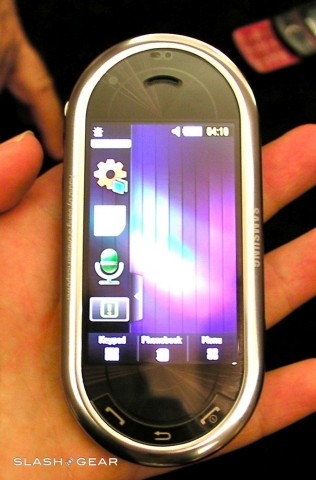 Samsung's gimmick is that you can not only play tracks but tweak, filter and drop in samples on the fly.  While that's an interesting concept – and the Pacemaker has carved out its own niche doing something similar – it comes across as being pretty pointless.  Samples sound cheesy, and there's not enough granular control of any of the editing or filtering to make it a realistic standalone music device.  It's a shame, as the hardware and GUI are nicely designed, with the two circular "decks" crossing well between touchscreen and casing, and a dedicated DJ mode switch to boot you straight into the media player.
As for the Omnia HD, the handset Samsung had on hand today was a pre-production unit and refused to hold a charge; we're hoping to stop by and check out a working model of the S60 smartphone tomorrow.  As for the video of the handsets from today, we're processing that and will add it in as soon as it's done.