Samsung BEAT Edition phones announced: DJ and DISC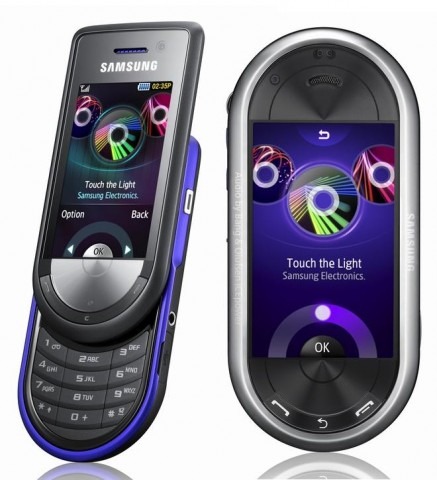 Samsung have officially announced the new Samsung BEAT Series, including the Bang & Olufsen tweaked DJ phone we saw leaked earlier this month.  The BEAT DISC (left, below) and the BEAT DJ (right, below) both have full touchscreens, with the former also having a slide-out keyboard; the DJ uses a 2.8-inch AMOLED display.
The BEAT DJ comes with 50MB of on-board memory, expandable to 16GB with the microSD card slot, together with Samsung's new BEAT DJ app which allows tracks to be edited and samples introduced. Both handsets have Bang & Olufsen ICEpower amplification and stereo speakers.
Full specs of both 3G devices in the gallery below.  No word on pricing or availability on either BEAT series handset; word from the Samsung press people is that neither device will make it to the North American market.
Press Release:
Samsung Moves to the Beat

Samsung Launches Iconic "BEAT Edition" Music Phones

Barcelona, Spain, February 16, 2009 – Samsung Electronics Co. Ltd., a leading mobile phone provider, today announced the launch of two BEAT Edition mobile phones, the Samsung BEATDJ and Samsung BEATDISC. The BEAT Edition mobile phones are a perfect combination of touch-screen technology, incredible sound and beautiful design. The Samsung BEATDJ and Samsung BEATDISC truly set a new standard in Samsung's music phone line up.

Both BEAT Edition handsets are designed to satisfy all music lovers, offering the latest mobile audio technology wrapped up in beautiful designs inspired by iconic jukebox imagery. Add to that an intuitive UI with a touch screen and users will have more fun than ever with their music.

Running Samsung's intuitive DISC User Interface, both phones come fully loaded with Bang & Olufsen audio technology as well as advanced music application for finding, purchasing and recommending music.

"The Samsung BEAT Edition handsets will take music on mobile phones to a whole new level of quality and exciting user experience," said JK Shin, Executive Vice President and head of Mobile Communication division in Samsung Electronics. "With amazing sound quality and advanced music application, the BEAT Edition handsets will appeal to a growing base of consumers that want to consolidate their music playing devices without compromising on style, function and experience."

Samsung BEATDJ

The Samsung BEATDJ allows everyone to be a DJ. With its BEAT DJ application & DISC UI, users will be able to add their own voice and sound effects to their favourite songs. With the phones' full-touch technology and BEAT DJ application, users can also 'scratch' the records on the super clear 2.8" AMOLED display to create their personal music. With 50MB of on-board memory – expandable to 16GB with the micro SD card slot – there's plenty of room to let the musical imagination run wild.

Making music is only part the story. The Samsung BEATDJ is also equipped with built-in real stereo speakers – powered by B&O's ICEpower amplifier– which sound as good as they look, producing a deep rich bass and crystal clear treble.

Samsung BEATDISC

The Samsung BEATDISC combines the functionality of a slide-out keypad with the engaging user experience of a touch-screen device.

The Samsung BEATDISC boasts the same B&O ICEpower amplifier as the Samsung BEATDISC as well as the class-leading music recognition, tagging and recommendation application, making it the perfect choice for mobile music lovers.