Samsung UltraTOUCH S8300 AMOLED touchscreen 8MP slider announced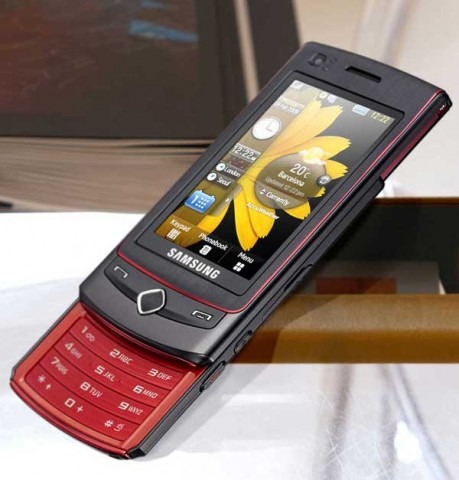 We may receive a commission on purchases made from links.
Samsung have announced their latest cellphone, the UltraTOUCH S8300, complete with a 2.8-inch WQVGA AMOLED touchscreen, slide-out numeric keypad, 8-megapixel camera with dual-LED flash and A-GPS, all in a chassis just 12.7mm thick.  In addition, the S8300 has 7.2Mbps HSDPA, a microSD slot happy with cards up to 16GB, and more video playback formats than you can shake a stick at.
In fact the UltraTOUCH S8300 can handle DviX, XviD, H.263, H.264, WMV9 and MPEG4 video, plus record 30fps VGA content.  The camera has autofocus together with face detection, smile detection and geotagging, while there's also an FM radio and Bluetooth A2DP wireless stereo support.
Full dimensions are 110 x 51.5 x 12.7mm, and Samsung have used a newly updated version of their TouchWiz GUI (screenshots in the galley below) which will – like the UltraTOUCH S8300 itself – debut at Mobile World Congress next week.  No word on pricing or even where you'll be able to buy the new Samsung, but we're hoping to find out at MWC.
Update: Samsung apparently plan to release the S8300 as the Tocco Ultra Edition in the UK in March 2009, price yet to be announced.
Press Release:
Seoul, Korea, February 9, 2009 – Samsung Electronics Co. Ltd., a leading mobile phone provider, today announced the launch of the elegant "UltraTOUCH", the perfectly beautiful and fully equipped full-touch slider phone. This debut comes ahead of Mobile World Congress in Barcelona, where Samsung will deliver its new vision for full-touch mobiles at the forefront of style and design. As with previous Ultra editions, the UltraTOUCH re-defines perfectionism in style, design and technology – now with full touch.

"With its refined contoured design, Samsung UltraTOUCH is our elegant full-touch hero at this year's Mobile World Congress, proving again that Samsung's mobile phones are at the forefront of style," said Mr. JK Shin, Executive Vice President and Head of Mobile Communication Division of Samsung Electronics. He added, "We are committed to strengthening our portfolio of full-touch phones by introducing a variety of handsets to suit every lifestyle. UltraTOUCH leads this portfolio as our most iconic, high-end phone and will further enhance Samsung's leadership in the premium full-touch market."

Ultimate Style

Samsung has long been regarded as the most stylish mobile phone manufacturer. As the newest flagship edition to the Ultra range (Samsung's leading style brand), UltraTOUCH is a truly beautiful full-touch mobile, boasting revolutionary touch screen technology, sophisticated design and packed with multimedia features. Centre stage is the 2.8" AMOLED anti-scratch full touch screen, which offers astonishingly bright and vivid colours.

The ultra-slim 12.7mm body of UltraTOUCH unites perfect form and function with full-touch screen and additional 3x4 keypad slider. The subtle arcs and slender contoured silhouette in the design ensure a timeless beauty and the polished 'silky back' design means that the phone looks fantastic from every angle. With a brushed metal frame for durability and an anti-scratch, anti-smudge screen, users can keep their phone in great condition.

Ultimate Multimedia

As you would expect from Samsung, the UltraTOUCH is alive with technology. Its embedded 8 megapixel camera with dual power LED flash and smile shot mode means you can capture incredible photographs on your phone. In addition to the industry-leading mobile phone camera, UltraTOUCH offers GPS navigation, providing detailed maps to take users from door to door. Geo-tagging via the GPS chip allows you to tag photos with geographic information, making them easier to use on social networking and photo sites. The high quality 30fps@VGA video recording captures action smoothly, while the groovy music player means that you can listen to sounds as slick as your phone. Samsung UltraTOUCH is also powered with HSDPA 7.2 Mbps, offering speedy internet access.

Ultimate User Interface

Samsung UltraTOUCH provides the best ever full-touch user experience and universal 3x4 keypads together. Users will enjoy being able to control the mobile easily and intuitively – flicking through photos, navigating through maps and surfing the web have never been easier and more interactive thanks to the upgraded TouchWiz user interface. Mobile widgets can be dragged and placed on the screen for one-click access to favourite applications, or the slide-out tactile 3x4 keypad offers a tangible alternative behind the attractive touch screen, creating endless customization opportunities to make your phone your own.
[via SlashPhone]