Samsung teases Galaxy Note II event for October 24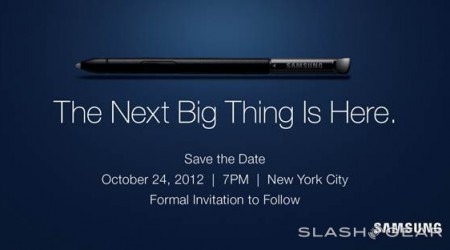 If you're ready for the "next big thing" from Samsung, you've already got it – that's what they said when the Galaxy S III was released – but now it's coming again. It's about to arrive in the form of the Galaxy Note II, announced quite recently formally for the USA on all the big carriers for release in early November, now there's an event that'll likely give us the final release information in tune with some hands-on time as well. This device is the next step after the Galaxy Note – the original handset model – and comes with a larger screen and a collection of new technology enhancements as well.
One of the most important changes to the Samsung Galaxy Note II here between it and its predecessor is the design language it uses. Unlike the first Galaxy Note, this device is made smooth and closer to the nature theme the company chose for the Galaxy S III. Just like the original Galaxy Note, this Note is made to be part of the generation it exists in – with the first looking rather similar to the original Galaxy S II.
This device works with a new and improved S-Pen with a few extra technological enhancements between it and the device's display. You can still store the S-Pen inside the device, and you've got bits like an alert when you've stepped away from the pen with the device disconnected – helpful stuff! This device also works with a massive 5.5-inch display with 720 x 1280 pixel resolution – that's 267 PPI, and you've got Corning Gorilla Glass 2 up front as well for top-notch protection.
Inside you've got 16, 32, or 64 GB storage and this device's microSD card slot supports up to 64GB of space as well. This device works with a quad-core Samsung Exynos 4412 processor and its microUSB port also works with MHL for HDMI output. Have a peek at our hands-on looks – there's more than one – with the Galaxy Note II in the timeline below – and join us on October 24th for the big event!