Samsung SyncMaster U70 7-inch USB companion display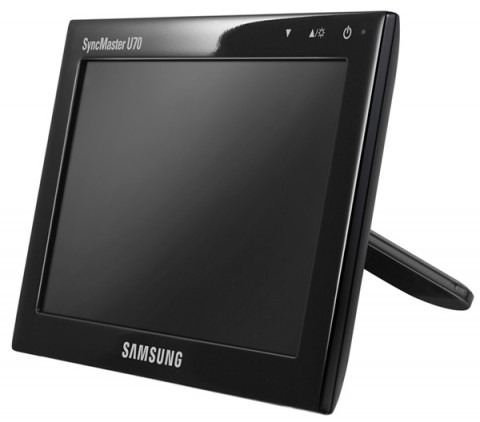 Quite a bit smaller than the usual Samsung SyncMaster displays we see, but this new U70 screen is aiming at the desktop companion market rather than trying to replace your primary monitor.  In fact the SyncMaster U70 is just 7-inches, running at 800 x 480 resolution, and connecting to your PC via USB.
That puts it up against various rivals, from Nanovision's MIMO range, through Century Japan's offerings and all the way to join Buffalo as a mainstream brand edging in on the niche.  First glance suggests that Samsung have used some of their digital photo frame expertise to at least make the SyncMaster U70 look great; you could easily mistake it for a standalone picture viewer.
Compatible with various forms of Windows (though not Mac OS X, sadly), with a 400:1 contrast ratio, 30ms response time and 200 cd/m2 brightness, the U70 gets its power through the USB connection.  No word on pricing or availability as yet.
[via Akihabara]