Samsung streams TV to Galaxy S II with new Smart View app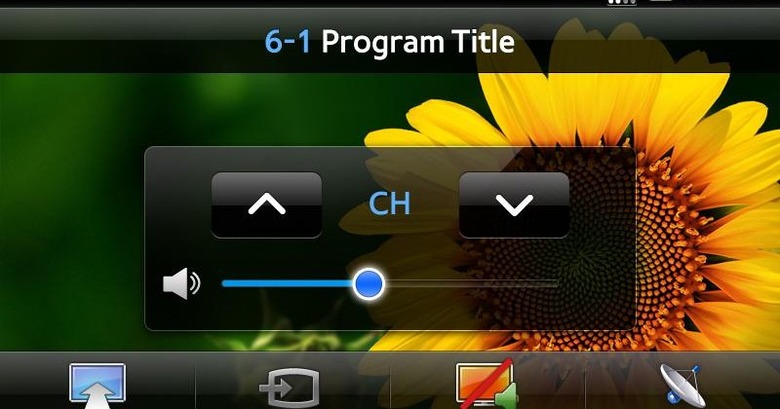 Samsung has finally got around to releasing its Smart View app, which allows certain Smart TVs from the company's range to stream content to its Android phones. Initially available for the Galaxy S II, though with versions for the Galaxy Player, Galaxy S and Galaxy Tab promised for later in the year, Smart View works as both a remote control and as a wireless second screen for broadcast, cable, Blu-ray or any other input going into your TV.
You'll need a D7000, D8000 or D9500 series smart TV, of course, and it'll have to be hooked up to the same WiFi network as your GSII is connected to. From there, it's a case of picking the source from a list – you can have multiple smart TVs on the same network, if you can afford it – and then picking the content you want to watch.
Meanwhile, people watching the TV itself will be able to carry on using it independently. We grabbed some hands-on time with the prototype – you can see the demo in the video below – back in April and found it all worked surprisingly well. Meanwhile, we reviewed Samsung's 55-inch D8000 recently too, just in case you're thinking of picking up a new set to accompany your GSII.
[vms 7c87f97fb686b2f06867]
[via Android Community]
Press Release:
Samsung Launches 'Smart View' App, Puts Smart TV in the Palm of Your Hand

SEOUL–(Korea Newswire) June 2, 2011 — Samsung Electronics Co. Ltd., a market leader and award-winning innovator in consumer electronics, today launched the Samsung "Smart View" application that enables users to view images from a Samsung Smart TV or other input device right on their mobile devices.

Available now for the Samsung GALAXY S II, the free Smart View application displays Smart TV images right onto mobile devices via wireless Ethernet-whether consumers are enjoying cable broadcast programs or content from a Blu-ray player, camcorder, set-top box or other input device.

In addition, users can browse any currently installed Smart TV applications from their mobile devices, bringing even more functionality and convenience to the Samsung Apps experience.

Since last April, when Samsung launched "Samsung Remote"-an easy-to-use application to deliver general remote control functions while also supporting Smart TV's special features-the company has once again strengthened convergence between Smart TV and mobile devices through this latest Smart View app offering.

Samsung has consistently brought movies, TV programs, music and other desired content stored on DLNA-certified devices such as PCs, mobile phones and cameras to the large TV screens-and is now extending this function by mirroring images back to mobile devices through this new application.

The Smart View app for mobile devices also enables mobile viewing from around the home. With only one Smart TV, a family member can watch one TV program in the living room, while another family member enjoys either the same content-or movies played by the living room Blu-ray player-from the comfort of the bedroom while leaning back with a Samsung smart phone or tablet.

"Samsung Smart TV is leading the "smart revolution" not only with the features of Smart TV itself-such as rich content, 2D and 3D picture quality, smart functions and design-but also with input devices using our Qwerty smart remote control, the Samsung Remote app, and now with Smart View," said Kyungsik Kevin Lee, Vice President, Visual Display Business at Samsung Electronics. "The distinctive functionality of Samsung Smart TVs will continue to deliver the most convenient TV watching experience to consumers-enabling them to truly enjoy a smarter life."

Samsung will continue to update the Samsung Smart View application with various remote control functions, optimally designed for Smart TV, to ensure customers use the unique features of Smart TV in increasingly convenient ways. A "Channel List" option, which lets users search program information and change channels on their mobile devices, will be added going forward.

The Samsung Smart View is now available in the Android Market for Samsung Smart TV D7000, D8000, and D9500 series, as well as the GALAXY S II, and will be available for the GALAXY player (YP-GB70) in July, along with the GALAXY S and GALAXY Tab later this year.