Samsung Stratosphere Hands-on and Unboxing [Video]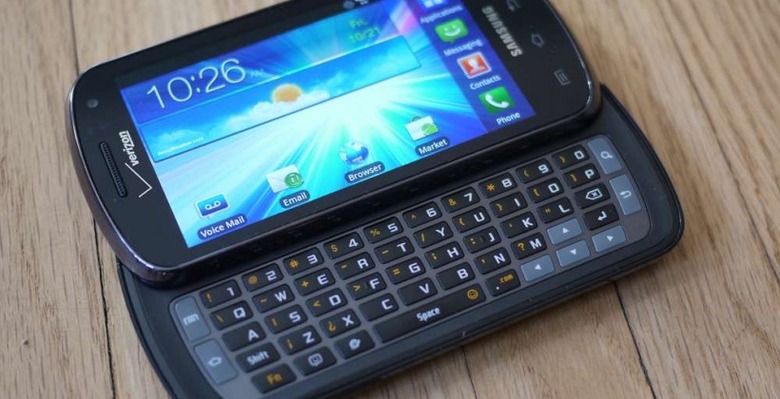 The folks at Verizon and Samsung here present the world's first 4G LTE device on the market with a full QWERTY keyboard, the
. This device isn't going to bust your bank or bust your benchmark tests as it's going to be costing $149.99 after $50 mail-in rebate and it's got a modest single-core 1GHz processor under the hood. Instead what we're going to be looking for here is if this device can stand up to the mid-range of LTE-toting devices on the market, a market which currently only really has one contender: the
. Will Samsung's TouchWiz interface and the ability to type with a physical keyboard matched with a lovely Super AMOLED display be the winning combination?
What we can see thus far is that this device, again, certainly isn't meant to win any contests for thinness or power – instead Samsung has stuck with a more classic "who would dislike this" sort of design for those that want a smartphone that's neither flashy nor in danger of disappearing in a pile of newspapers. The display is fantastic, as all AMOLED displays are prone to being, and the cameras on the front and back, those being 1.3 megapixels and 5 megapixels respectively, seem to be adequate for an everyday hobby user. It's the Verizon 4G LTE speeds and the added features from Cisco that'll have enterprise users interested.
[vms 6761171b130dcb476a43]
Cisco has here provided B2B-enabled connectivity services, then there's also "the most comprehensive mobile implementation" of Microsoft Exchange ActiveSync (EAS) as well as the ability to use Sybase Afaria for secure remote device management. You'll be jumping for joy if you've ever used any of those before, essentially. Then there's the LTE factor. This device will allow you to not only access what's easily the fastest network in the USA, it gives you the ability to use your device as a mobile hotspot for up to 8 other devices at once (or 5 if you jump down to 3G).
Have a look at a couple of initial speed tests here: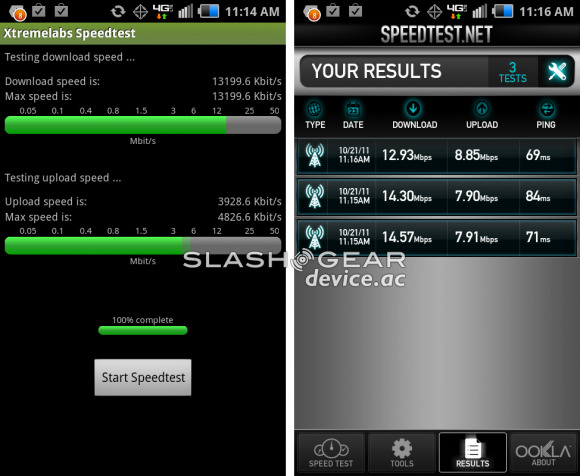 Then have a look at the rest of the gallery to see this device in all its shiny glory as well as it sitting next to a
and a
, the Charge being the only other Samsung device running on 4G LTE right at this moment (until the
comes, that is.)
AND don't forget to ask any questions you might have on this device so that I can answer them when the full review of this device comes soon!