Samsung SMX-K40 and K45 entry-level solid-state camcorders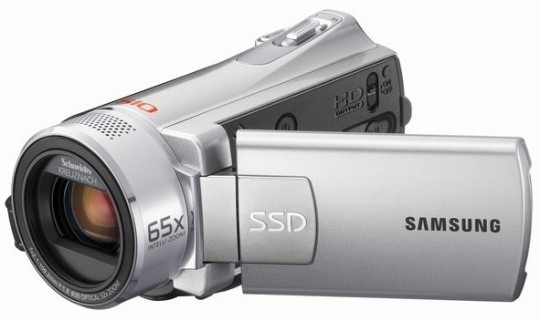 If the design of Samsung's HMX-U10 camcorder is a little too outré for your tastes, the company has two more traditionally-shaped offerings today.  The Samsung SMX-K40 and SMX-K45 both conform to the standard palmcorder format, but actually they're not quite as technically capable as the U10; each can record up to 720 x 480 resolution, rather than their upright sibling's 1080p.
Still, you get a 65x "Intelli-Zoom" (52x optical zoom) and optical image stabilization, together with an HDMI output for direct connection to a TV or display.  There's also Schneider Optics and the same Intelli-Studio onboard editing suite as the U10, that boots up whenever you connect to a PC via USB.  From there you can make basic tweaks and upload to YouTube. 
The K40 has an SDHC card slot while the K45 has a 32GB SSD, good for up to 20hrs and 40 minutes of recording.  Both can shoot 800 x 600 stills and do time-lapse recording, and will hit the market in August 2009.  The Samsung SMX-K40 will be priced at $329.99 while the SMX-K45 will be $499.99. 
Press Release:
SAMSUNG ANNOUNCES NEW CAMCORDERS THAT PUT HD VIDEO RECORDING AND VIEWING IN THE PALM OF YOUR HAND

Ultra Compact HMX-U10 Camcorder takes full-HD Video and 10 MP Stills;

K-Series featuring the SMX-K40 and SMX-K45 offer near full-HD Upscaling and HDMI Connectivity

RIDGEFIELD PARK, N.J. – July 14, 2009 – Samsung Electronics America Inc. today introduced new camcorders that make recording and viewing video in HD easy. The HMX-U10 is an ultra compact camcorder that records in full-HD and takes 10 mega-pixel still photos. It also allows users to easily share content online with its one-touch "upload" button to YouTubeTM. The SMX-K40 and SMX-K45 record video in standard definition but then upscale the footage to near full-HD when viewing through an HDMI output (cable sold separately). These new models join Samsung's second-half camcorder lineup for 2009, which includes the recently introduced SMX-C14 and SMX-C10.

"We want to make it easy for everyone, from the young family of four to the tech-savvy professional, to record and view HD footage," said Reid Sullivan, senior vice president of Audio/Video and Digital Imaging Marketing at Samsung Electronics America. "The addition of the HMX-U10 and the K-Series adds strength to an already impressive lineup of Samsung camcorders and offers a digital video recording solution for every consumer segment."

HMX-U10

The HMX-U10 is the ideal solution for the consumer looking for ultimate portability and ease-of-use in an HD camcorder. The HMX-U10 offers full-HD video recording with 1920x1080 resolution. The HMX-U10's 1/2.3 inch CMOS sensor also gives consumers the ability to capture impressive 10 mega-pixel digital still images, all which can be reviewed on the camcorder's clear, two-inch LCD screen. At 56mm x 103mm x 15.5mm, and weighing just 95g including the battery, the HMX-U10 is ultra-compact with an ergonomic design that breaks free of the traditional look and feel of pocket-sized camcorders. Its sleek frame is accentuated by a wave-design that angles the body of the camcorder at seven degrees, allowing users to grip the camcorder more comfortably, reducing any related stress on the wrist or arm. This same ergonomic design philosophy is also found in the SMX-C14 and SMX-C10 camcorders, which feature Samsung's unique Active Angle Lens.

K-Series: SMX-K40 and SMX-K45

With the new K-Series, consumers can enjoy near full-HD quality video for the price of a standard definition camcorder. The SMX-K40 and SMX-K45 record exceptional standard definition video at a resolution of 720x480, and then can be played back on an HDTV in near full-HD quality thanks to advanced upscaling technology and HDMI connectivity. With a built-in HDMI output on the camera and HDMI cable (sold separately), consumers connect the camcorder directly to their HDTV for near full-HD playback.

The SMX-K40 and SMX-K45 also offer one of Samsung's most powerful zoom lenses. Consumers have a 65x Intelli-Zoom at their fingertips which drastically enhances their ability to capture any moment they see no matter how far away they may be. Significantly more reliable than a standard digital zoom which negatively affects the quality of the image, Samsung's new Intelli-Zoom allows users to go beyond the camcorder's 52x optical zoom. The K-Series also features Samsung's advanced Optical Image Stabilizer, ensuring that video will be shake-free, whether zoomed out or using the camcorder at it's full 65x Intelli-Zoom. Furthermore, the camcorder's world-class Schneider-KREUZNACH lens delivers the quality and performance needed to help capture the most impressive video possible.

The SMX-K45 offers an internal 32GB Solid State Drive (SSD), providing up to 20 hours and 40 minutes of recording time depending on the recording mode. Samsung's renowned SSD technology offers a substantial advantage over the use of Hard Disk Drives (HDD) in a digital camcorder. SSD is more energy efficient, produces very low heat emission, and is faster and more durable than HDD because there are no moving parts. The SMX-K40 does not have internal storage and requires the use the of a SD/SDHC card.

Unique Features

The new HMX-U10 and K-Series follow in the footsteps of the newly introduced SMX-C14 and SMX-C10 and boast several unique features which differentiate them from the competition and make video recording even more enjoyable for consumers. Such features include Samsung's built-in intelli-studio software, animated thumbnails, and a versatile charging system.

No longer do consumers need to worry about being near their home computer in order to edit or share their video. The HMX-U10 and the K-Series all feature Samsung's play-edit-sharing program called intelli-studio. The camcorders' built-in intelli-studio program allows consumers to turn any computer into a mobile studio, giving them the ability to edit and play their video without having to install supporting software. Sharing is also simplified using intelli-studio as the program takes the hassle out of uploading content to popular video-sharing Web sites. For example, a one-touch "upload" button, available directly on the HMX-U10, provides a direct connection to YouTube™, further reducing the number of steps needed to upload footage. In addition, the camcorders also allow basic on-camera editing, including the ability to split video files.

Samsung's animated thumbnail feature simplifies the way users search for video clips. Each video clip saved on the camcorder is represented by a small thumbnail on the LCD screen. When scrolling through one's videos, each thumbnail will provide a short playback of the video file when highlighted by the user. The HMX-U10, and SMX-K40 and SMX-K45 also feature a versatile charging system. Users can either recharge the battery by connecting the camcorder to the supplied AC adapter or via USB while the camcorder is connected to a computer.