Samsung set to "kapture" the media's attention on April 29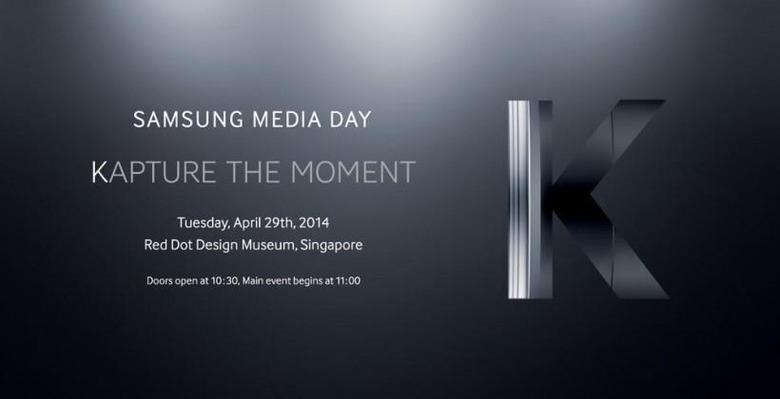 Samsung has just given word that it plans to hold a media event in Singapore near the end of the month. And if previous rumors are to be given credence, the "Kapture the Moment" slogan in the teaser could very well be referring to the company's next photography-centric smartphone, the Galaxy S5 Zoom, also named in some sources as the Galaxy K Zoom or simply Galaxy K.
The coming of the Galaxy S5 has naturally started the rumor mill about devices using the current flagship's name. This was a trend that Samsung started with the Galaxy S 4 and there doesn't seem to be any indication of the Korean manufacturer changing its ways. If so, we might soon see devices such as a Galaxy S5 Mini and probably an even more rugged Galaxy S5 Active, though the main flagship itself is already quite dust and water resistant. But before all those, it is likely that we will first see a Galaxy S5 Zoom.
Details on this smartphone slash digital camera are still pretty scarce, but from what we've already heard, it will be an improvement over the Galaxy S4 Zoom in every way. The most noticeable difference expected to be immediately seen is the body of device, which is said to be considerably thinner than its predecessor. Not as thin as the Galaxy S5 itself, mind you. A leaked photo also revealed a camera that employs a 4.4-44 mm 1:3.3-6.7 24 24 mm 20 megapixel lens, definitely an improvement over the Galaxy S4 Zoom or even the Galaxy Camera.
The rest of the device's specs, particularly on the smartphone half, come from yet another round of rumors. This camera smartphone is said to sport the odd hexa-core Exynos processor, with two 1.7 Ghz Cortex-A15 cores and four 1.3 GHz Cortex-A7 cores. This is paired with 2 GB of RAM and Mali-T634 graphics chip. A 4.8-inch 1280x720 display faces the user, as well as a 2.1 megapixel shooter. It would be surprising if this device didn't run the latest Android 4.4.2.
If the previous iteration would be followed, this device would be named the Galaxy S5 Zoom. However, it has also been going around with the Galaxy K name, giving reason to believe that the "Kapture" event, aside from obviously being a reference to a camera, would focus on it. If you are in any way interested in this latest convergence of a smartphone and a digital camera, better do as Samsung says and mark your calendar for its press event on April 29 11 AM in Singapore, which, given timezone considerations, will be on April 28 at 11 PM Eastern.