Galaxy S5 mini leak tips 4.5-inch Super AMOLED and Android 4.4 KitKat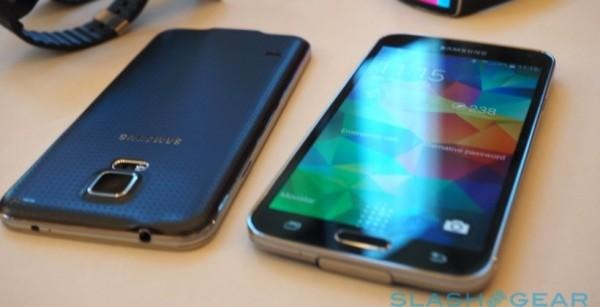 Specifications of a new smartphone have leaked on the web that Samsung will be launching in the future. The specifications are claimed to be for the Samsung Galaxy S5 mini SM-G800. Samsung commonly makes multiple version of its smartphone and this time out we have a smaller version of the popular Galaxy S5 that launched recently. Screen size on the Galaxy S5 is 5.1-inches of Super AMOLED glory.
The Galaxy S5 mini is tipped out have a slightly smaller screen measuring 4.5-inches using the same Super AMOLED tech. That screen is said to support 720p resolution, whereas the full size S5 has full HD resolution. Android 4.4 KitKat will be the operating system for the mini and it will have Qualcomm Snapdragon power under the hood.
Exactly which Snapdragon will be used is unknown, but rumors suggest it will be the Snapdragon 400. Other leaked specs include an 8MP rear camera, a 2MP front snapper, and an integrated IR blaster for using the phone as a remote control. Samsung will mate the Snapdragon processor with 1.5GB of RAM and 16GB of internal storage. Power will come from a 2100 mAh battery.
Some details are unknown about the device. One of those is whether the mini will feature a fingerprint sensor or heart rate monitor, which are both found on the S5. The mini is expected to be water resistant, just as the full-size S5 is. Pricing and the exact launch date are unknown, rumors suggest that the S5 mini will launch in June.
SOURCE: Sammobile