Samsung Series 7 Slate PC hands-on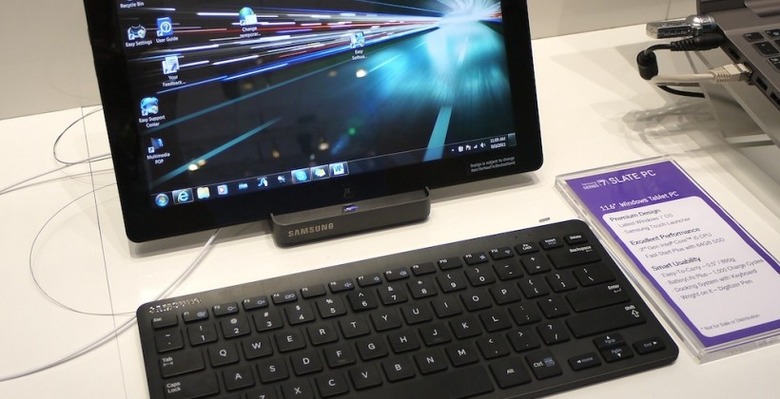 What's in a name? If you're Samsung, and you're trying to bide time until the more touchscreen-friendly Windows 8 arrives, then you launch the Samsung Series 7 Slate PC. The absence of "tablet" in the title, and conversely the specific mention of a slate form-factor PC, says it all: this is no iPad rival but a work or enterprise machine that just so happens not to have a keyboard. We grabbed some playtime at IFA 2011.
Of course, Samsung has no need of a Windows-based iPad alternative, because it already has its Android-powered Galaxy Tab series. The business customer, then, gets a solid slate computer with a decent 11.6-inch capacitive touchscreen display, bright and with broad viewing angles, served up in a reasonably slimline casing with HDMI, microSD and USB connectivity.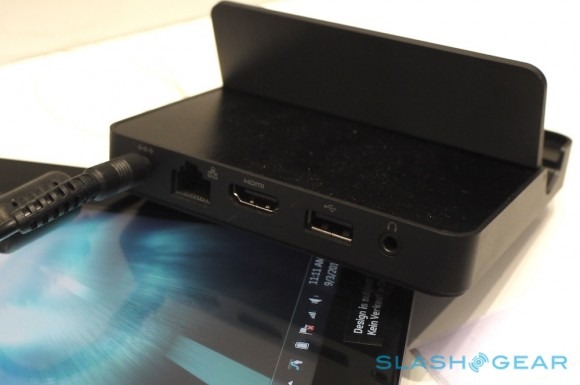 If you want more ports, the docking station has a full-sized HDMI (versus the mini port on the Slate PC itself) as well as a USB, headphone socket, ethernet and power. Unfortunately it's not adjustable for angle, though you could easily leave a bigger display permanently attached for when you're back at your desk. The Bluetooth keyboard is much like we saw on the Series 9 Chronos laptops, but because this is a full Windows PC you can of course plug in any USB peripheral you want.
Best of all, Samsung has already confirmed that it intends to upgrade the Series 7 Slate PC to Windows 8 when the new OS is launched, which adds in a degree of future-proofing that enterprise clients will enjoy. At that point, it might also win some fans among mainstream consumers, though we'll have to wait and see how well, exactly, Microsoft's next-gen OS lives up to its tablet promise.