Samsung Series 7 Slate to be upgradeable to Windows 8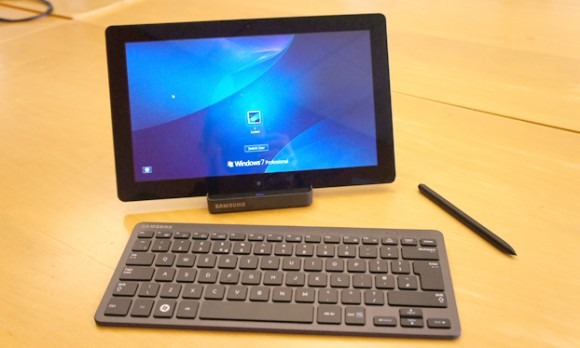 Samsung debuted a new tablet today called the Series 7 Slate. But this wasn't another Android tablet, instead, oddly it ran Windows 7 with the company confirming plans to make the device upgradeable to Windows 8. Some early hands-on impressions of the device say that it may be the best Windows 7 tablet ever made.
The Samsung Series 7 Slate features a 11.6-inch Gorilla Glass covered display that doubles as a Wacom tablet with the use of a pressure sensitive stylus. Inside, it sports either an i3 or i5 processor with 4GB of RAM. It also offers both a rear- and front-facing camera as well as support for both WiMAX and HSPA+ network connections.
The tablet also sports what appears to be a home screen button with the Windows icon. It's not clear whether this is Samsung's own decision or a standard we'll be seeing in all future Windows 8 tablets. A more detailed preview of Windows 8 is set to take place at the Build developer conference in September with rumors of a public beta to be released at CES and a final version to land later in 2012.
Samsung plans to partner with Microsoft for the Windows 8 upgrade offering for the Series 7 Slate. The tablet will ship in October for $1,099. Below are some of the hands-on images for the tablet from Thisismynext and PC Magazine.