Samsung Series 7 All-In-One PC Revealed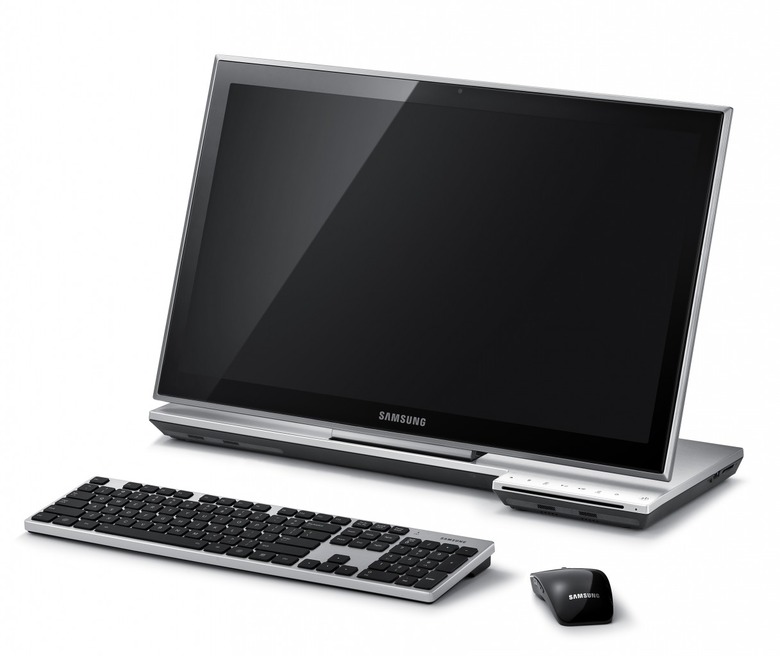 Today it's been announced by Samsung Electronics America that the Samsung Series 7 All-In-One PC does exist and will be coming out to the consumer market soon. This desktop computer will combine a minimalistic design profile at 16mm thin on a 23-inch display with advanced technology for work and play. You'll find an Intel Core i3 or Intel Core i5 processor inside with Windows 7 Home Premium backing you up until you get a taste of Windows 8 in the very near future – working great with this full-touch display. Last time we spoke of Series 7, it was the Central Station and the slate as well as the Chronos notebooks and their lovely displays, now we get to see all those magical components re-arranged into a cool all-in-one today!
Below the 16mm thin 23-inch monitor, you've got a base that encloses all the key components and features of the PC, while your wireless keyboard and super sophisticated simplistic mouse all take up a minimal amount of space and make you look like you're the super classy home-working pro that you really are. This PC's full flat design allows for the display to lay all the way down, this giving you a full horizontal touch interface you'll be able to put to good use when you load Windows 8.
The display uses Samsung's advanced TV technology, video "coming alive" in full HD on this LED backlit screen. You get Harman Speakers and Harman-optimized audio features, as well as full surround sound with a SoundAlive sound enhancer. Integrated HD webcam and DVD player come standard as well.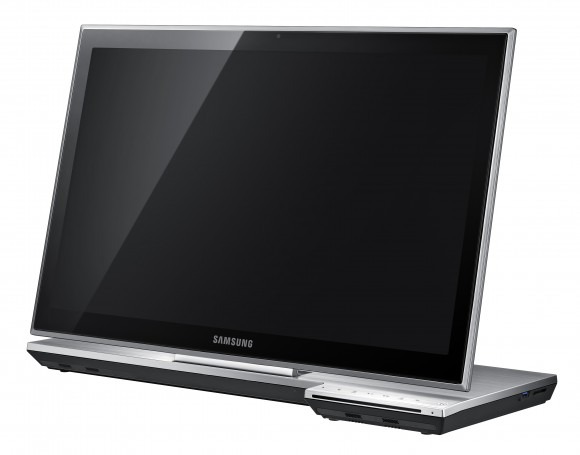 Samsung has prepared you for the touch future with a lovely "Samsung Touch Launcher" that'll grab you the most out of your touch experience (again, until Windows 8, that is, where you're sure to use the Windows 8 launcher,) this launcher allowing you quick access to all of your favorite applications from the desktop. Easy Settings allow you quick and easy access to wireless networks, projectors, and more, and Samsung Easy Migration allows you quick and easy transferring of files to and from other computers – launching Easy Migration doing this automatically if you let it.
This computer series is set to launch on October 10, 2011, and ranges from $999 to $1,199, depending on the model you choose. All Samsung PC products are available through your local Samsung reseller or distribution channel, visiting Samsung.com will reveal that list to you.
Click the thumbnails in the gallery below to see specs up close and personal as well as larger versions of the photos in this post.