Samsung Series 2, 4 and 6 Notebooks debut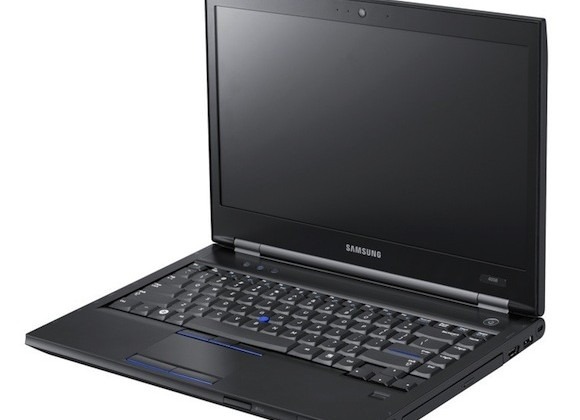 It's not just Samsung's slick ultraportables getting officially detailed this morning; the company has also outed a new mainstream laptop range including up to Core i7 processors and screen sizes ranging from 12.5- to 15.6-inches. The Samsung Series 2, Series 4 and Series 6 notebooks run for up to 7hrs on a single charge, with Optimus graphics switching on select models.
The Series 2 kicks things off with Celeron chips in the 12.5-inch models and Core i3 chips in the 14-inchers. They also get up to 4GB of storage and a 320GB HDD, while graphics are courtesy of Intel's GMA HD chipset. As for the Series 4, both the 12.5- and 14-inchers can be spec'd with Core i3, i5 or i7 processors, along with up to 6GB of RAM and up to 500GB of HDD storage.
Finally, the Series 6 notebooks come in 14- and 15.6-inch versions with Core i3, i5 or i7 processors and up to 8GB of RAM and 500GB of storage. A 128GB/256 SSD is an option, as is NVIDIA NVS 4200M graphics. The Samsung Series 2 and Series 4 notebooks will arrive in April, while the Series 6 notebooks will follow on in May. No word on pricing at this stage.
Press Release:
SAMSUNG EXPANDS ENTERPRISE COMPUTING LINE WITH SERIES 2, SERIES 4, AND SERIES 6 BUSINESS LAPTOPS

March 16, 2011

New feature-rich notebooks combine reliability, versatility and performance for the managed-IT environment

RIDGEFIELD PARK, N.J., — March 16, 2011 – Samsung Electronics America Inc., a subsidiary of Samsung Electronics Corporation, today announced three new mobile PC lines for the workplace. The Series 2, Series 4 and Series 6 laptops combine first-rate reliability and enhanced security with features like anti-shock hard drives and pressure-resistant casings to meet the needs of a fast-paced enterprise or educational environment.

"Samsung's new mobile PCs deliver an unrivaled experience for the workplace, with features specifically designed to meet the needs of IT managers and end users," said Scott Ledterman, director of mobile PC marketing at Samsung Enterprise Business Division. "The new Series 2, 4 and 6 laptops present a unique opportunity for Samsung to specifically focus on the enterprise and educational channels and underscores Samsung as a global leader in the enterprise PC market."

Comfortable, Performance-Driven Experience

With all-day use in mind, Samsung engineered the Series 2, 4, and 6 mobiles PCs to provide the most comfortable and efficient experience possible. The sleek new laptops feature the latest 2nd generation Intel® Core™ processor technology and Intel HD graphics, with select models offering optional nVIDIA Optimus Technology for outstanding graphics performance and long battery life. . Additionally, the 300-nit 16 million color SuperBright display offers a 50-percent brighter screen than conventional displays. The new enterprise-focused mobile PCs also feature comfortable keyboards and an optional TrackPoint in addition to a large touchpad to create an enhanced user experience even during periods of extended use.

Samsung's Fast Start technology helps users take control of their work flow, allowing users to begin working within 3 seconds of opening the display or pressing the power button when in sleep mode. Samsung Fast Start also automatically saves data onto the HDD, to prevent data loss in the event the device loses power or the battery is removed. For added performance in the business world, Samsung's Fast Browsing feature offers up to a 15-percent improvement in web response time, allowing users to quickly access information and databases online.

Samsung's new line of business notebooks provide outstanding battery life with a high capacity 6-cell battery providing up to 7 hours of battery life on a single charge. The optional 9-cell battery provides even longer battery life for mobile professionals on the go.

Unwavering Reliability, Durability and Security

Ensuring that a workforce can perform whenever and wherever they need, durability and reliability is at the core of the new lines with a standard 3-year warranty on all models and US-based Tier 2 customer support. For education and small businesses customers, the Series 2 mobile PC offers users a durable and affordable computing option while the Series 4 and Series 6 laptops are ideal for users with more demanding computing needs.

Each of the new laptops is constructed with a super-hard external casing and metal hinges for rugged durability. For further protection, Series 6 business rugged notebooks are equipped with reinforced magnesium alloy construction for enhanced durability.

For added peace of mind, the Series 2, 4 and 6 computers all feature an anti-spill design with a sealed case, reducing the risk of damage from minor spills on internal components. Moreover, the laptops feature Samsung's anti-shock hard disk drive (HDD) protection, which uses an accelerometer to detect movement and stop the disk from spinning, preventing potential data loss upon impact.

For CTOs and IT managers that need to ensure sensitive contents remain secure at all times, each of the new notebooks is equipped with a range of security features such as pre-boot authentication. Series 4 and Series 6 notebooks add additional security features including a Fingerprint Sensor and Trusted Platform Module (TPM) chip. Series 6 notebooks further enhanced security and manageability features with Intel vPro technology.

Improved Usability and Connectivity

Flawless integration with existing enterprise technology is a primary concern within an office environment. With this in mind, Samsung's Easy Migration service allows users and IT managers to easily transfer files, settings and profiles from a user's previous PC to one of Samsung's newest models. Users can also rapidly backup and share data using a high-speed USB 3.0 connection.

For users that need teleconferencing capabilities, each model features enhanced audio/visual components, including a 1.3MP webcam and array microphone – making sharing business plans or presentations with clients and vendors simple and cost effective.

All three of the new lines of mobile PCs come with a standard three year warranty and Samsung Support. The Samsung Series 2 and Series 4 are scheduled to be available in April 2011. The Samsung Series 6 will be available in May 2011. All Samsung mobile PC products are available through Samsung resellers and distribution channels, which can be located by calling 1-866-SAM4BIZ or by visiting www.samsung.com.

Key Specs:

Series 2:

- Sizes Available: 12.5-inch, 14-inch,

- CPU:

- Intel® CeleronTM Processor (12.5-inch)

- Intel® CoreTM i3 Processor (14-inch)

- Operating System: Genuine Windows® 7 Professional (32 or 64 bit)

- Memory: 2GB ~ 4 GB (expandable)

- Storage (max): 320GB

- Screen:

- 12.5-inch HD LED-backlit display

- 14.0-inch HD LED-backlit SuperBright display (300 nit)

- Resolution: 1366 x 768

- Graphics: Intel GMA HD Integrated Graphics

Series 4:

- Sizes Available: 12.5-inch, 14-inch,

- CPU:

- Intel® CoreTM i3 ~ i7 Processor (3MB ~ 4MB) (12.5-inch)

- Intel® CoreTM i3 ~ i7 Processor (3MB ~ 6MB)

- Operating System:

- Genuine Windows® 7 Professional (32 or 64 bit) (12.5-inch)

- Genuine Windows® 7 Professional (32 or 64 bit) (14-inch)

- Memory: 2GB ~ 6GB (expandable)

- Storage (max): 320GB ~ 500GB 7200RPM

- Screen:

- 12.5-inch HD LED-backlit display

- 14.0-inch HD LED-backlit SuperBright display (300 nit)

- Resolution:

- 1366 x 768

- Graphics:

- Intel GMA HD Integrated Graphics (12.5-inch)

- Intel GMA HD Integrated Graphics (14-inch)

- Battery: 6-cell; up to 7 hours

- Docking station connector

Series 6:

- Sizes Available: 14-inch, 15.6-inch

- CPU:

- Intel® CoreTM i3 ~ i7 Processor (3MB ~ 6MB) (14- and 15.6-inch)

- Operating System:

- Genuine Windows® 7 Professional (32 or 64 bit) (14-inch)

- Genuine Windows® 7 Professional (32 or 64 bit) (15.6-inch)

- Memory:

- 4GB ~ 8GB (14-inch) (expandable)

- 4GB ~ 8GB (15.6-inch) (expandable)

- Storage (max):

- 320GB ~ 500GB (7200 rpm sATA)

- Optional 128GB ~ 256GB Solid State Drive (SSD)

- Screen:

- 14.0-inch HD LED-backlit SuperBright display (300 nit)

- 15.6-inch HD LED-backlit SuperBright display (300 nit)

- Resolution:

- 1366 x 768, 1600 x 900

- Graphics:

- Intel GMA HD Integrated Graphics or nVIDIA NVS 4200M

- Battery: 6-cell; up to 7 hours

- Docking station connector