Samsung Series 9 ultraportables priced & dated; 11-inch version next month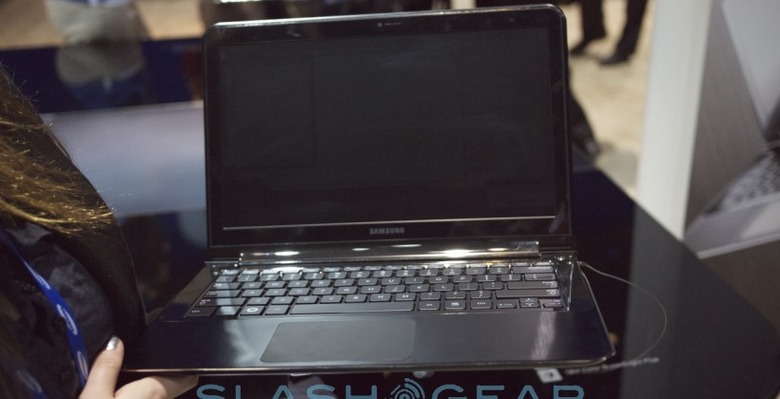 Samsung has officially priced its Series 9 notebooks, the super-skinny 13-inch ultraportables unveiled at CES 2011 back in January. The new Windows 7 laptops will arrive in stores from March 17, priced at $1,649 with a 1.4GHz Intel Core i5-2537 processor and 4GB of DDR3 memory.
There's also a 128GB SSD, Intel HD GT graphics driving the 1366 x 768 display, and WiFi b/g/n. OS is Windows 7 Home Premium, though a Windows 7 Professional version of the notebook will arrive in mid-April for $50 more.
That will be accompanied by an 11-inch version of the Samsung Series 9, complete with a 1.33GHz Intel Core i3-380UM processor, 64GB SSD and Intel GMA HD graphics. No word on pricing for the smaller model at this stage.
Press Release:
JUST IN TIME TO "LIGHTEN UP" FOR SPRING, LIGHTWEIGHT SAMSUNG SERIES 9 BECOMES AVAILABLE IN THE U.S.

March 16, 2011

Samsung's new ultra premium laptop goes on sale March 17

What: Samsung Electronics America Inc. today announced that the highly anticipated 13-inch, Series 9 laptop featuring Windows® 7 Home Premium will be available in the U.S. through Best Buy and other select retailers and e-tailers beginning tomorrow, March 17.

The 13-inch Series 9 laptop equipped with Windows® 7 Professional will become available at retail/e-tail and through select channel partners in mid-April.

Additionally, an 11-inch Series 9 laptop featuring Windows® 7 Home Premium and 64 GB of HDD storage will also be made available in mid-April.

Where: Series 9 laptops will be available through a variety of retail and reseller channels including Best Buy, Amazon and Tiger. For a full list of local Samsung resellers and distributors call 1-800-SAMSUNG or visit www.samsung.com.

MSRP: Series 9 13-inch, Windows® 7 Home Premium: $1,649 MSRP.

Series 9 13-inch, Windows® 7 Professional: $1,699 MSRP. .

Series 9 Specs:

- CPU:

- 13" – Intel® CoreTM i5 Processor 2537M (1.4 GHz, 3MB)

- 11" – Intel® Core™ i3 Processor 380UM (1.33 GHz, 3MB)

- Operating System:

- 13" – Windows® 7 Home Premium (64 bit) or Windows® 7 Professional (64 bit)

- 11" – Windows® 7 Home Premium (64 bit)

- Memory:

- 13" – 4GB DDR3

- 11" – 2GB DDR3

- Storage (max):

- 13" – 128GB Solid State Drive (SSD)

- 11" – 64GB SSD

- Screen:

- 13.3-inch HD LED-backlit SuperBright Plus display (400 nit)

- 11.1-inch HD LED-backlit SuperBright Plus display (340 nit)

- Resolution:

- 13"/11" – 1366x768

- Graphics:

- 13" – Intel HD GT

- 11" – Intel GMA HD (Integrated)

- Speakers:

- 13"/11" – 3 watt (1.5W x 2) stereo speakers

- Battery: Lithium Polymer; up to 7 hours

- Wireless: 802.11b/g/n; WiMaxi

- Weight:

- 13" – 2.89 lbs.

- 11" – 2.31 lbs.

Battery life will vary depending on the product model, configuration, power management settings, applications used, and wireless settings. The maximum capacity of the battery will decrease with time and use. Test results based on independent third party Battery Mark tests. Specifications and designs are subject to change without notice Non-Metric weights and measurements are approximate. Total amount of available memory may be less based on configuration.

Accessible capacity varies; MB = 1 million bytes, GB = 1 billion bytes, TB = 1 trillion bytes. Please note that a portion of the hard drive is reserved for system recovery, operating system and preloaded content software