Samsung SCH-W899 Android clamshell packs dual Super AMOLED touchscreens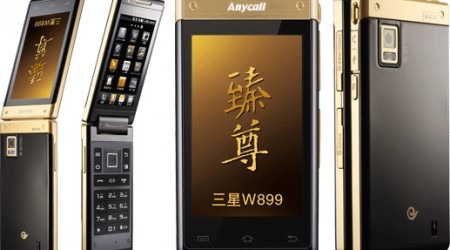 When we heard Samsung had launched a dual Super AMOLED touchscreen Android smartphone in China, we had visions of Fujitsu's bendy-twisty dual-display prototype. Sadly the Samsung W899 isn't quite so imaginative; instead you get a 3.3-inch touchscreen on the inside and outside of an Android 2.2 Froyo flip, complete with a physical numeric keypad for easier number entry.
Both displays run at WVGA – we're guessing it's the same panel as on the bada-powered Wave S8500 – and there's a 5-megapixel camera with 720p HD video recording on the back. Connectivity includes CDMA/EVDO and GSM for international roaming, along with WiFi and mobile hotspot functionality; you also get GPS and a microSD card slot.
The whole thing measures a slightly-thick 57.4 x 107.5 x 17.55 mm and weighs 183g. There's plenty to be said for the convenience of having a device you can use opened or closed, depending on what information you want at the time, but we'd still prefer a commercial version of Fujitsu's handset. The Samsung SCH-W899 is available on China Telecom; no word on a North American or European launch.