Samsung S8300 UltraTOUCH shows up on Amazon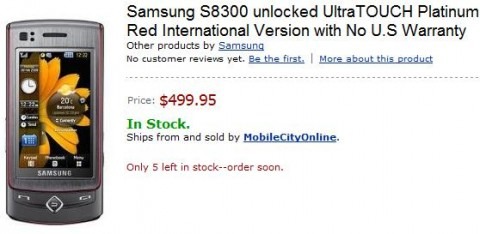 We may receive a commission on purchases made from links.
From one compact Samsung to another, this time the company's S8300 UltraTOUCH AMOLED touchscreen feature-phone.  Not officially available in the US at present, an Amazon seller is nonetheless offering the S8300 unlocked with quadband GSM (850/900/1800/1900).
The S8300 has an 8-megapixel camera, GPS and 3G, all clad in a metal casing measuring just 12.7mm thick.  What you don't get with this unofficial seller, though, is a US warranty, so take very good care of your new toy.
All that will cost you $499.95.  We caught up with the Samsung S8300 UltraTOUCH back at Mobile World Congress; check out our gallery here.
[via OLED-Info]