Samsung reveals full Ultra HD, OLED and Smart TV lineup at CES 2013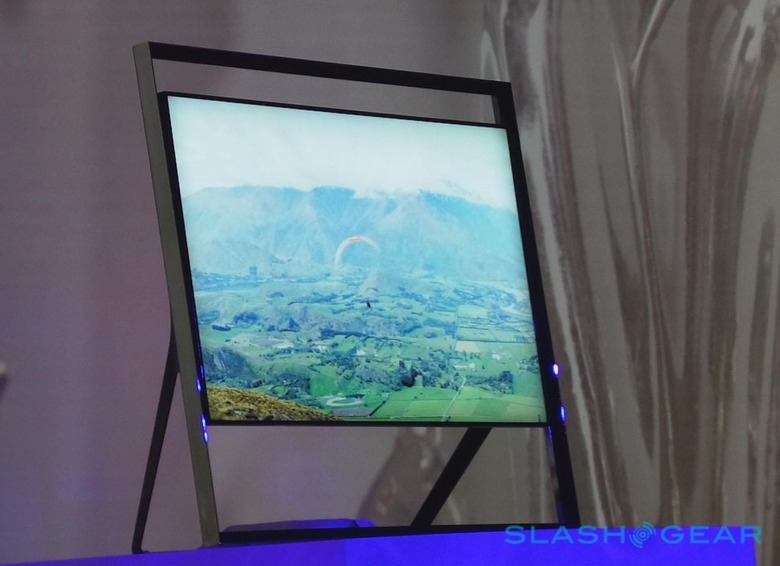 Samsung is going big with TVs at CES 2013: big in screen size, and big in resolution, with the record-setting 85-inch Ultra HD UN85S9000 at the top of a new HDTV line-up that also includes OLED models. The largest UHD set we've seen so-far, the Samsung UN85S9000 delivers four times the resolution of an 1080p Full HD TV, as well as 3.2-channels of 120W sound and all of the Smart TV functionality you'd hope for. Meanwhile, Samsung has refined its 55-inch OLED monster, with a special new 3D feature catering for two people wanting to watch different things.
Inside the 85-inch behemoth, there's not only 2D to 3D conversion, but HD to UHD conversion, along with Smart TV features like streaming, apps, motion control, and voice control. It's all powered by an A15 quadcore 1.35GHz processor, something you'd more commonly expect to find in a high-end phone or tablet, as well as support for the Smart Evolution Kit which will add new features further down the line. However, it's likely to unusual easel-style mount which will grab the most attention (at least before the screen gets powered on).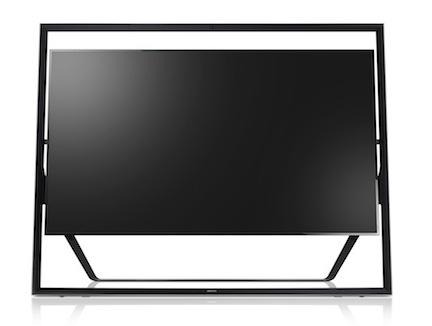 Samsung has been pushing OLED as the Next Big Thing in TV technology, and the 55-inch KN55F9500 Real OLED TV is the latest iteration of the company's vision. Built around the same quadcore processor as the UN85S9000, and with all the Smart TV functionality including voice control and streaming media, the OLED set is also the first to feature Samsung Multi-View, which uses 3D display technology to show two viewers (each wearing active 3D glasses) different content simultaneously.
That works in 2D and 3D, and even delivers stereo audio to the viewer thanks to tiny speakers built into the glasses. There's also Smart Evolution Kit Connector support, and a new version of Motion Control gesture recognition that can better track hands held at up to 45-degree angles.
Most regular buyers will head to Samsung's LED 8000 Series or LED 7000 Series sets, of course, also new for CES 2013. The 60-inch UN60F8000 borrows the 1.35GHz quadcore A15 of its bigger brother, along with the same Smart TV functionality, motion and voice control, and streaming from the web and mobile devices. It also gets Micro Dimming Ultimate for more precise control of the LED backlighting, and De-Jagging Pro for cleaner edges. 3D crosstalk is down too, by 30-percent, and even web content is meant to look better, with text and image processing applied to the TV's browser.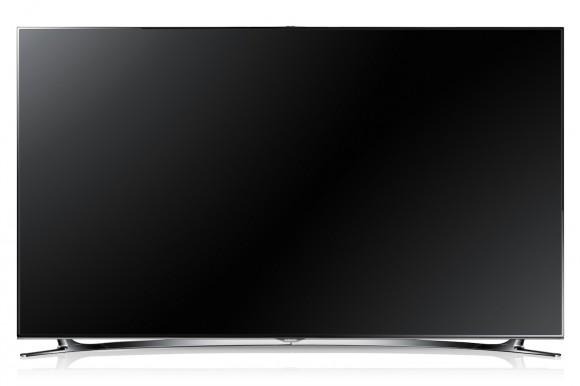 As for the 60-inch UN60F7500, that sticks with the same quadcore processor but does without the Micro Dimming Ultimate technology; otherwise, it's the same mixture of De-Jagging Pro smoothing, Precision Black intelligent contrast control, and improved 3D crosstalk prevention. Both the 8000 and 7000 Series support the Evolution Kit.
Finally, there's a new plasma set on offer, the Samsung Plasma 8500 Series, with the 64-inch PN64F8500 promising the darkest blacks and brightest pictures ever from a plasma TV. It shares the processor and Smart TV features as its LED brethren, but adds Deep Black Algorithm II and Real Black Pro for a combination of computer-controlled white light reduction – keeping those black areas inky – as well as 2.5x brighter whites when necessary. There's also a new "nanocarbon compound" used to reduce stray ambient light.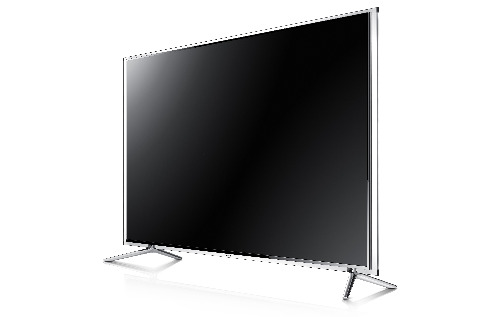 Samsung doesn't have availability or pricing details for either the UN85S9000 or the KN55F9500, though neither is likely to be cheap. The LED 8000 Series will ship in the first half of 2013, along with the LED 7000 Series, and the Plasma 8500 Series.