Samsung Smart Evolution Kit, TV Camera and Multi-View 3D Glasses revealed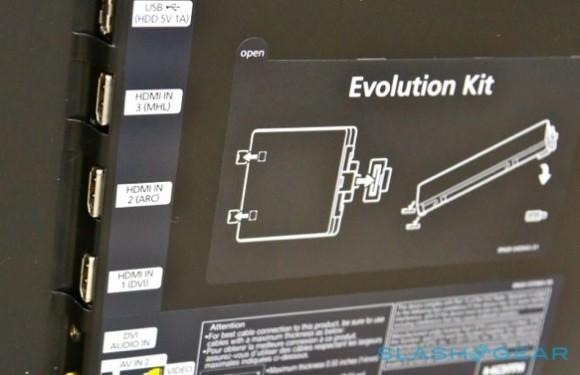 Samsung knows there's more to a home entertainment room than a big screen TV alone, and the company has a bevy of new A/V kit including the much-anticipated Smart Evolution Kit. The latter – slotting into the dedicated bay on the back of high-end 2012 Samsung sets – adds the new 1.35GHz A15 quadcore processor that features in Samsung's UN85S9000 and other 2013 models, powering the latest Smart TV functionality and natural-language voice control. Read on for all the details of the new A/V range.
Elsewhere there are the Multi-View 3D Glasses SSG-5900GR – as bundled with the KN55F9500 OLED TV – new for CES this year. They allow wearers to watch two separate programs – in Full HD – at the same time, complete with independent audio thanks to speakers built into the frames. Up to 10 pairs can be connected at any one time (though only two different pictures shown simultaneously) and they weigh 1.4oz. Samsung says there are picture improvements over its regular 3D glasses too, with a more than threefold increase in contrast ratio and a drop in crosstalk.
Finally, the Samsung VG-STC3000 TV Camera brings some of the motion control seen in high-end Samsung Smart TVs to a standalone device. It has an HD camera and supports Skype video calls, as well as motion control and face recognition, for gaming, content selection, and other features.
The Samsung Smart Evolution Kit VG-SEK1000, SSG-5900GR 3D Glasses, and VG-STC3000 TV Camera all will go on sale in the first half of 2013, with pricing to be confirmed.