Samsung quadcore GSIII tipped: Exynos 5 detailed, Qualcomm ousted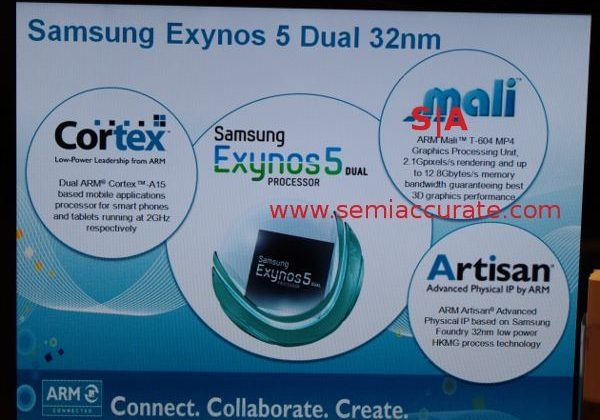 Samsung intends to scythe Qualcomm chips from its product range, cutting its dependency on its rival and shifting to "using Samsung solutions for Samsung products." Although an official confirmation of the strategy change hasn't been made, senior execs have reportedly been spilling details in Korea. "Samsung is paying huge amounts to Qualcomm in return for using its single-chip solutions in strategic digital devices, however, Qualcomm is gradually losing its edge" a supposedly high-level Samsung exec told the Korea Times. Meanwhile, details purportedly of the new Samsung Exynos 5 chipset have also emerged, successor to the quadcore Exynos tipped to be inside the upcoming Galaxy S III.
"Samsung has a stronger intent to lower its dependence on Qualcomm and our technicians believe that we have made significant progress in producing logic-based chips for high-end devices, combined logic and memory chips for graphic controllers and core communication chips for Internet-enabled consumer devices" one exec said on the understanding of confidentiality.
"It was believed that Qualcomm chips had greater stability and suited easy upgrades. But, that's the old story," the Samsung execs said, but "our long-term plan is clear." The most interesting chip on the horizon is a new Exynos quadcore which, the insiders say, will be in the Galaxy S III. That's believed to be the Exynos 4412, based on four A9 cores running from 200MHz to 1.5GHz, with four ARM Mali graphics cores, a 64-bit Neon media engine, and a dual-channel memory controller. It will be powerful enough to support a phone with a 1080p 3D display.
Beyond that chip, however, is Samsung's plans for the 32nm ARM A15 cores, expected to be in the Exynos 5. The new dualcore A15 will be paired with four ARM Mali T-604 MP4 GPU cores, so SemiAccurate's slide taken from Common Platform 2012 confirms, and will run at up to 2GHz with support for 1600MHz 64-bit memory.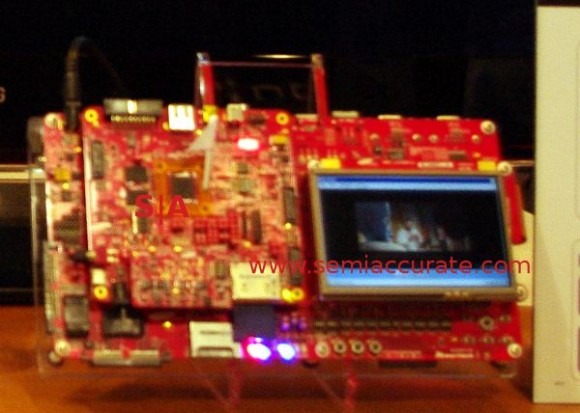 They even managed to dig up a blurry shot of what's said to be an Exynos 5 developer board, though that's not confirmed at this stage. No word on when we can expect to see mobile devices running Exynos 5 chipsets.
[Thanks Kote!]