Samsung plans to double tablet sales this year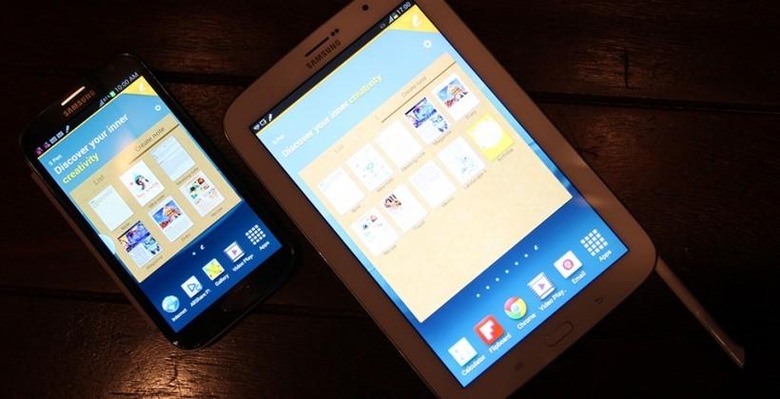 Samsung plans on doubling its tablet sales this year according to Y.H.Lee, executive VP for Samsung's mobile division. While Samsung hasn't fully disclosed how many tablet sales it made in the year of 2012, the estimated number of sales it has to make in 2013 would equal about 40 million units. Considering Samsung's reputation and power in the mobile industry, it may be able to reach those intended figures.
Samsung is already doing great in the smartphone sector of the mobile business. Its Samsung Galaxy line of smartphones grows in sales upon each consecutive release, and some consumers have a hard time differentiating Samsung from Google. So it makes sense that Samsung would want to focus more of its efforts on the tablet sector of the mobile business now. Like HP, Samsung sees the potential of the tablet market, and how consumers are in demand for both budget tablets as well as high-end tablets.
In Q4 2012, Samsung's tablet market share rose 15.1%, which is over double the 7.3% market share it had in the earlier quarters. To jump start its tablet sales for 2013, Samsung announced the Samsung Galaxy Note 8.0 tablet. The tablet, which also works as a phone, has an 8-inch WVGA 1280 x 800 pixel resolution display, 1.6GHz quad-core A9 processor, 5MP rear-facing camera, 1.3MP front-facing camera, 16/32GB of built-in storage, 2GB RAM, microSD card slot, and an IR blaster. The tablet will be competitively priced, and will go head to head with the likes of the iPad Mini.
Alongside the Samsung Galaxy Note 8.0, we may also see new Windows 8 tablets, as well as a refresh to the Samsung Galaxy Note 10.1 later on this year. It has a long ways to go in order to catch up with Apple and its huge lead in the tablet market. We should be seeing affordable, yet efficient tablets as well as high-end tablets coming from Samsung's product line soon. Getting its products in the hands of as many consumers as possible is Samsung's, and any company's, mission.
[via CNET]