Samsung plans iris detection and fingerprint mobile blitz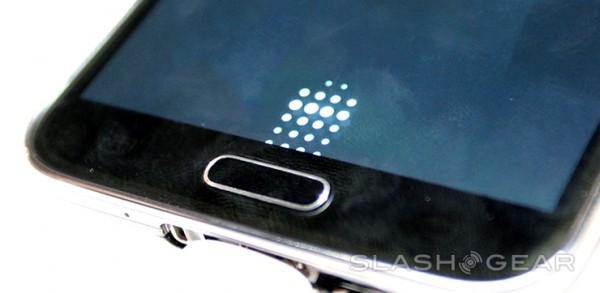 Samsung intends to put biometric sensors like the smart home button on the Galaxy S5 on even budget smartphones, aiming to democratize next-gen security while also drive adoption of its KNOX system. While using fingerprints to unlock phones, secure app stores, and authenticate online purchases have traditionally been the preserve of high-end devices like the iPhone 5s, Samsung's goal is to lead the way in pushing them down to entry-level phones and tablets as well, in addition to other technologies.
Fingerprints aren't the only biometrics Samsung is considering. "We're looking at various types of biometric and one of [the] things that everybody is looking at is iris detection," senior vice president Rhee In-jong said in Hong Kong, the WSJ reports.
Iris detection relies on the unique patterns in the human eye to distinguish each user. As is the case with fingerprints, each iris is different; by illuminating it with infrared light, a camera can spot those differences and build a personalized key from them.
However, while iris scanning may be on the cards, fingerprint scanners are likely to show up on devices first. The reaction to the system on the Galaxy S5 has been mixed so far; although more flexible than Apple's Touch ID on the iPhone 5s, since Samsung has partnered with PayPal to enable fingerprint-payment of mobile payments, the ergonomics of the button itself have been criticized for demanding a clean vertical swipe that's tricky for one-handed use.
Samsung Galaxy S5 fingerprint sensor hands-on:
Nonetheless, equipping more affordable devices to bolster enterprise appeal for Samsung phones and tablets, and push KNOX in the process, could give the South Korean company an edge in the competitive business segment. BlackBerry has struggled there in recent years, under attack from the rise of bring-your-own-device along with attempts by Windows Phone, iOS, and other platforms to break in.
If Samsung could deliver low-cost but secure phones – either to enterprise directly or BYOD users – it could make KNOX the go-to platform for hack-phobic network admins.
When, exactly, the first more affordable phones with biometrics will arrive has not been confirmed. However, Samsung is believed to be including a fingerprint scanner on its upcoming Galaxy Tab S tablet, expected to be announced next month.
Find out exactly how the Samsung Galaxy S5 fingerprint sensor works in our full review.
SOURCE WSJ