Samsung Galaxy S5 Review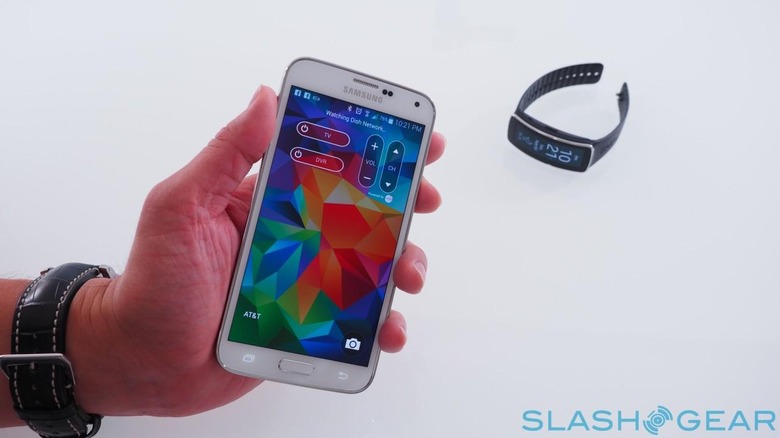 Samsung cannot be ignored, and the importance of the Galaxy S5 cannot be overlooked. New bearer of the crown of "best-known Android smartphone" it's a chance not only for Samsung to make money, but to demonstrate what cleverness it can bake into a flagship device. Samsung's approach to innovation has been more scattershot than focused, however, and with each generation of Galaxy there's been equally as many needless bells & whistles as there have been legitimately useful additions. The Galaxy S5, Samsung insists, has been built with deliberation, but has the company spent its time on the right enhancements? Read on for the SlashGear review.
Hardware and Design
By now, the Samsung style recipe is straightforward: the Galaxy S5 is a large, thin plastic slab, much akin to the plastic slabs that came before it. In fact, without the Galaxy S4 alongside, it's easy to overlook what physical changes have been made: the blunter corners and the slightly broader top and bottom bezels, which add up to a handset that, at around 3mm wider, 5mm longer, and a fraction of a mm thicker, has grown in all directions.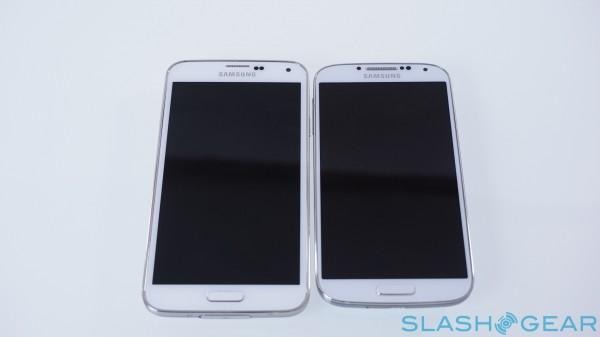 Controversial from the announcement is the finish, with Samsung eschewing the glossy back of the S4 in favor of a dimpled, matte-finish plastic. In its favor is the fact that it's easier to grip and less readily covered in greasy smudges and fingerprints; to its detriment is the fact that it lacks the premium feel of the HTC One M8 and the iPhone 5s.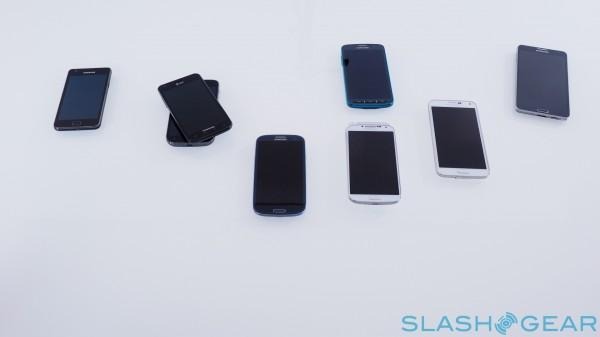 The dimpled finish that has led to Band-Aid comparisons by some is practical but hardly artful, and we're unconvinced by Samsung's faux-leather conceit that was similarly cheesy on the Note 3 and the company's recent tablets. True, it's effectiveness is quite color-dependent, but having been impressed by the hand-feel of the Galaxy S4 Active, we'd hoped the Galaxy S5 might feel the same. It was clearly not to be.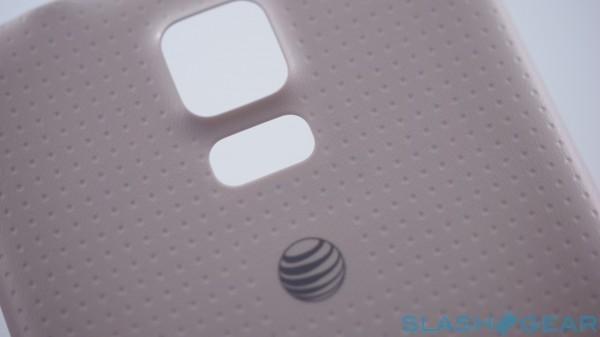 What you do get is the resilience of the Active, with the Galaxy S5 meeting IP67 standards for water and dust resistance. Samsung is keen to point out that this doesn't make its new phone waterproof, but it can – with USB 3.0 flap firmly in place – withstand a dip in up to a meter of water for at most 30 minutes. Since a depth gage is still MIA from Samsung's standard roster of sensors, it's likely to be more use saving the phone from inadvertent slips into the sink or splashes in unexpected rainstorms.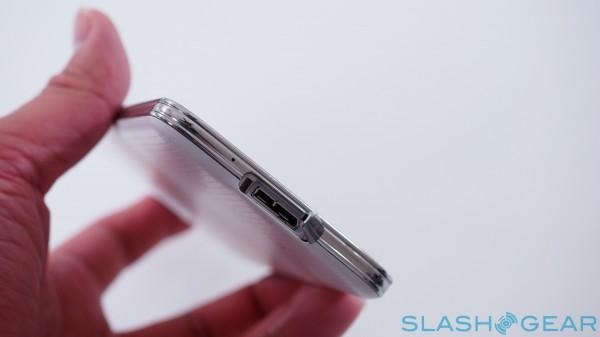 Those who've used a previous Samsung won't find too many surprises with the ports and buttons. Power/lock is on the right and the volume rocker on the left, with a headphone jack on top as well as the IR blaster for universal remote duties. On the bottom there's a wide microUSB 3.0 port, backward compatible with microUSB 2.0 plugs, that'll also work as an MHL-HDMI 2.0 output with the right adapter.
The physical home button now doubles as a fingerprint scanner – more on which later – and is still flanked by two capacitive keys. Where before you had Back and Menu, however, the latter has been switched to the task-switcher, relying on most Android apps you'll encounter following Google's guidelines for an on-screen menu command.
Inside, there's Qualcomm's Snapdragon 801 2.5GHz quadcore processor, with Adreno 330 graphics and 2GB of memory. Wireless connectivity includes Cat4 LTE, HSPA+, and GSM/EDGE, along with WiFi a/b/g/n/ac with dual-band MIMO – rare to find on a smartphone – Bluetooth 4.0, WiFi Direct, GPS/GLONASS, and the usual cluster of sensors for direction and ambient light.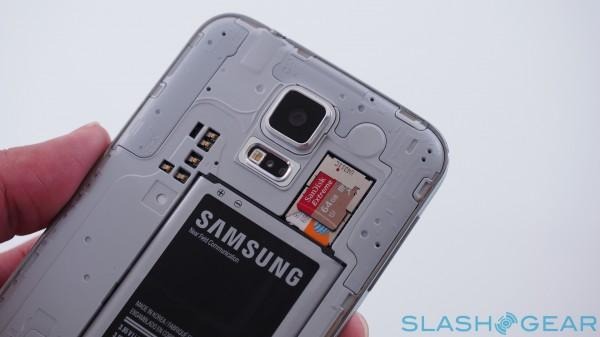 Samsung will offer 16GB and 32GB versions of the Galaxy S5, carrier depending, though the microSD slot under the removable back cover is content with up to 128GB cards. It's next to the removable battery, now clocking in at 2,800 mAh – a 200 mAh increase from the Galaxy S4 – which remains a key marketing point for Samsung.
Display
Bigger phones with bigger displays is the trend the smartphone industry can't seem to shake, and sure enough the Galaxy S5 steps up to 5.1-inches. It's only a 0.1-inch increase from before; more striking is the fact that it means the S5 is just 0.2-inches off the size of the display on the original Galaxy Note. We can remember a time when that felt vast.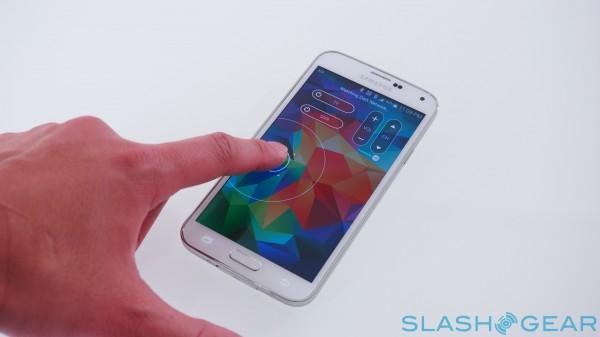 Resolution from the Super AMOLED panel is Full HD 1920 x 1080, and it's an impressive screen to look at. Samsung's OLED technology has always meant vivid colors, and sure enough the Galaxy S5 delivers saturated hues in spades, though we'd say they're more accurately balanced than those of the phone's predecessor.
However, the panel also has better viewing angles, and the slightly yellowed whites of before have been made cleaner for the fifth-gen flagship. Not quite as clean as on the HTC One M8 – which uses an LCD panel – but a noticeable improvement side-by-side with the S4.
Samsung has spent some time finessing the backlighting, with a range claimed to span from 2 nits when ambient light is minimal, up to 450 nits for use outdoors. It certainly goes dim when you're having a final sneaky messaging check before bed, though in direct sunlight the Galaxy S5 still lags behind Nokia's daylight-visibility tech.
Fingerprint Security
Biometric security on smartphones is still relatively rare. Motorola tried it in 2011 with the ATRIX, while HTC's One Max took a stab last year; neither met with much enthusiasm, courtesy of patchy consistency and awkwardly-placed sensors.
In contrast, the iPhone 5s' implementation of fingerprint security – which Apple dubbed Touch ID – polished off many of the rough edges. Samsung also integrates its sensor into the home button, the spot we continue to think makes most sense for everyday use, though we ended up less impressed than we have been with Touch ID.
Biometrics on phones is all about convenience (on both the iPhone and the Galaxy the regular PIN access is just a swipe away from the lockscreen) and there Samsung's sensor begins to struggle. We can look beyond the fact that the Synaptics-developed scanner can only be taught up to three prints, versus the iPhone's five, but it's how you have to register and then read them that is most frustrating.
On the iPhone 5s, you can approach Touch ID from any angle, 360-degrees around the circular Home key. The Galaxy S5, however, demands a clean vertical swipe down, starting with your fingertip overlapping the bottom edge of the display – there's a neat little animation to guide you – and crossing cleanly over the button. Ergonomically, that's a nightmare.
Try unlocking the Galaxy S5 single-handed, and it's a recipe for dropping it. We simply couldn't find a way to contort our hand to get the angle correct without losing our grip in the process. Even when you resort to two-handed use, the patchy success-rate – which saw us get slightly more rejections than we did unlocks – means that it was generally quicker to punch in a PIN manually.
In its defense, Samsung's system didn't give us any false-positives, granting access to those it shouldn't, and the company has inked a deal with PayPal that will allow fingerprint rather than password payment to any site that accepts the service. An API for other third-party developers should see that integration expand over time.
Still, Samsung will need to do some serious finessing if fingerprint security is to be taken seriously on the Galaxy S5, starting with the sensor's accuracy.
Heart-Rate Monitor
If the biometrics are the finger gimmick on the front of the S5, the heart-rate monitor is the gimmick for the rear. Nestling next to the camera flash is a small pulse sensor, which uses light to track your heart-rate when you press your fingertip against it.
Samsung's S Health app can keep a log of those readings, as well as how many steps you've taken, turning the Galaxy S5 into a fitness wearable alternative. Of course, the company also offers the Gear Fit and Gear 2/Gear 2 Neo smartwatches, for those who still want a dedicated health tracker.
Using the sensor is simple, in theory: open the app, tap into Heart Rate, and hold your finger in place for a few seconds. Assuming you've lined it up correctly, you get the result on-screen. Samsung makes no medical-grade claims about accuracy, but as long as you're looking at it in terms of activity-by-activity change rather than an absolute value, it should suffice.
What we sometimes struggled with was the lining-up part. Place your fingertip even slightly off, and you'll get an error message not a number.
S Health in its latest iteration counts up steps and figures out how many calories you've burned along the way, and can take advantage of the phone's sensors to keep GPS logs of what route you went running and even the elevation along the way. Optional is diet logging, with a food database of the nutritional values of common meals.
As with other fitness apps we've seen, S Health is likely to satisfy users with basic needs, though there are some obvious omissions. Biggest is sleep tracking, which standalone wearables like Jawbone's UP24 and Fitbit's Force can each do, subsequently highlighting periods of light and deep snoozing.
Software and Performance
The Galaxy S5 is running Android 4.4 KitKat under the hood, though Samsung's TouchWiz interface is again wheeled out to cover it up. The UI has had an overhaul since the Galaxy S4, with circular icons that feel a little more like what we've seen from Tizen of late. It's flatter, too, doing away with most of the faux-3D effects that were beginning to sit uneasily with Android's native style.
While not unpleasant to look at, it can leave the Galaxy S5 confusing, not least because of the sheer number of apps – many duplicating functionality – that are present out of the box. Google Play and Samsung's own app store are a good example, as well as two different gallery applications, while S Voice is included as well as Google Now. Samsung's virtual assistant is solid at the basics, like toggling settings and setting alarms, but iOS' Siri and Windows Phone's Cortana are starting to look all the more impressive.
Swipe across on the homescreen and you get to My Magazine, Samsung's take on the curated newsreader app. Similar to HTC BlinkFeed, My Magazine is powered by a Flipboard partnership, and indeed tap into it and you eventually end up in Flipboard's menus.
Unfortunately, the full gamut of Flipboard's flexibility isn't present in Samsung's version. For instance, while you can set up Twitter and other social networking sources, there's no sign of Facebook. Altogether, it feels more like a quick reskin than a standalone app in its own right.
More successful is the new universal search, which not only hunts through apps and data, but individual settings on the phone. Dubbed S Finder, it's located in the updated notifications tray.
Reminiscent of the pop-up palette of options that springs up on the Note series of phablets when you pull out the pen, Toolbox is a circular floating menu for the Galaxy S5 that optionally shows quick access to things like the camera. You can move it around with your fingertip, but there's unfortunately no way to have it appear and disappear at will as with the Note version.
Camera
The phone camera market has gradually divided into two categories: those devices chasing megapixels, and those chasing more unusual ways of improving photography. Where the HTC One M8 opts for its dual-lens UltraPixel system, and Nokia its 41-megapixel PureView pixel-clustering, Samsung has taken a more mainstream approach with the 16-megapixel camera on the Galaxy S5.
That's not to say it's a bad camera, and in fact Samsung has certainly improved on the Galaxy S4. Although the various gimmick features – like picture-in-picture – are still present from before, Samsung has made the settings easier to tweak by reworking the UI and cutting out most of the submenus. We like how you can pin up to three commonly-accessed settings to the side of the display, though it's not quite as useful as saving a full camera preset on the HTC One M8.
Real-time previewing of HDR results makes a legitimate difference to how usable the high dynamic range mode is, and low-light performance has been improved too. The Galaxy S4 was prone to grain and general murkiness when the lighting conditions were off, and while the Galaxy S5 still clearly prefers daytime – and in fact takes excellent shots in such settings – they're clearer and less untidy.
HTC's One M8 probably still holds the low-light crown among Android phones, but for everyday scenes its scant megapixel count – a fourth of what the Galaxy S5 offers – can leave shots with missing detail in comparison to the Samsung.
That, the company claims, is at least in part down to ISOCELL technology. The Galaxy S5's pixels are in fact the same size as those in its predecessor, but on the S5 each is a tiny, individual castle, with a physical barrier between it and its neighbor so as to reduce light crosstalk. It's clever stuff, though you'll probably notice the swifter autofocus more, which we found matched the One M8 in how eager it was to lock.
As for video, in addition to Full HD 1080p support there's also 4K Ultra HD recording, though you'll of course need a suitably high-resolution external display to show it on. The Galaxy S5's own screen isn't detailed enough to do native 4K justice. It's still early days for 4K, but 1080p looks great, with bright colors and minimal smearing on moving subjects.
Samsung has a handful of new camera features on the S5, including its own take on the post-shot refocusing that's become fashionable of late. Unlike the dual-lens approach HTC took, Samsung relies on speed instead. The Galaxy S5 captures a swift bunch of images, each with different focal points in the frame, and then uses software magic to refocus one overall image depending on where you touch.
Just as we found on the One M8, however, results can vary. For a start, Samsung demands that foreground objects be within a certain sweet-spot range, but even then we had some pictures which showed inaccurate or patchy focus. Side-by-side, we preferred the output from HTC's system, though neither is perfect.
There's also a "Shot & More" mode which uses the same burst tech for features like Eraser, to get rid of errant objects in frame, and Best Face, for picking out different faces across different images and combining them. How much you'll actually use them is questionable, however, especially since at times the Galaxy S5 would struggle to accurately snip out the right parts of the image.
Phone and Battery
Samsung will offer the Galaxy S5 across all the major carriers, and in our tests audio performance during calls was solid if not the best we've seen in recent months. Callers told us we were clear and loud, though we wish the S5 put its speakers on the front, like HTC's BoomSound system, rather than on the back where they can be more easily muffled.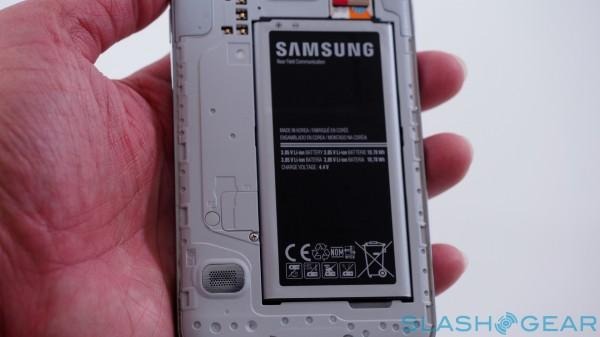 Maximum volume is loud enough, but leaves the Galaxy S5 buzzing frantically, and undermining its potential as an impromptu speakerphone.
In addition to carrier aggregation, which means the Samsung can cosy up to multiple 4G base-stations to improve download and upload speeds, there's also the company's own Download Booster. That spots when you're downloading large files or chunks of data, and activates both LTE and, if available, WiFi simultaneously, to get the best of both worlds. Unfortunately, both carrier aggregation and Download Booster are network dependent, and not all carriers will support them.
A bigger device means more room for a bigger battery, though on the flip side there's that larger, brighter screen to power and a processor with more grunt. With fairly intensive use, including a couple of short calls, push-email, image uploading, some photography and Google Maps use, some streaming media, and a little gaming, we got through a full day though would've needed a recharge if we didn't want a paperweight by the morning.
Samsung includes an Ultra Power Savings Mode that prolongs battery life by switching the display to grayscale-only, cutting data use to periods only when the screen is active – so you don't get push messages in the background – and cutting down which apps you can use. Unlike the One M8, you can add your own choice of "allowed" apps to the short whitelist Samsung provides – phone, messages, and browser – which we're pleased to see, though it's only from a preset list rather than anything you have on your device.
Wrap-Up
After its predecessor's scattershot feature-set, the more focused approach of the S5 makes for a more confident feeling device. The camera is solid and its new UI clean, and while the heart-rate sensor takes a little getting used to for finger positioning, once you're familiar it's a useful addition for those who want to track basic fitness without spending on a dedicated wristband. Water-resistance is something we find ourselves wishing every phone offered.
Unfortunately, not everything works as it should. Biggest disappointment is the fingerprint scanner, flawed in both ergonomics and consistency, though for a device that makes a point of working on the basics, the underwhelming speaker also warrants a mention.
Making predictions about whether the Galaxy S5 will sell or not is pointless: Samsung shifting millions of units is an inevitability. More pertinent is whether it's worth Galaxy S4 owners upgrading, not to mention if they should opt for another Samsung or consider jumping ship to something like the HTC One M8.
As upgrades go, the Galaxy S5 feels iterative. Some of the rough edges of before have gone, though others have been introduced in their place; viewed alongside, the Galaxy S4 still feels a solid handset, and we can't help but think you'd have to be particularly keen on a specific S5 feature for it to be worth switching out. As for the One M8, Samsung's camera has the edge in everyday use, though we prefer HTC's design, construction, and UI.
Brand zealots and lawyers care about where Samsung did or didn't get its inspiration from; for the average consumer, what's more important is whether their new smartphone has useful features and whether they work as they should. On that basis, the Galaxy S5 is a mixed bag.
Visit SlashGear's Android hub for more news and reviews.